This is the following description displayed among various vendor outlets: China BAK Battery, Inc. (NASDAQ:CBAK) together with its subsidiaries, engages in the manufacture, commercialization, and distribution of standard and customized lithium ion (Li-ion) rechargeable batteries. It offers various Li-ion rechargeable batteries, including aluminum-case cells, battery packs, cylindrical cells, lithium polymer cells, and high-power lithium battery cells...China BAK Battery, Inc. was founded in 2001 and is based in Shenzhen, the People's Republic of China.
Management
The executive management at China BAK Battery, namely Xiangqian Li, the CEO, claimed that upcoming operations would translate into unprecedented financial strength. Although these statements have been proven otherwise and it would seem that the shareholders may very well be left with nothing overtime. Management has not offered any alternatives for financing despite that NCAV and book value are running well into negative territory. CBAK is running with <14mm in assets and ~33mm in liabilities and it seem there will be no injections to keep this company afloat as a going concern.
Financial Weakness
Margins have been abnormally low for this business to possess any kind of material value. Since 2009, the company has not netted gains to pass on residual earnings to shareholders or help creditors for that matter. Operating margins, not even the bottom line, have plummeted significantly with no means of returning.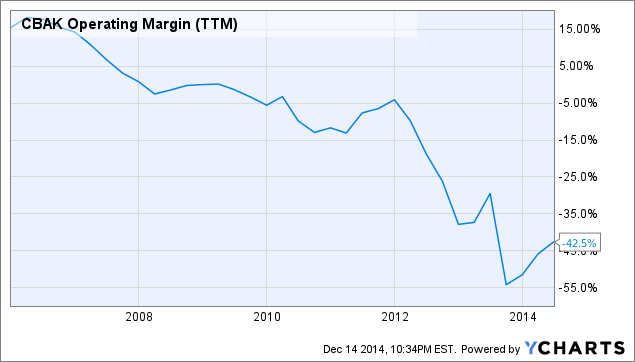 CBAK Operating Margin (TTM) data by YCharts
Moreover, debt holders are claiming almost 21 million annually, which is practically the entire value of the firm at the moment.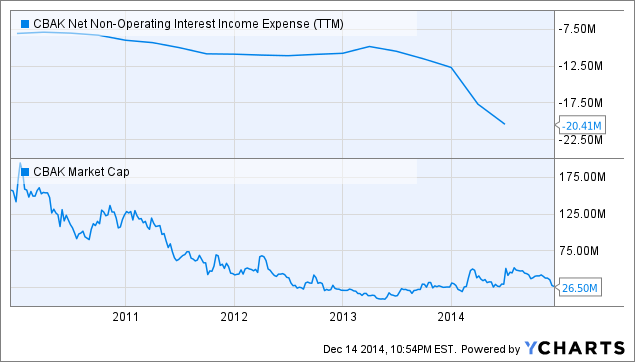 CBAK Net Non-Operating Interest Income Expense (TTM) data by YCharts
What's interesting is that just as equity holders are being threatened the most by insolvency, do investors start piling in. It would seem that the only logical explanation would be a pump and dump strategy deployed aligned with news releases. However it would appear that most of the momentum has subsided and we will see the reality of the company's poor positioning take fuller effect in the stock price within the next year or so.
Technicals
On the daily chart, the stock just broke down through a descending triangle which is classically the most bearish type of formation. At the moment, the stock saw its first green candlestick in a while, likely reacting to short-term consolidation on the $2.00 support line. It should not be long however before the price collapses further as buyers remain few and far between. The MACD indicator also remains staunchly bearish since the crossover in late July.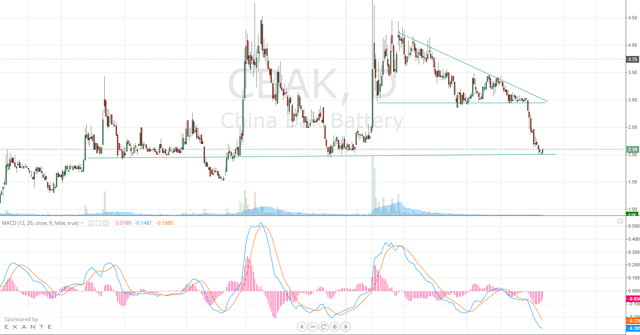 Chart provided by tradingview.com
Concluding Remarks
After the spikes in February and July it appears that most of the momentum has subsided. I highly doubt individuals will expose any more capital at this point in attempt to derive a short-term profit since all the fools have probably already been fooled. The outcome for this business is pretty obvious so all investors should consider this business as a no-brainer avoid.
Disclosure: The author has no positions in any stocks mentioned, and no plans to initiate any positions within the next 72 hours.
The author wrote this article themselves, and it expresses their own opinions. The author is not receiving compensation for it (other than from Seeking Alpha). The author has no business relationship with any company whose stock is mentioned in this article.
Editor's Note: This article covers one or more stocks trading at less than $1 per share and/or with less than a $100 million market cap. Please be aware of the risks associated with these stocks.