Competition in the narrowbody market continues to heat up, and recent events only support our view that the large commercial jet-making duopoly of Boeing (NYSE:AA) and Airbus will be shattered in coming years.
First, last Wednesday, Boeing released plans to increase production of its 737 workhorse to 42 jets per month by the first half of 2014. We view this strictly as a competitive response to clear its massive narrowbody backlog in the face of firming global competition, not as an indication of incremental demand for Boeing's soon-to-be-legacy 737NG (it will be replaced with either a re-engined model or a brand new build in coming years). Frequent readers were aware of this potential ramp up in the production pace of the 737, as we disclosed June 1 in "How to Play the Coming Upswing in Commercial Aerospace" that we had picked up rumors along the lines of a further rate increase on Boeing's narrowbody platform (please view our footnote in the first table of that article).
Second, shortly after we released our analysis May 30 of "The Future of the Narrowbody Airplane Market," indicating that the narrowbody market, while massive, may not be sufficient to sustain Boeing's current narrowbody run-rate thanks to the presence of six major jet-makers (and maybe seven, if you throw Mitsubishi in the mix), Boeing upped its forecast for the size of the narrowbody segment in the release of its 2011 Current Market Outlook June 16. Boeing now expects 23,370 narrowbody planes (was 21,160) to be delivered during the next 20 years. At list prices, this is now $1.95 trillion versus about $1.68 trillion previously.
By extension, we have adjusted our delivery forecasts and market share expectations for the six commercial jet-makers accordingly. Based on new developments (which we explain behind the subsequent link), we have, however, made one material change with respect to Comac's share in the developed world, primarily at the expense of Boeing. Specifically, we outline why we think Southwest (NYSE:LUV) and Ryanair (NASDAQ:RYAAY) will no longer fly all-Boeing 737 fleets in the coming years in the following: "A Serious Blow to Boeing is Looming" (Valuentum login required or purchase a la carte), a major setback for the domestic jet maker.
images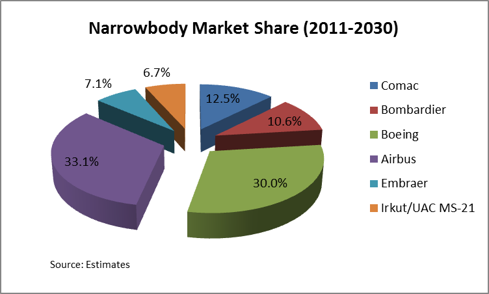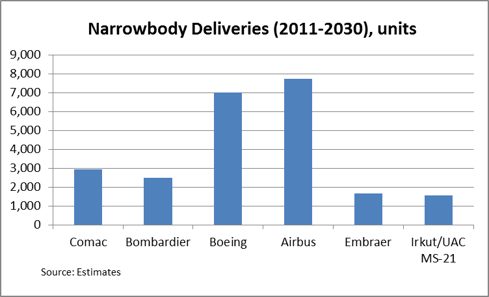 In all, we think Boeing will deliver roughly 7,000 narrowbody aircraft during the next 20 years, amounting to an average of 350 annual deliveries. Importantly, this is significantly less than the firm's targeted 42-per-month 737 run-rate that amounts to 500-plus deliveries in the 2014-2015 time period.
We maintain that Boeing has upside from these levels as the market will likely place a peak multiple on peak earnings during the coming upswing (as it has in the past), but investors should be concerned about holding Boeing's equity toward the middle of this decade when production rates on its narrowbody platform inevitably slow.
Disclosure: I have no positions in any stocks mentioned, and no plans to initiate any positions within the next 72 hours.