According to the U.S. Energy Information Administration's (EIA) newly released report (Thursday, Dec. 11, 2014), working gas (dry natural gas) in storage was 3,359 Bcf (billion cubic feet) as of Friday, Dec. 5, 2014. This represents a net decrease of 51 Bcf from the previous week. Since the beginning of current withdrawal season (November to March 2015), the total net withdrawal of working gas in storage was 252 Bcf as shown in Table 1.
Since the beginning of December, natural gas prices have been under increasing pressure due to a relatively milder winter start, continued rising dry natural gas production, and general weakness in commodities --- particularly crude oil. In order to better understand the current natural gas trading environment, I am going to pay attention to two main driving forces of NG price in winter -- namely, dry natural gas production and HDD (heating degree days, using 65 degrees fahrenheit as a base).
In my article "Analysis Of Weekly EIA Working Gas Storage Data On Daily Basis - A New Look On Working Gas Storage Numbers," I transformed EIA's past weekly working gas storage data into a workable structure for 2014. The correctness of the transformed data on daily basis was validated by being able to derive the same five-year moving average numbers as in EIA's five-year average spreadsheet. Now I have expanded my data cracking by transforming other current and historical data such as NG production, consumption, CDD, HDD and NG future contracts prices with the same method. In this way, we can compare them on a daily basis statistically, and therefore could increase the odds of correctly predicting the NG price trend.
I am going to present more tables and figures along with further discussion.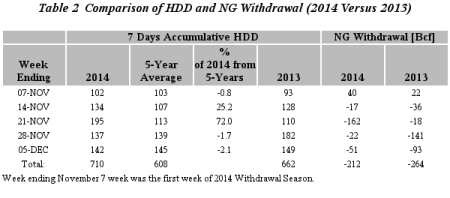 Table 2 reminds us that 1) the first week of December is normal in comparison to the five-year average and only seven HDDs less than that of 2013, and 2) since the start of the withdrawal season we have 48 HDDs more but 52 Bcf less withdrawal compared to 2013, which suggests that dry NG production is strong. I estimate there could be 20-30 Bcf/week more than that of 2013. This is a big number and the main cause of the NG spot price hovering a little bit above $3.5 mmBtu as of when this article was written.
Natural gas prices could go down this winter as they did in the 2011-12 withdrawal season. Could this happen again this winter? Table 3 demonstrates that NG prices plumped with the widening of difference between NG storage with that of the five-year average in the 2011-12 season. We can see that the percentage difference stubbornly increased from 6.0% to 60%, resulting in the price crashing to $2/MMBtu. This winter, we should pay close attention to the trend as dry gas production is strong. Should this percentage difference begin to trend higher, I would rather stay watching the further development instead of being either bullish or bearish for some time.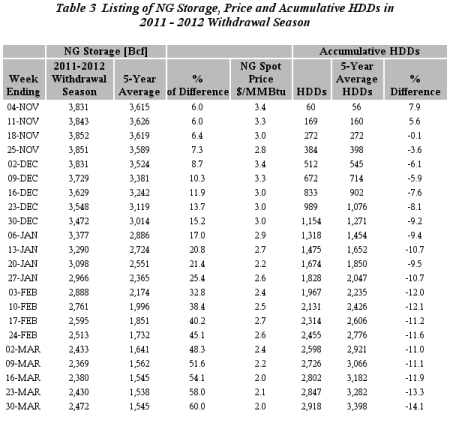 I present the current EIA's Natural Gas Weekly Update Supply and Demand tables here and encourage Seeking Alpha readers to check this page every week and read all the content there.
U.S. Natural Gas Supply - Gas Week: (12/3/14 - 12/10/14)

Percent change for week compared with:

last year

last week

Gross Production

13.16%

1.69%

Dry Production

13.03%

1.68%

Canadian Imports

-9.99%

13.88%

West (Net)

5.28%

9.95%

MidWest (Net)

-32.05%

2.62%

Northeast (Net)

6.95%

62.54%

LNG Imports

-26.62%

10.58%

Total Supply

10.84%

2.51%

U.S. Consumption - Gas Week: (12/3/14 - 12/10/14)

Percent change for week compared with:

last year

last week

U.S. Consumption

-21.3%

1.8%

Power

-20.8%

14.5%

Industrial

-2.2%

-1.2%

Residential/Commercial

-29.8%

-2.2%

Total Demand

-20.4%

1.8%
It is not time for NG bulls to throw in the towel yet. Production is high, but NG end users like the baseload power plants have absorbed some of the production increase. A normal December and January could stabilize the price, and cold spikes could send the price higher to challenge $4/MMBtu. The chart below suggests bulls are building a foothold a little above $3.5/MMBtu now. Please bear in mind that any adverse development, such as a mild January, could result in a breaking down instead of a breaking out.
Henry Hub NG Price Chart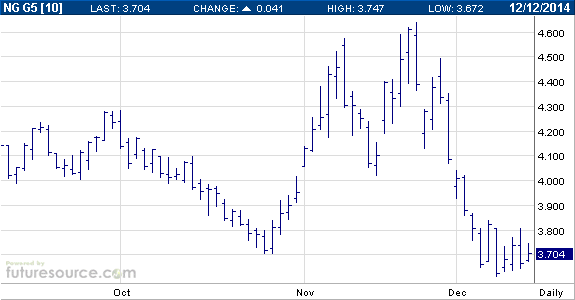 In conclusion, we are facing a complex situation in trading natural gas backed financial products such as United States Natural Gas ETF (NYSEARCA:UNG), VelocityShares 3x Long Natural Gas ETN (NYSEARCA:UGAZ), and other natural gas ETFs. I am a little bullish in the short term ending January 2015 given the current production momentum (around 72 Bcf/day) and low price level ($3.5-$3.7/MMBtu). I am prepared to exit between $4 and $4.50, though a higher price is still on my wish list. It appears that, so far, any rally is not sustainable even for days. This winter, NG bulls have no friends other than Mother Nature.
I am keeping a close watch on the development of the driving forces of NG prices and will share my research with Seeking Alpha readers accordingly.
Disclosure: The author is long UGAZ.
The author wrote this article themselves, and it expresses their own opinions. The author is not receiving compensation for it (other than from Seeking Alpha). The author has no business relationship with any company whose stock is mentioned in this article.
Additional disclosure: I am trading NG future contracts occasionally. These are just my personal opinions formulated when trading NG underlying securities other than NG ETFs without any third party interest, which cannot be interpreted as trading or investment advices and suggestions in anyway. Readers should be aware of high investment risk in energy sectors, especially in coal and natural gas industries, which are highly speculative. Readers should consult their own financial advisers before making any investment decision and trading. It is to the best of author's effort to collect public available data with accuracy. Readers should take due diligence in reading all numbers and are not encouraged to use these numbers in any purpose without their own validation.