The Australian dollar continues to decline as Chinese factory activity slows, weighing on export revenue on the island continent. The CurrencyShares Australian Dollar Trust (NYSEARCA:FXA) is down over 13% since July as Chinese data deteriorated.
Australia is heavily dependent on Chinese output as Australia exports a large quantity of goods and resources to the world's second largest economy. When demand falls in China, export revenue declines in Australia, pushing down the country's asset prices.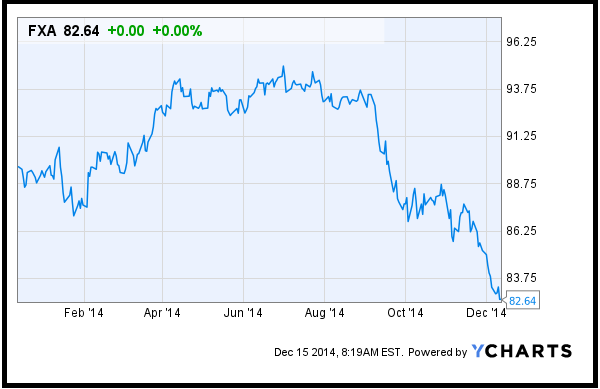 Chinese industrial production fell in the most recent month, marking nearly five straight years of decline. The industrial production figure fell to 7.2% annual growth in November, down from 7.7% the previous month, as well as missing estimates for 7.5%. As is seen in the chart below, Chinese industrial output has fallen from nearly 20% annually in 2010, to just over 7% currently. The fall in industrial output has come alongside declines in other economic indicators for the country as well.
"Friday's figures follow weaker-than-expected imports, exports and inflation figures earlier this week, adding to speculation that the Chinese central bank will undertake additional easing measures. In late November, the People's Bank of China cut interest rates for the first time in over two years to support the flagging economy as Beijing appears on course to miss the 7.5% growth target set earlier this year," according to a report by CNBC.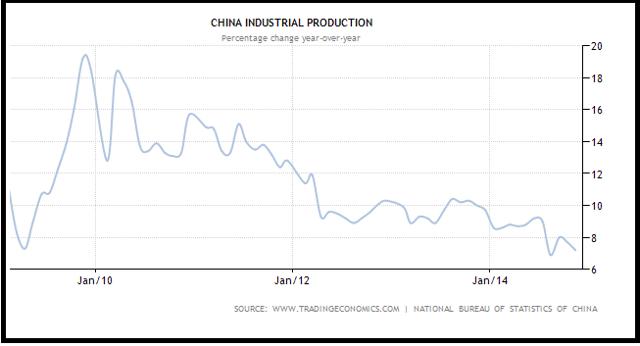 Data provided by Trading Economics
As Chinese industrial output has fallen, so have commodity prices across the globe. Both oil and iron ore prices have fallen lower in 2014 as Chinese demand dried up, with iron ore most affecting the Australian economy. Iron ore accounts for close to 20% of Australia's export income, with much of that coming from China, according to Finance Minister Mathias Cormann in a Bloomberg report. As is seen in the chart below, the price of iron ore has fallen nearly 50% since last December as Chinese economic data receded.
On Saturday, Australian Treasurer Joe Hockey said that he foresees iron ore prices remaining suppressed in the near future, continuing to weigh on export revenue.
"We are forecasting that [iron ore prices] remain around $60 a ton for the foreseeable future. The decline in the price of iron ore has had a big impact on the budget," Hockey said in a Bloomberg report.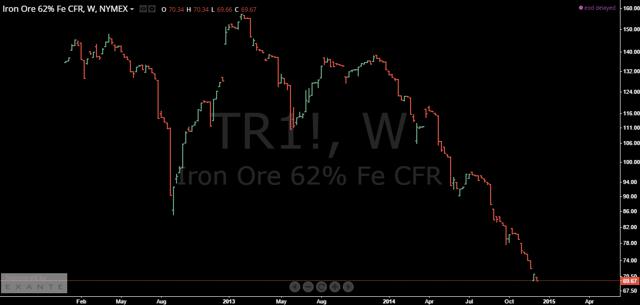 Data provided by Trading View
As commodity prices declined around the globe, and export revenue has fallen, Australian inflation growth receded. The inflation figure fell to 2.3% annual growth in the third quarter, down from 3% the previous quarter, and in line with estimates for 2.3%. While inflation strongly rebounded from lows of 1% in 2010, it has pulled back during 2014. Contributing most to the decline in inflation over the last quarter were "falls in automotive fuel (-5.2%), holiday travel and accommodation (-1.6%), and games, toys and hobbies (-8.7%)," according to Trading Economics.
With falling industrial output in China weighing on export revenue in Australia, leading to falling economic output and inflation, monetary policy on the island continent in likely to stay accommodative. As the economy remains fragile, expect the Australian dollar to continue its fall over the coming months.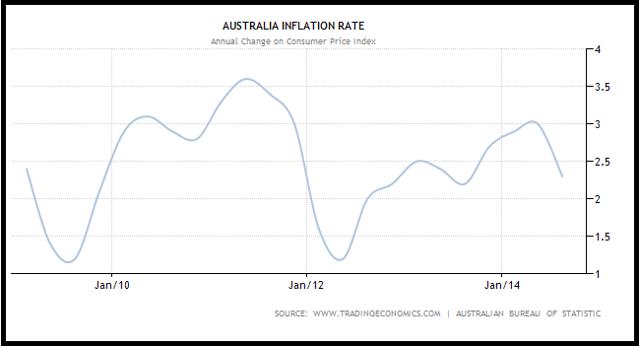 Data provided by Trading Economics
Disclosure: The author has no positions in any stocks mentioned, and no plans to initiate any positions within the next 72 hours. The author wrote this article themselves, and it expresses their own opinions. The author is not receiving compensation for it (other than from Seeking Alpha). The author has no business relationship with any company whose stock is mentioned in this article.