DryShips (NASDAQ:DRYS) continues to disappoint. I know management is not shareholder's best friend, but the recent share price development, especially after DryShips' equity offering in October, is more than just disappointing; it's heart breaking. Shares of the shipping company have now even fallen below the psychologically important $1.00 price level.
If you remember, DryShips announced the completion of its equity offering on October 29, 2014. The company sold 250 million shares at a price of $1.40, which put great selling pressure on the stock at the time. DryShips pursued the equity offering with the intention to raise cash in order to repurchase a part of its 5% senior notes, which matured on December 1, 2014 (see original press release here).
DryShips successfully completed its equity offering, and eventually repurchased $191.1 million of principal amount of the 5% convertibles senior notes in the open market. Additionally, it was reported that George Economou, Chairman, President & Chief Executive Officer of DryShips, participated in the equity offering with $80 million, bringing his stake in the shipping company to $16.9%.
Now, I know that many investors want to stay away from the shipping business for a lot of reasons. DryShips' majority stake in offshore drilling contractor Ocean Rig UDW (NASDAQ:ORIG) has not been helping the company to woo investors either.
The offshore drilling sector is one of the worst hit by the recent oil crash as investors fear that the falling oil price will render offshore drilling projects uneconomical. A look at the devastating plunge in the valuations of offshore drillers depicts how fearful investors really are: Ocean Rig UDW, Diamond Offshore Drilling (NYSE:DO), Seadrill Ltd. (NYSE:SDRL), and Ensco (NYSE:ESV) all declined dramatically in value in 2014.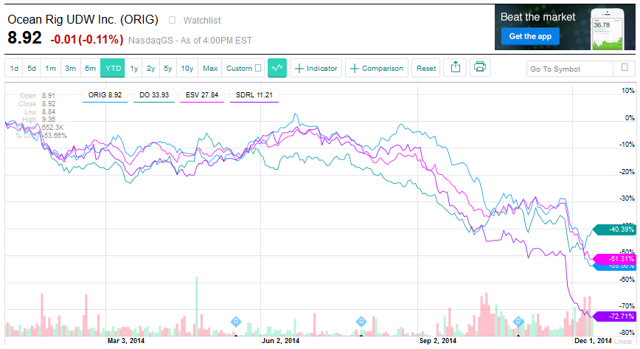 Source: Yahoo Finance
The sentiment that has built against offshore drillers including Ocean Rig UDW, in which DryShips has a 59.3% majority stake, has largely been responsible for DryShips' declining valuation as well. If the offshore market isn't doing well, DryShips will get punished because of its sizable, indirect exposure to the drilling market through Ocean Rig.
I think, though, that the market makes a big mistake here valuing DryShips and Ocean Rig. You can easily see this by recognizing that Ocean Rig trades at just 4x forward earnings. And investors hate the entire offshore drilling sector, too: Seadrill trades at less than 4x 2015 earnings, and Ensco at 5x forward earnings. These multiples, in my opinion, are not sustainable.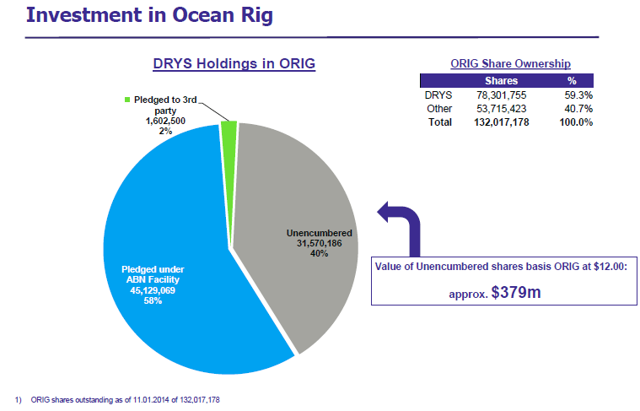 Source: DryShips Investor Presentation
DryShips' shares are down an eye-popping 81% since the beginning of year and have performed even worse than shares of Ocean Rig, which lost 54%. DryShips' equity offering did impact the stock negatively, no doubt about that, but DryShips' valuation eroded even more after the company completed its capital raise, which makes it likely that the fearful sell-off in the oil market is to blame for DryShips' latest slide.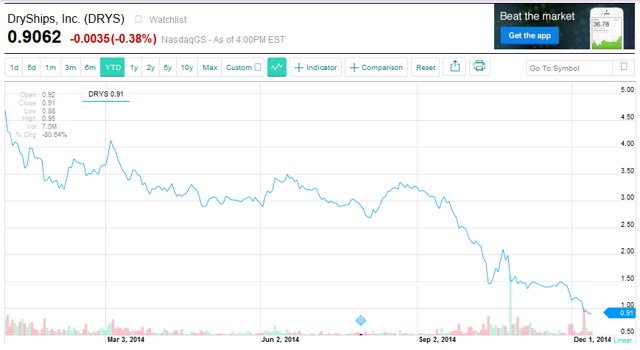 Source: Yahoo Finance
Bottom Line
DryShips' looks back on a devastating performance in 2014, and I understand investors who'd prefer balancing hot potatoes with their bare hands than consider buying DryShips. However, I think the market errs substantially in valuing both offshore drilling contractors such as Ocean Rig as well as dry bulk shipping companies like DryShips that get punished for their indirect exposure to the offshore drilling market. DryShips itself now also trades at less than 5x forward earnings making it likely that Mr. Market undervalues DryShips just as much as he undervalues the drilling companies.
Disclosure: The author is long SDRL.
The author wrote this article themselves, and it expresses their own opinions. The author is not receiving compensation for it (other than from Seeking Alpha). The author has no business relationship with any company whose stock is mentioned in this article.
Editor's Note: This article covers one or more stocks trading at less than $1 per share and/or with less than a $100 million market cap. Please be aware of the risks associated with these stocks.