Dan Loeb's Third Point hedge fund is a small owner of Amgen (NASDAQ:AMGN), but it has big plans. He thinks the biotech company should split itself into two businesses. The stock has continued to move higher this year, where by the time that Loeb disclosed his stake, Amgen was already up 25% on the year. It's since continued to move higher, now trading up 50% year-to-date.
The biotech company operates in the human therapeutics business, notably in recombinant protein therapeutics for supportive cancer care, inflammation, nephrology, and bone disease. However, as a $125bn market cap pharma company, Loeb has just a small stake in Amgen. But nonetheless, companies listen when Loeb speaks.
Third Point Pro Forma 3Q Portfolio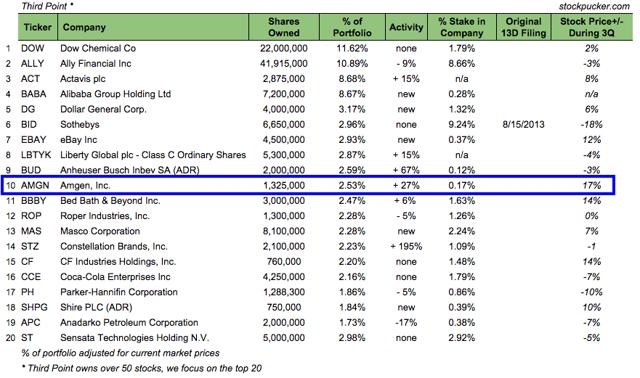 Source: stockpucker.com
Although Loeb is calling for an Amgen breakup, he does note that the company has a number of positive aspects; most notably, the pipeline, which appears to be underappreciated.
Part of the draw for Loeb is that Amgen is a "hidden value" play. What that means is that Amgen is a cheap stock that has superior revenue and earnings growth.
"Amgen has all the hallmarks of a hidden value situation, which is one of the fund's favorite investment themes. With respect to Amgen's pipeline, we believe the market underappreciates how disruptive some of its new products will be" (Third Point)
But if Amgen does split itself into two businesses, an R&D focused one and a cash generating products one, Loeb thinks the upside is to $250 a share.
By splitting up the company, Amgen would be able to cut overhead costs, while focusing on R&D. With that, EPS could hit $12.80 in 2017 - putting Amgen trading at less than 13x 2017 EPS.
If we use Abbott Laboratories (NYSE:ABT) as a precedent; Abbott performed a similar spinoff of AbbVie (NYSE:ABBV) last year, and since then shares of AbbVie have beat the market by 250% and Abbott has at least performed in line with the S&P 500.
However, the issue is that Amgen is already trading at 16x EV/EBITDA, which is higher than any major peer, including the likes of Johnson & Johnson (NYSE:JNJ), GlaxoSmith (NYSE:GSK), AstraZeneca (NYSE:AZN), Eli Lilly (NYSE:LLY), Pfizer (NYSE:PFE), Bristol Myers (NYSE:BMY) and Novartis (NYSE:NVS). Amgen's 19x forward P/E is also on the high end; as well, Amgen's 3.9x debt/EBITDA is at the top end of its peers.
Counter to that, Amgen does have one of the highest EBITDA margins around at 41%, even though it's paying out the highest R&D (as an expense of revenues), coming in at 22%.
Regardless, Loeb says that Amgen trades at a discount to fair value due to Amgen's poor record of capital returns. Amgen's ROIC is sub 9% and below its major peers. This comes as Amgen has struggled to make value-adding acquisitions over the last decade. The returns on acquisitions just haven't lived up to expectations. And recently Amgen decided to halt its buyback program until 2016 due to its Onyx Pharma acquisition.
Amgen Has Answered: Amgen has rejected Third Point's split up notion, but it is taking the criticisms to heart. Amgen will be cutting 4,000 jobs this year, almost 20% of its workforce. Cost-saving has clearly become more of a priority.
On top of the layoffs, Amgen also recently announced a buyback program of up to $2 billion in shares, and it will raise its dividend by 30%. The company is now expected to return nearly 60% of its earnings to investors over the next four years.
The other thing we'll add is that if Amgen does split, separating its cash generating business from the R&D business, it might not be all that productive. Right now, the cash generating products are funding Amgen's innovative pipeline. Without that, Amgen's pipeline might not be as impressive as it is today.
Where We Stand: Amgen could be an aggressive growth story despite the current valuation, where with its upcoming products, EPS growth could be the best amongst its pharma peers. However, it appears investors should still do some diligence given the fact that Amgen isn't all that cheap. And with the stock up nicely YTD, and a new shareholder return plan, it's likely that many shareholders (Loeb included) are happy for now.
Disclosure: The author has no positions in any stocks mentioned, and no plans to initiate any positions within the next 72 hours.
The author wrote this article themselves, and it expresses their own opinions. The author is not receiving compensation for it (other than from Seeking Alpha). The author has no business relationship with any company whose stock is mentioned in this article.