If you really want to buy what everyone is selling, there might be no better blue chip stock idea than IBM Corp. (NYSE:IBM). Given IBM's long list of problems, it might sound ludicrous to buy the stock, but three big reasons to buy IBM make sense headed into 2015.
Those reasons are buybacks, dividend and valuation. First, as P/E expansion continues in the market, IBM is trading at a deep discount of just 10 times next year's earnings. For value investors trying to identify limited downside in 2015, IBM might very well show up on their radar; those like Warren Buffett, who already own a large stake in the company.
Also, thanks to IBM's large stock losses this year, its dividend yield is now higher than at any period in the last decade. When added to the stock's cheap P/E multiple, both dividend and value investors might see IBM as a good opportunity when it's time to rebalance for 2015.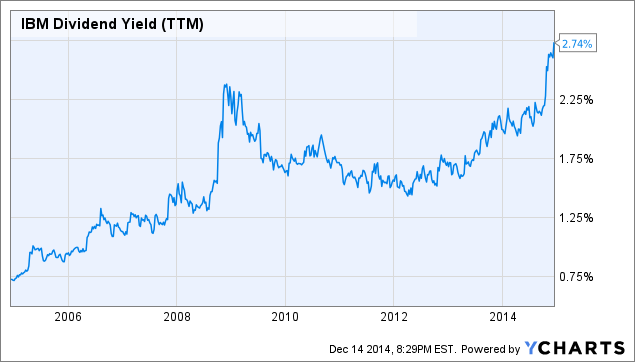 The last reason is what I consider most important, and that's its buybacks. The fact that IBM has reduced its share count by nearly 25% over the last five years has been well reported, but what slips through the cracks is the effect those buybacks have on its stock.
As seen in the chart below, IBM's willingness to buy back stock relentlessly, and at good times, has had a profound effect on the stock, and has saved it from what could have been a particularly bad five-year span.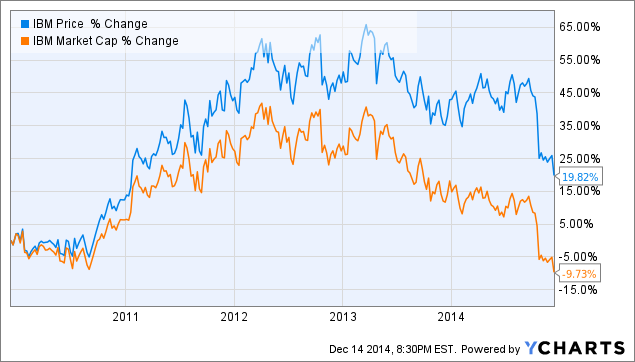 The fact that IBM's stock price has outperformed its market capitalization by nearly 30% over the last five years shows the effect that reducing shares has had on the stock. The effect of buybacks has been especially evident during the last 12 months.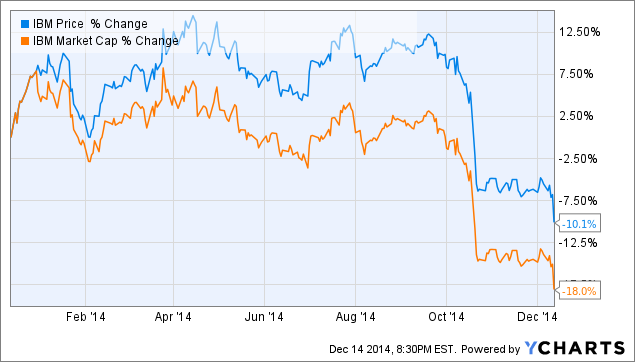 While IBM's market capitalization has decreased 18% during the last year, its stock has only fallen 10%. That's an 8% differential. Had the company not bought back stock so aggressively and reduced its shares, investors would be sitting with that 18% loss. While no loss is good, the fact that IBM buys back stock and has done so consistently is encouraging as we look ahead to 2015
Essentially, IBM provides investors with a buyer that never stops buying - itself. This means investors have downside protection, and also upside assistance at the same time. As noted, the fact that IBM's dividend yield has risen so much, combined with its attractive multiple might very well entice investors looking to diversify and rebalance their portfolios for 2015.
Granted, IBM still has operating problems. Its total revenue has fallen at a mid-single digit rate for over two years consistently, and while its cloud business has been a solid performer, it's uncertain how much of IBM's cloud growth is organic due to big acquisitions. In other words, we don't know how the cloud will perform going forward, or if IBM can become a legitimate threat to Microsoft (NASDAQ:MSFT) and Amazon.com (NASDAQ:AMZN).
However, there are also positives associated with the business, mainly the Apple (NASDAQ:AAPL) partnership and the unlimited possibilities it could provide in both the enterprise space. Further, IBM still has a leading presence in the enormous server market, and a newly announced partnership with Cisco (NASDAQ:CSCO) to further strengthen its position in the space. All things considered, IBM may be a troubled company, but the stock is priced as such. Thus, with there being clearly identifiable bright spots in its business, combined with its cheap valuation, high dividend, and killer buybacks, IBM might just be that stock to surprise naysayers in 2015.
Disclosure: The author has no positions in any stocks mentioned, and no plans to initiate any positions within the next 72 hours.
The author wrote this article themselves, and it expresses their own opinions. The author is not receiving compensation for it (other than from Seeking Alpha). The author has no business relationship with any company whose stock is mentioned in this article.