Synchrony Financial (NYSE:SYF) is one of the winners from the dramatic drop in oil prices. SYF, which provides private label credit cards and financing for elective procedures (dental, veterinary, cosmetic, etc.), went public via a spin-out from General Electric (NYSE:GE) on July 31. GE still owns approximately 80% of SYF, and plans to dispose of its shares in late 2015. Since the IPO, SYF is appreciated strongly, up 26%, to $29.00/share.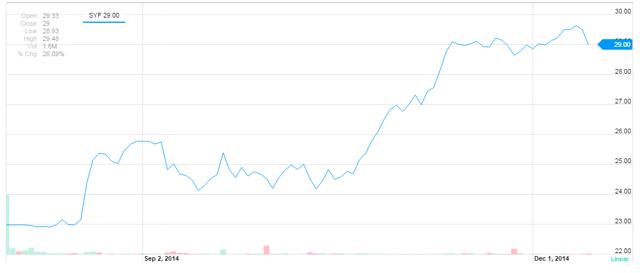 Source: Yahoo!
SYF is driven by three primary factors, 1) consumer spending, 2) credit quality and 3) cost of funds. There are strong positive trends from consumer spending and credit quality and the Company's cost of funds has remained moderate.
Consumer Spending
Simply put, the drop in US gas prices have provided a nice boost in the incomes of most American's. Tracy Noble, an AAAMidAtlantic spokesperson indicated lower tax prices saved an average driver over $600 per year. These Americans, feeling more confident as the economy grows and unemployment falls (5.8% November, 2014) to the lowest levels since 2008, are opening their wallets.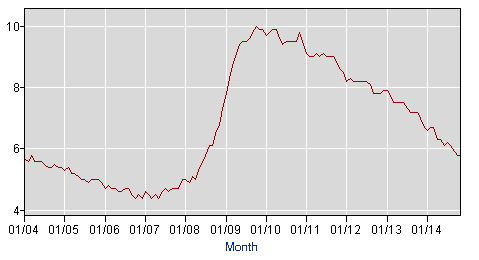 Source: Bureau of Labor Statistics
On December 12, the Thompson Reuters/University of Michigan preliminary December index of consumer sentiment increased to 93.8%, the highest number since January 2007 (Bloomberg.com). Bloomberg reports, "Six months of falling gasoline prices are freeing up disposable income for households during merchants' busiest time of the year. Sustained hiring combined with faster wage growth is providing the impetus for further retail sales gains that will underpin the economy as the year draws to a close."
Expect a substantial portion of the $600 per driver "refund" to be spent on merchants through SYF operated private label credit cards (e.g. Amazon (NASDAQ:AMZN), JCPenny (NYSE:JCP), Lowes (NYSE:LOW) and Wal-Mart (NYSE:WMT)) as well as on increased elective procedures financed by SYF.
Credit Quality
In SYF's third quarter report, the Company increased provision for loan losses by $134 million compared to the prior year due primarily to a reserve build and also saw a 6 bp increase in year-over-year delinquencies (to 4.26%). The strong economy continues to drive strong credit quality, slightly mitigated by an easing of credit standards. The "raise" from falling gas prices combined with lower unemployment and conservative loan loss reserves will serve to help credit quality (more sources of repayment) for at least the fourth fiscal quarter of 2014 and the first fiscal quarter of 2015. According to Robert Brusca, chief economist at Fact and Opinion Research, lower gas prices could put, "as much as $40 billion in people's pockets in the fourth quarter."
Cost of Funds
SYF borrows money, which in turn it loans to consumers via its credit products. All of SYF's bonds have "traded up" in recent months and all are trading above par and yield less than coupon.

Source: FINRA via Morningstar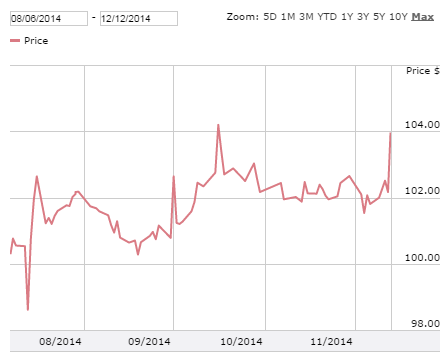 Source: FINRA via Morningstar.com (3.75%, Aug. 2012 bond)
Unlike junk bonds, whose yields have increased in recent weeks, investment grade debt has continued to be highly valued and easily accessed.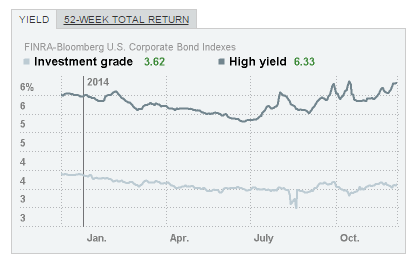 The perpetually impending increase in interest rates is a medium-term risk for SYF. However, the Company clearly has access to low cost capital, and recent hints of interest rate increases have not negatively impacted the price of SYF bonds.
Opportunity?
It appears to this observer that the strong, positive trends in the consumer market have not been fully reflected in analyst SYF forecasts. As the below chart indicates, estimates have been relatively stable for a period of time.

Source: TDAmeritrade
At 11.4x consensus 2015 estimates, SYF is less expensive than American Express ((NYSE:AXP), 15.0x), but slightly pricier than Capital One ((NYSE:COF), 10.4x and Discover Financial Services ((NYSE:DFS), 11.1x. I do expect the positive trends highlighted to benefit all of these companies. Bottom line, the combination of lower oil prices, and a growing US economy could provide a nice upside for SYF.
This article only reflects the author's opinion. It is not designed, and should not be used as the basis of an investor's buy or sell decision. Investors should always conduct their own due diligence and make their own buy and sell decisions.
Disclosure: The author is long SYF, GE.
The author wrote this article themselves, and it expresses their own opinions. The author is not receiving compensation for it (other than from Seeking Alpha). The author has no business relationship with any company whose stock is mentioned in this article.