If this weekend brings resolution to the seemingly intractable problem of Greek sovereign debt, it could mark a point to begin looking at European banks. As the comparison chart below shows, staying clear of most European banks has been a successful strategy. They have underperformed their U.S. and emerging market (EM) peers for much of the last three years. The EU sovereign debt crisis, which followed on from the U.S.-led subprime crisis, has up to now proven contagious and unsolvable, not due to lack of solutions, but political impasse.
Click to enlarge: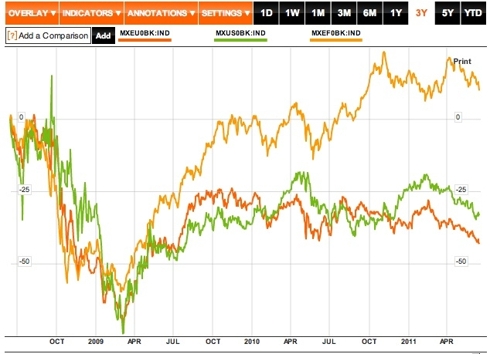 To be clear, European banks still face a number of headwinds. Weak EU growth (ex-Germany) is now against a backdrop of weaker growth globally. The July results of EU bank stress tests are certain to identify a longer list of names with a larger capital shortfall than last year. Funding sources have not yet normalized, evidenced by continuing reliance on ECB funding, strong competition for deposits and mixed outcomes in the covered bond market. Higher, more stringent capital requirements under Basel III already meant capital-raising for most banks, particularly those in Europe who entered the crisis with both a lower amount and a mix of capital.
Fundamentally, banking is the sum of capital and confidence. Successful formulation of a workable solution to Greece's debt re-structuring would address the current uncertainty in both capital and confidence for the sector, and stem the increasing risk of contagion. Reliably quantifying the amount of bank capital to be raised would help markets begin to better discriminate between individual EU bank risks.
Up to now, tilting sector investments to EM bank names supported by strong fundamentals has been the right strategy and is a trend expected to continue. The U.S. has presented a more mixed outcome as mortgage woes and reversing economic data trends weigh more heavily. While EU loan growth has been mixed, most banks (ex-Spain) have shown stable operating and loan loss development trends. Instead, the overwhelming concerns for EU banks have been balance sheet driven, namely exposure to Greek, Irish and Portuguese sovereign debt.
If EU politicians are able to work out a viable deal on Greek sovereign debt, re-visiting Italian (IntesaSanPaolo (OTCPK:ISNPY)), German (Deutsche Bank (NYSE:DB), Aareal Bank (OTC:AAALF)), Nordic (Svenska Handelsbanken (OTCPK:SVNLY)) and Swiss (Credit Suisse Group (OTCPK:CSGKF)) banks would be sound preparation to benefit from their improving investment outlook. Valuation metrics for these names are supportive – trading at single digit P/E ratios and below book value.

Disclosure: I have no positions in any stocks mentioned, but may initiate a long position in OTCPK:CSGKF over the next 72 hours.

Additional disclosure: Long Svenska Handelsbanken, Aareal Bank