As discussed in this November 11th Seeking Alpha article, payment terms for Ceragon Networks' (NASDAQ:CRNT) customers have been overly generous resulting in difficulty in evaluating operating performance. Nevertheless, after discounting accounts receivable, author arrived at an estimated fair value per share of $1.57.
This morning's announcement of the write-off of Venezuelan dollar denominated assets of $19 million was surprising in size but not completely unexpected. Going the other way, there were two pieces of positive news. The first being that decisive action to cut costs in a size large enough to provide strong assurance of finally returning to profitability and just as importantly the Chairman has been making sizeable purchases of stock in the open market mentioned in this Seeking Alpha article and this SEC filing. How things will ultimately work out is impossible to say for sure but author retains his shares and will hope that Zohar Zisapel's purchases are an indication of positive things to come.
Venezuelan Write-Off
This is the tail end of what has obviously been a disastrous year for Ceragon in South America with bad results not only in Venezuela but also Argentina. In the May 2014 conference call Ira Palti made the following comments:
"Venezuela, we are not doing any business of entering - of selling into the country. For Argentina we're doing only transaction in U.S. dollar, so we're not expect(ing) any more significant effect of those over the next quarters.
Obviously things did not work out that way. Author was relieved to hear in today's conference call that the further losses did relate to earlier receivables which were denominated in dollars and that the company had not changed its policy with regard to not selling into Venezuela. Basically, the government has said that companies cannot buy dollars at any price so companies cannot pay regardless of capacity. It may sound strange to readers but sometimes private enterprises in countries such as Venezuela and Greece (in the not so distant past) are viewed as more positive credit risks than government.
Author believes that a substantial portion of the receivables will ultimately be collected because mobile phone service is something than even very poor consumers find money to pay for but payment cannot realistically be expected until the Government of Venezuela defaults on its debt and stops seizing assets of the private sector. This might obviously never occur and writing off the debt was the right thing to do but as most quality Greek receivables were ultimately collected, author believes the Venezuela telecoms will also pay.
Cost-Cutting Efforts
Significant detail on the cuts were not provided but they were made across the board and included cuts in Israel. The $10-$12 million charge is not welcomed but as it saves around $5 million per quarter in expenses, the payback is extremely fast.
The company did say that these cuts were viewed as temporary and that it was hoped that employees will be brought back when margins improve. Further the company indicated that they believed they already had the lowest cost structure in the industry.
Liquidity
Liquidity is going to remain a risk for the company until the accounts receivable cycle runs and they begin to collect receivables from the period when sales began to recover. This is expected to occur in Q2 of 2015.
Until then, author believes that if problems are encountered they can raise additional debt or equity capital if required. Author would prefer sooner rather than later but the simple fact is that this is a very entrepreneurial firm and having lots of excess capital sitting around is not a common practice for such firms.
Insider Buys
As mentioned earlier, this Seeking Alpha article highlights the fact that Zohar Zisapel has recently purchased 1.22 million shares in Ceragon. Author would acknowledge that Mr. Zisapel has a long history of making follow-on investments in his firms and as a general rule they have been very successful. He also has a track record of stepping in to provide financial assistance when times are tough as he did with Radcom (NASDAQ:RDCM) so author believes the liquidity situation is manageable.
Valuation
Author largely stands by his earlier calculation of fair value being around $1.57 per share. Modified receivables discount slightly but as author indicated earlier in this article, he believes that Venezuelan telecom companies will ultimately be able to repay their debt just as high quality Greek companies have done. The revised share price target is $1.53 and author is more confident now than he was a month ago given the decisive action taken to cut costs along with the insider purchases.
In my opinion, Ceragon is a solid buy.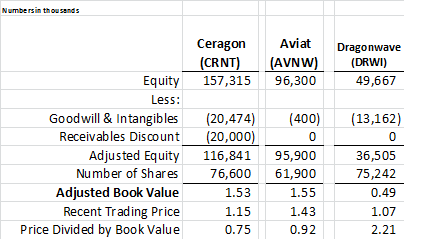 Disclosure: The author is long CRNT.
The author wrote this article themselves, and it expresses their own opinions. The author is not receiving compensation for it (other than from Seeking Alpha). The author has no business relationship with any company whose stock is mentioned in this article.
Editor's Note: This article covers one or more stocks trading at less than $1 per share and/or with less than a $100 million market cap. Please be aware of the risks associated with these stocks.