I reiterate my bullish stance on Mondelez International (NASDAQ:MDLZ); the company is well headed to improving its long-term growth prospects through its product portfolio strengthening and productivity improvement efforts. Moreover, the benefits of restructuring initiatives are indicating decent growth in the company's bottom-line numbers in the years ahead. MDLZ's strong growth potentials and effective cost saving efforts will keep its earnings healthy and free cash flows impressive, due to which the company's cash returns to shareholders will remain healthy. And the stock offers a potential price appreciation of 11.5% as per my price target calculations shown below.
MDLZ's Growth Efforts are set to better its Performance In 2015
Despite the competitive industry environment, MDLZ is well headed to growing its top-line numbers and perform better than its competitors. The company's expansion into new markets through acquisitions has been doing well to grow the company's market share in Europe and emerging markets. MDLZ continues to undertake more strategic acquisitions in efforts to expand its business in emerging markets. The company recently announced its plans to acquire a majority stake in Vietnam's topmost confectionery group, Kinh Do Corporation, for $370 million; the acquisition is expected to close in 2Q'15. With this acquisition, MDLZ's snacks portfolio will be enriched due to the addition of Kinh Do's leading brands like Moon cakes, Solite soft cakes and Cosy biscuits. And as a matter of fact, its enriched snacks portfolio will not only position the company well among its peers, but will also boost its top-line growth in the second half of 2015. I believe that as MDLZ's acquisition activity accelerates in fast growing emerging markets, it will fuel its top-line growth in the long run.
Along with strategic acquisitions, the company is looking to increase the production capabilities of its previous acquisition in international markets. In this regard, the company will be spending almost $24 million towards the extension of its manufacturing unit in Turkey. The extended manufacturing unit, expected to be operational by the end of 2015, will add towards the company's top-line numbers by improving the production capacity of MDLZ's Turkey based unit by 20%. As the strong growth potentials of recent acquisitions and the extension of production capacities of existing operations in growing emerging markets will start delivering results, the company will start witnessing decent growth in its top-line numbers during the second half of 2015.
The following chart shows MDLZ's net sales growth (in %) in the last three quarters, and it includes my net sales growth projections for upcoming quarters.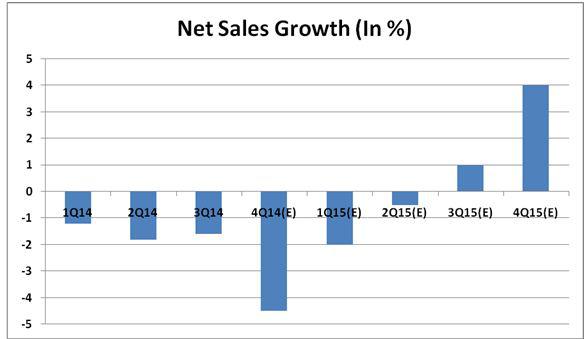 Source: Company's Quarterly Earnings Reports and Equity Watch Estimates
Profitability Margins and Bottom-Line
In the recent past, the industry's profitability margins were adversely affected by input cost inflation; most importantly, the prices of cocoa and dairy products. Despite the prevailing headwinds of input cost inflation, MDLZ has been growing its profitability margins by raising the prices of its products. Moreover, cost control has been another tool that MDLZ has used to grow its profitability margins. As the company recently planned on shifting production from old and inefficient plants to its improved production facilities, the percentage of its power brands produced on advantaged assets will increase from 15% to 18%, approximately. I believe these efficient production facilities will lower the company's manufacturing cost burden, helping profitability margins grow in the years ahead.
Moreover, the company has been actively pursuing restructuring initiatives to keep the cost burden low. With the previous 2012 restructuring plan set to expire by the end of 2014, MDLZ has announced a follow-up $3.5 billion restructuring plan for 2014-2018. This new restructuring plan will lower the operating expense burden by speeding up supply chain cost reductions, disposing off assets and implementing zero-based budgeting. Due to the expected cost reductions of this new restructuring plan, the management anticipates annualized cost savings of no less than $1.5 billion by the end of 2018. I believe the combined effect of ongoing pricing increases, strong growth potentials of expansion in emerging markets, and effective cost reduction efforts will portend well to grow the company's earnings in the long run. Analysts are also anticipating that MDLZ's earnings growth in upcoming years will outpace its peers Kellogg (NYSE:K) and Kraft Foods Group (KRFT)'s earnings, as shown in the table below.
| | |
| --- | --- |
| Companies | Earnings Growth |
| MDLZ | |
| K | |
| KRFT | |
Source: Nasdaq.com
Healthy Returns
MDLZ has been sharing its success with shareholders through dividends and share repurchases. By the end of 3Q14, the company had repurchased 34 million shares by paying $1.2 billion to its investors. Going forward, as it remains committed to repurchasing more shares in the coming quarters, MDLZ's total repurchases for 2014 will be around $1.2 billion-$2 billion. I believe these share repurchases will keep the company's EPS growth for 2014 in high-single digits. Moreover, the company is paying modest dividends. By the end of 3Q14, MDLZ's dividend payments were around $700 million. Also, the company had recently declared its quarterly dividend of $0.15. As the company is set to experience healthy growth in the future, I believe it will generate strong free cash flows in 2015, which will further support its dividend payments and share repurchase activity.
Price Target
I have calculated a price target of $43 for MDLZ. In my price target calculations, I have used cost of equity of 5%, cost of debt of 4.5%, nominal growth rate of 0.5% and WACC of 5%. The stock has an upside price potential of 11.5% as per my price target calculations, shown below.
| | | | | |
| --- | --- | --- | --- | --- |
| | 2015 | 2016 | 2017 | Terminal Value |
| FCF (In $-Millions) | 2,377 | 3,185 | 4,268 | 95,319 |
| Present Value of FCF (In $-Millions) | 2,258 | 2,889 | 3,670 | 81,974 |
Source: Equity Watch Calculations & Estimates
Total Present Value of Firm = $2,258 + $2,889 + $3,670 + $81,974
= $90,791 million
Market Value of Debt = $17,900 million
Market Value of Equity = $90,791 - $17,900
= $72,891 million
Number of Shares Outstanding = 1,680 million
Price Target = $72,891/1,680
= $43/Share
Conclusion
The company's strategic acquisitions efforts are set to accelerate its top-line growth in 2015. Moreover, the effective cost saving efforts by MDLZ will keep its profitability margins high. Also, attractive acquisitions in emerging markets and cost saving efforts will keep the company's earnings base healthy for future years. Also, the company has been sharing success with shareholders through dividends and share repurchases. And the stock offers an upside potential of 11.5% as per my price target calculations. Due to all the aforementioned factors, I am bullish on MDLZ.
Disclosure: The author has no positions in any stocks mentioned, and no plans to initiate any positions within the next 72 hours.
The author wrote this article themselves, and it expresses their own opinions. The author is not receiving compensation for it (other than from Seeking Alpha). The author has no business relationship with any company whose stock is mentioned in this article.