Facebook (NASDAQ:FB) shares may be the new safe haven sensation stock, replacing Apple (NASDAQ:AAPL), which has shown relative weakness of late. Through the early December swoon for stocks, Facebook shares have actually gained in value against peer decline. That's because of what happened after the last earnings report and where the stock was situated versus peers. It's a sign of strong support here for the stock, and all the more reason to own Facebook before investors better understand the misunderstanding that penalized the shares. This stock can produce 36% annual capital appreciation over the next five years, and astoundingly, I even see a margin of safety within that expectation.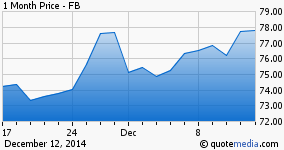 1-Month Chart of FB Shares at Seeking Alpha
Facebook shares actually gained 0.2% since the close of November through its close on December 12. That compares to the 3.2% drop in the PowerShares QQQ (NASDAQ:QQQ), which tracks the Nasdaq-100. Apple was down 7.7% through the same time span, so my former favorite safe haven play, which I still like (and am long), looks to have been replaced by the Facebook. Facebook is up 3.9% since its December 3rd closing low for the month. It's a display of resilience in the face of serious questions for stocks. And I think it's a reason to own Facebook here.
Facebook's strength is the unfortunate result of a poor stock price display after its last earnings report. That was when the company surprised the market with a warning about its plans to ramp up expenses in 2015. It led to an unfortunate misunderstanding in my opinion because Facebook will likely see commensurate revenue gains in 2015. Its superior EPS growth will continue through the year as well. I expect management to better communicate this at some point soon, either through actual earnings performance or more thoughtful discussion about capital expenditures in the context of revenues and margins rather than in isolation.
I was long Facebook into its earnings report and made some money as it moved from the lower $70s toward $80. But I could not stop myself from taking a new long position into the earnings report. I still cannot fathom how companies can so often fail to perfectly understand how its communications will affect the stock and shareholders. I'm sure I could add value in some advisory fashion to companies by vetting communications for them before they publish or speak.
So when Facebook's management team so deliberately focused attention on the company's plans to spend more next year (a lot more) during the last EPS conference call, the stock tanked despite a stellar earnings report. I listened with my jaw dropped and my pockets bleeding cash. Still, the event and the trading days that followed showed us where true support is for the stock, and that's nice to know too.
In my opinion, the latest strength in the stock shows that it is now a destination of capital from other stocks, where valuations were extended or new risks are rising. FB has likely benefited from capital flowing out of energy, but also out of names such as Apple and Tesla (NASDAQ:TSLA). Investors are looking for stocks that have lagged of late, but still should enjoy superior growth in the future. That puts a target right on Facebook. This is the reason why the shares have moved higher as the QQQ has fallen. The smart money knows this company's potential.
Facebook continues to grow its member figures, despite rumors that youth are moving on to other sites and apps. Facebook has well hedged against that risk anyway, with acquisitions of WhatsApp and Instagram. And I expect the company's Oculus acquisition to add significant value to operational results in the years ahead. These are areas where Facebook is investing, as it so deliberately told us, but where it will also see commensurate revenue and earnings benefits. And let's not discount its core opportunity, thanks to its clever effort to broaden internet usage globally and its massive operational leverage opportunity on its vast Facebook membership base.
I presciently predicted Facebook could weather any storm in September, and it looks like I have been proven right in December. I continue to love the stock on a valuation basis as well, which for some readers may sound paradoxical. However, the stock trades at 41X the analysts' consensus estimate for 2015, despite expectations for it to grow at a 36% clip over the next five years. The PEG ratio on that is 1.1X! I don't often use an exclamation point when writing about stocks, but I need to make a point here. This growth is possible and likely even understated, and it's not accounted for in the stock price. It pretty much means an investment in Facebook should appreciate by about 36% a year for the next five years. But Facebook tends to beat estimates, which means these valuation estimates are likely understated. That provides the margin of safety Benjamin Graham spoke of and advised investors to have in securities owned.
Yes, then, Facebook is a flight to safety destination, despite its status as a so-called momentum name. This is deserved momentum, understated and misunderstood, but it must correct to a higher price point at some point also. If not, enjoy the conservative 36% ride higher year-to-year. It is difficult for me to contain my good feeling and confidence about this stock, and it has been that way since it traded in the lower $20s. Of course, we need to stay on top of the story, which I will, and I will update readers if necessary about any change in outlook or opinion here, so you may follow my column to receive those reports.
Disclosure: The author is long AAPL.
The author wrote this article themselves, and it expresses their own opinions. The author is not receiving compensation for it (other than from Seeking Alpha). The author has no business relationship with any company whose stock is mentioned in this article.