The early gains have disappeared as the hostage standoff in Australia dragged on, with early reports suggesting that two died and three were injured during the event. Media reports suggest that the individual responsible for the attack is a sympathizer for the radical Islamic groups that the West has battled in the Middle East and elsewhere for the last 14 years or so.
We are seeing a bounce in some commodity stocks this morning, but nothing that gets us too excited for the sector at large. It feels more like normalized trading today rather than the recent volatile environment investors have been forced to operate in since OPEC's production decision on Thanksgiving.
We did find it interesting that Deutsche Bank lowered their outlook on United Parcel Service (NYSE:UPS) due to the stock's recent rise. While many analysts are raising their guidance and opinions on airline and transportation stocks, we are seeing some begin to question valuations at current levels. Energy prices can only go so low while providing a tailwind for stocks.
Chart of the Day:
Platinum has had a rough run of it lately, nearly falling to par with gold. Historically, platinum has traded at a premium to the yellow metal, but since July we have watched as the premium has been whittled away. The difference is now less than $5/ounce today.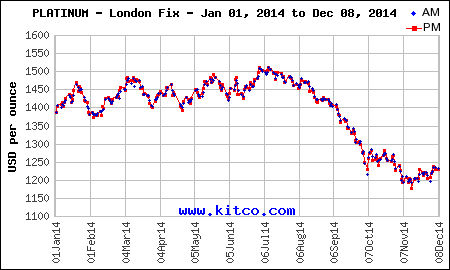 Source: Kitco
Commodity prices are as follows (at time of submission):
Gold: $1,215.00/ounce, down by $7.50/ounce
Silver: $16.88/ounce, down by $0.177/ounce
Oil: $56.74/barrel, down by $1.07/barrel
RBOB Gas: $1.5951/gallon, down by $0.0022/gallon
Natural Gas: $3.794/MMbtu, down by $0.001/MMbtu
Copper: $2.906/pound, down by $0.028/pound
Platinum: $1,218.70/ounce, down by $12.80/ounce
Interest Grows For Talisman
Shares in Talisman Energy (NYSE:TLM) are rising again today after the company confirmed that they are in talks with Spain's Repsol (OTCQX:REPYY) for a corporate merger. Talisman also stated in their release that they had inquiries from other parties and were aware of interest, but it seems that all of the company's attention is currently on reaching a formal agreement with Repsol.
One interesting development for investors is that the Canada Pension Plan Investment Board, or Canada Pension, is looking into launching a bid for the company, according to some reports. While we doubt this indicates that Canada is not keen to see another one of its major oil companies taken over by foreigners, that is always a possibility after new federal guidelines were put into place a few years ago. We think the market is correct to view all of this as good news as it appears that there are numerous bidders waiting should Repsol back away.
Buyback Plan Announced
AGCO Corporation (NYSE:AGCO), the agricultural machinery manufacturer, announced a new $500 million share repurchase program which will be in addition to already announced programs. The company will have until the end of 2016 to complete the purchases.
The company's shares are trading right at 52-week lows and very near three-year lows. This is a welcomed move for shareholders who have seen the value of the company's shares fall by about 20% in recent months.
Interesting Analyst Move
Sometimes we are surprised by the reasons that analysts give for going bullish of certain stocks, especially when they blatantly state that their recommendation is indeed expensive relative to peers but that investors should ignore that fact. It sounds rather amusing, especially when discussing a company in an industry the entire market seems to be bearish of, but that is exactly what BMO Capital Markets said when they upgraded shares of Exxon Mobil (NYSE:XOM) from 'Underperform' to 'Market Perform'.
While Exxon Mobil shares are expensive relative to peers, it is due to the company's historical outperformance versus competitors and its track record of working through difficult operating environments. With the company's dividend now yielding over 3%, it certainly appears that there is yield support and that on a historical basis that Exxon Mobil is attractively valued.
Disclosure: The author has no positions in any stocks mentioned, and no plans to initiate any positions within the next 72 hours.
The author wrote this article themselves, and it expresses their own opinions. The author is not receiving compensation for it (other than from Seeking Alpha). The author has no business relationship with any company whose stock is mentioned in this article.
Editor's Note: This article discusses one or more securities that do not trade on a major U.S. exchange. Please be aware of the risks associated with these stocks.