Now that many of you who don't live in China are aware of the e-commerce frenzy that is Singles Day, better known in China as Shuang Shiyi (literally translated as "Double 11"), I guess Alibaba (NYSE:BABA) founder Jack Ma decided that he may as well start up another holiday from scratch to keep this momentum going.
I have lived in China since 2011, so of course I had heard about Double 11 before this year. To some extent, I had even expected the blowout numbers. I had predicted a 50 billion RMB ($8.2 billion) day, but the numbers came in even better than that. Total gross merchandise volume on Double 11 2014 came in at 57 billion RMB ($9.3 billion). It was a great day for China and a great day for those long Alibaba Group like myself.
However, I was not aware of the new shopping holiday that recently swept over the most populous nation on Earth. Alibaba has branded December 12 as Shuang Shier. And as you might have guessed, this phrase means "Double 12". From what I gather from my Chinese associates, this "festival" (if you can call it that) did in fact exist last year. However, there was not much brouhaha over the festivities in 2013. Oh, how quickly things can change in China.
O2O and Alipay Come to the Forefront
Whereas Double 11 Singles Day seems to be firmly grounded in Alibaba's bread-and-butter B2C and C2C markets, Double 12 focuses on the burgeoning O2O (online to offline) market. Essentially, O2O aims to stimulate demand for physical products online and somehow to translate that demand into actual purchases at physical stores. In theory, O2O seems like merely an academic exercise. How exactly do I get someone to move, in literally the most physical sense (with their feet), from the anonymous comfort of their digital realm into the teeming hustle and bustle of the hoi polloi?
The O2O space has certainly received a lot of attention over the past year. Tencent (OTCPK:TCEHY) and Baidu (NASDAQ:BIDU) have teamed up with Dalian Wanda Group, famed Chinese operator of American AMC Cinemas (NYSE:AMC), to co-develop their own O2O platform. JD.com (NASDAQ:JD), which Tencent happens to have a 15% stake in as well, has made its own foray into the O2O market, specifically via China's ubiquitous convenience stores.
But none of these companies have a mainline into the digital payments juggernaut that is Alipay, which currently commands 49.2% of the quickly growing market for online third party payments. Note the following chart compiled from data provided by iResearch: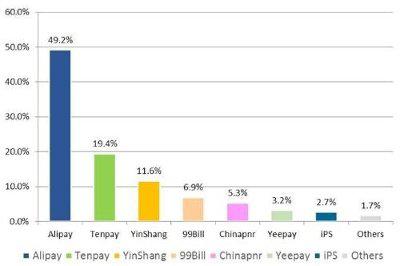 In Q3 2014, iResearch notes that this market's gross merchandise volume, or GMV as it has lovingly come to be known in Chinese e-commerce discourse, will exceed $326 billion this year. With too many secular tailwinds to mention here, growth in mobile payments in China is still ramping up. Let me reiterate that for empasis - $326 billion. Three hundred twenty-six billion dollars. Not Renminbi, Dollars.
The 2014 version of Double 12 has certainly brought the previously pure academic concept of O2O commerce to the forefront.
Promotional Activity Adds Fuel to the Fire
Now, of course, Alibaba has that IPO money, and for the past few weeks Chinese residents have been bombarded by a series of somewhat freakish ads to let us all know about the upcoming Double 12 Festival where it is "unbelievable but really true" (my translation of the main catch phrase on the ad) that stores will, once again, be offering deals of up to 50% off.
Here are the aforementioned ads, and some more of my bad translations:
"Discover one good shop with a jubilant mood."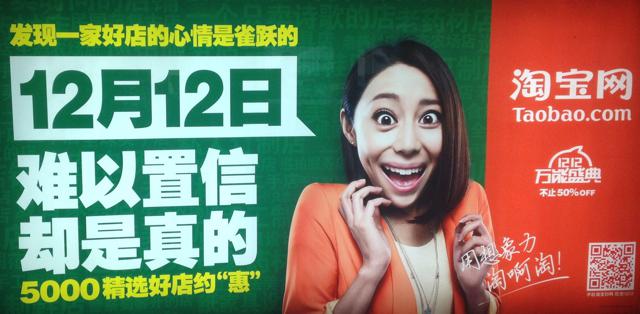 Something about an online shopaholic, of which there are many in China.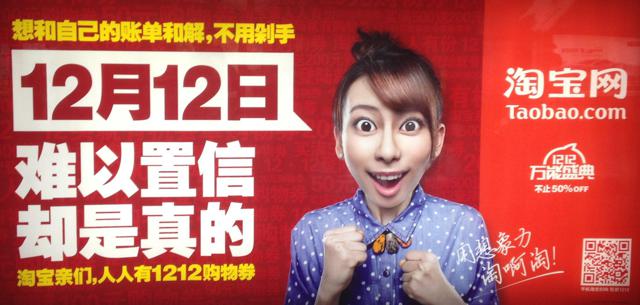 "Only the brand is too boring."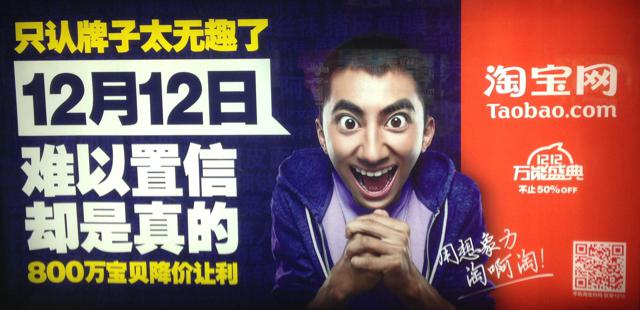 Having seen these ads all over Shanghai for the past month, I figured Double 12 to be a Taobao-only event. Boy, was I wrong. It's all about Alipay.
An "Uncommon" Hat Tip to Phil Fisher
On the day of 12-12, I used the Phil Fisher scuttlebutt method, asking everyone I come into contact with about just what exactly this Double 12 is.
First, there was the guy who told me he couldn't buy any bread at the Family Mart. Some huge promotion had prompted a rush on bread products.
Then, my girlfriend texted me about long lines at the ice cream store. How troublesome! Thanks Double 12. You owe me a sweet treat, Jack Ma!
Lastly, I came home to find the candy store in my subway station literally overrun with customers: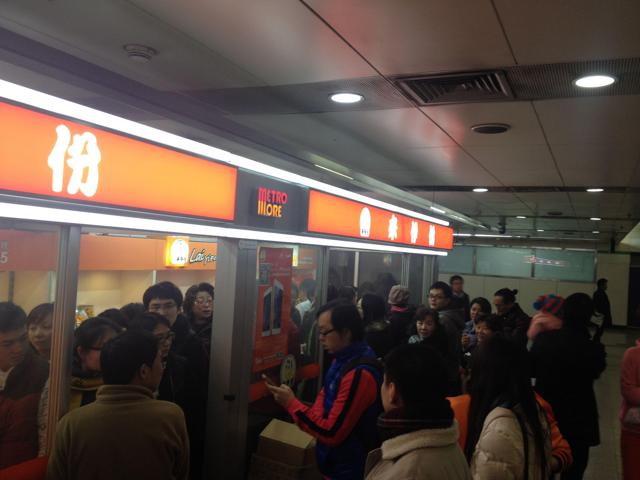 All of these products are not exactly what you would call high-demand products. And yet, here are customers. Lots of 'em. How Double 12 differentiates itself from Double 11 is that, although the deals are ostensibly offered on Taobao, you need to go to the actual physical store AND use the Alipay Wallet app to activate them.
Here is an example of an in-store ad at a local 7-Eleven. Basically, the sign says "50% off on December 12, 10% off on all other days December 1-15 when you use Alipay Wallet."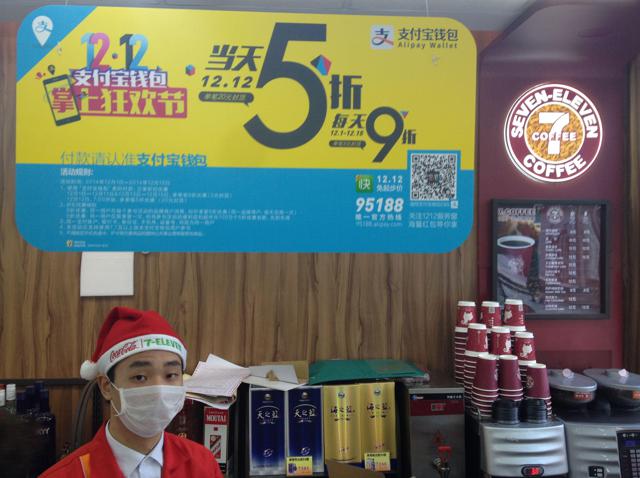 Hence, the store drives you to the app, and the app and e-commerce platforms drive you to the store. It's O2O in all its synergistic glory, playing out on a massive scale in a massive market full of people that are obsessed with their Internet-enabled mobile phones.
Conclusion: Impact to Alibaba Group
Customers all over China were brought into stores by this kind of Alipay promotion during the first two weeks of December. When they used the AliPay Wallet app to pay for their purchases, consumers received up to 50% off at brick-and-mortar stores, stores that typically do not compete with the big-ticket item powerhouses that dominate the Singles Day festival.
Watch the video at the link above from Alizila, Alibaba's promotional media arm. You will begin to understand why Alipay parent Ant Financial, of which BABA owns 33%, recently garnered a $70 billion valuation. That's $23.1 billion of equity right there that will likely go much higher by the time Alipay finally does its IPO, most likely on the recently red-hot Shanghai Stock Exchange.
Double 12 is not restricted to Taobao. Taobao is just the jumping-off point. Double 12 is a way to convert more people into mobile commerce customers (read O2O), and it looks like it's working. Big time. Alipay has already processed 54% of its transactions via mobile this year through October. This mobile usage is accelerating rapidly. This figure was a paltry 22% just last year.
What will be the impact of a promotion like Double 12 in the long run? What if Double 12 catches on like Double 11 did? With investments like Alipay and department store operator InTime Retail, and the accompanying vast treasure trove of data that can be analyzed from their mobile transactions, can anyone prevent BABA from amassing another virtual monopoly in the O2O market like they have in the B2C (tmall.com) and C2C (taobao.com) markets?
Many expats in China want to know: Are we going to have to experience this mania once every month? Is there a 1-1, 2-2, 3-3, etc. on the horizon?
Well, if the numbers keep coming in bonkers, Alibaba investors will wonder, "Well, why not?"
Disclosure: The author is long BABA, TCEHY.
The author wrote this article themselves, and it expresses their own opinions. The author is not receiving compensation for it (other than from Seeking Alpha). The author has no business relationship with any company whose stock is mentioned in this article.
Editor's Note: This article discusses one or more securities that do not trade on a major U.S. exchange. Please be aware of the risks associated with these stocks.