In our previous complete Q2 FY14 cost analysis, we went over a number of the industry's all-in costs to mine an ounce of gold in 2013 and discussed one of the most important metrics to analyze the gold industry, the actual cost of mining an ounce of gold. In that analysis, we used the 2013 financials to calculate the combined results of publicly traded gold companies and come up with a true all-in industry average cost of production to mine each ounce of gold.
This type of analysis should not only be important to investors that own the company, but also for investors that invest directly into the precious metals and the precious metals ETFs (GLD, SLV, SGOL, PHYS, etc.) because it shows how much it really costs to mine the asset. This is especially important in the current weak gold price environment as it shows if the current price is sustainable or not on the long run. Gold and silver prices can fall below the costs of production, but if they stay there then miners will go out of business, production will fall, and eventually prices will have to rise if we're still going to mine gold and silver.
We're in the process of completing and publishing a complete third quarter FY14 all-in costs for the individual producers and industry, so if you are interested in receiving it and keeping up to date on consider following me (clicking the "Follow" button next to my name) or join our free email list where we send out a weekly email summarizing all the important events in the gold and silver industry, which includes our latest articles and research pieces and all of our all-in pieces as they are published.
In this analysis we will calculate the real costs of production of SilverCrest Mines (NYSEMKT:SVLC). SilverCrest's flagship mine is the Santa Elena mine in Mexico, and it is led by CEO Scott Drever. Even though many investors classify SilverCrest as a silver miner, we classify them as a gold miner. This is due to the fact that the great majority of their revenue (around 60%) comes from gold sales, thus they are much more sensitive to the gold price and not the silver price. If future production changes we will change the classification accordingly.
How (and Why) Our All-In Costs Numbers Differs From the Individual Miners
We often get the question, "Why is it important to publish all-in cost numbers for gold companies if they provide it themselves?" First, investors need to understand that the "all-in sustaining costs" (AISC) and "all-in costs" published by mining companies are a non-GAAP and not necessarily standardized measure. This statement from Goldcorp's quarterly report summarizes it well:
All-in sustaining costs and all-in costs are non-GAAP performance measures that the Company believes more fully define the total costs associated with producing gold; however, these performance measures have no standardized meaning. Accordingly, it is intended to provide additional information and should not be considered in isolation or as a substitute for measures of performance prepared in accordance with GAAP. The Company reports these measures on a gold ounces sold basis.
Goldcorp uses guidance that the World Gold Council (WGC) publishes, but there is no requirement for any miners to use WGC standards, and thus some miners may use their own definitions of AISC, fiddle with the WGC definition and hybridize it, or strictly follow the WGC definition. So the point is that we provide this type analysis to standardize all-in costs across miners because we stick strictly to the income statement and perform the same process across miners -- which may not be the case when it comes to individual miners reporting their own AISCs.
We also differ in the following ways:
We use "gold produced" rather than "gold sold" as the WGC uses. We think this provides a better way to analyze actual quarterly production performance and gets rid of quarterly blips due to miners holding off sales or selling gold from previous quarters.
We remove foreign exchange, derivative gains/losses, and write-downs.
We account for interest and financing costs while the WGC's AISC removes it completely.
We calculate "gold-equivalent" ounces by using the average cost of byproducts from the previous quarter divided by the gold price.
We include taxes in our calculations
These are the main differences and we feel our approach much more accurately reflects production costs, and provides investors a better understanding of the quality of the quarter's performance.
How to Use Our All-In Costs Analysis With Your Investments
The best way to use this analysis for individual companies is to compare the different production cost metrics with the company's profits to look for any anomalies (e.g., large net profits but high costs). Also, we provide historic data to allow investors to check out any trends in regards to costs or production totals that may be an early warning to future successes or failures for the company. Ultimately, this analysis is best used as a first step to further investigative work, and that is our purpose with releasing this series.
Explanation of Our Metrics
For a detailed explanation of the metrics and each metric's strengths and weaknesses, please check out our previous full quarterly all-in costs gold report where we discuss them in detail.
All Costs per Gold-Equivalent Ounce - These are the total costs incurred for every payable gold-equivalent ounce, which includes everything. This is the broadest measure of costs, and since it includes write-downs, it is essentially the "accounting cost" of producing gold-equivalent ounces.
Costs Per Gold-Equivalent Ounce Excluding Write-downs and S&R - This is the cost to produce each gold-equivalent ounce when subtracting write-downs and smelting and refining costs, but including everything else.
Costs Per Gold-Equivalent Ounce Excluding Write-downs - This is similar to the above-mentioned "Costs per Gold-Equivalent Ounce Excluding Write-downs and S&R" but includes smelting and refining costs. That makes this measure one of the best ways to estimate the true costs to produce each ounce of gold, since it has everything (including taxes) except for write-downs.
Costs per Gold-Equivalent Ounce Excluding Write-downs and Taxes - This measure includes all costs related to gold-equivalent production excluding all write-downs and taxes. Essentially this is the bottom dollar costs of production with an artificial 0% tax rate (obviously unsustainable) which works well because it removes any estimates of taxation due to write-downs or seasonal fluctuations in tax rates, which can be significant. The negative to this particular measure is that since it does not include taxes, it will underestimate the true costs of production.
True Costs of Production for SilverCrest Mines
Let's use this methodology to take a look at the company's results and come up with the true cost figures for each ounce of production. When applying our methodology, we standardized the equivalent ounce conversion to use the average LBMA price for Q3 FY14, which results in a silver-to-gold ratio of 65:1. Since our conversions change with metal prices, this may influence the total equivalent ounces produced for past quarters -- which will make current-to-past quarter comparisons much more relevant.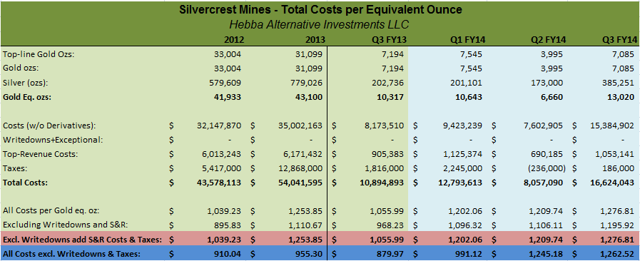 Important Notes about the Costs Table
Though SilverCrest had no write-downs, they do have a contract with Sandstorm Gold (NYSEMKT:SAND) to deliver a significant portion of their Santa Elena gold output to Sandstorm at below market prices. The details of this contract are beyond the scope of this article, but we need to include the difference between the average spot price for the quarter and the sales price to Sandstorm as an exceptional expense under the "Top-Revenue Costs" expense line.
Additionally, the company capitalizes some Santa Elena expenses above revenues -- thus to calculate all-in costs we have to include those costs in our calculations.

Source: SilverCrest Mines Third Quarter Report.
Observations for Investors
As investors can see, SilverCrest's costs have gone up but that is not is unexpected considering the company is currently transitioning from open-pit heap leach operations to underground mining and milling operations. For the third quarter the company's core costs were $1,277 per gold-equivalent ounce, which rose on both a sequential and year-over-year basis. Production also rose, but this rise wasn't enough to offset the costs in the quarter.
As investors can see from the company's third quarter report, Santa Elena capitalized costs of $7.5 million were significant and any reduction in these costs will help the company lower its core costs -- possibly significantly. This is something that investors should be very aware of and we're interested to see the change in this cost capitalization in the fourth quarter.
The company's core non-tax costs (core costs removing taxes) also rose to $1,263 per gold-equivalent ounce, but this isn't particularly surprising as taxes plays only a small role in total costs for the company. Though with the extremely low taxes seen by the company in the last two quarters, investors should be aware we may see an upcoming lumpy, high-tax quarter.
On a comparative basis, we have only published a few competitors' costs so comparisons are going to be limited until we publish other all-in costs. Also, investors should note that the data in the table below is sorted by core non-tax costs -- which is costs excluding taxes. To get a feel for profitability and true all-in costs, investors should use the second column of "core costs," which include the necessary government bite known as taxes.
| | | |
| --- | --- | --- |
| Company | Core Non-tax Costs | Core Costs |
| Randgold (NASDAQ:GOLD) | | Around $1000 per gold-equivalent ounce |
| Eldorado Gold (NYSE:EGO) | | Over $1100 per gold-equivalent ounce |
| Barrick Gold (NYSE:ABX) | | Under $1300 per gold-equivalent ounce |
| Yamana Gold (NYSE:AUY) | | Over $2000 per gold-equivalent ounce* |
| Goldfields (NYSE:GFI) | | Around $1200 per gold-equivalent ounce |
| Richmont (NYSEMKT:RIC) | | Under $1200 per gold-equivalent ounce |
| Goldcorp (NYSE:GG) | | Under $1300 per gold-equivalent ounce |
| Newmont Mining (NYSE:NEM) | | Under $1200 per gold-equivalent ounce |
| SilverCrest Mines | Over $1200 per gold-equivalent ounce | Over $1200 per gold-equivalent ounce |
| Agnico-Eagle (NYSE:AEM) | | Under $1300 per gold-equivalent ounce |
| Kinross Gold (NYSE:KGC) | | Over $1300 per gold-equivalent ounce |
| Iamgold (NYSE:IAG) | | Over $1600 per gold-equivalent ounce |
| Alamos Gold (NYSE:AGI) | | Over $1400 per gold-equivalent ounce |
| Allied Nevada (NYSEMKT:ANV) | | Over $1500 per gold-equivalent ounce |
Conclusion for Investors
The company continues to transition from an open-pit low-cost producer to an underground mining and milling operation. This has obviously impacted costs as SilverCrest Mines has joined the middle of the pack (it used to be one of the lowest cost producers) on a core and core non-tax costs basis.
We do note that the company did capitalize a large portion of costs to Santa Elena, and any significant reduction in these costs (without a similar rise elsewhere), may play a big factor reducing the company's costs. The company is still in the midst of its transition so we can't put a lot of weight in the company's current cost structure as future costs may surprise to the up or downside -- investors should stay tuned and we're very interested to see the company's performance in future quarters.
Disclosure: The author is long SGOL, EGO, GOLD, RIC, AGI.
The author wrote this article themselves, and it expresses their own opinions. The author is not receiving compensation for it (other than from Seeking Alpha). The author has no business relationship with any company whose stock is mentioned in this article.