Celldex Therapeutics (NASDAQ:CLDX), a 150 million dollar biotech company, is currently sitting near an all time low. With a recent equity raise resulting in a total of $78 million in cash on its balance sheet, the market is currently placing a very low value on the company's technology. So, is this an opportunity for investors to pick up a potential multibagger while the rest of the crowd is pessimistic, or should we steer clear?
THE BULL CASE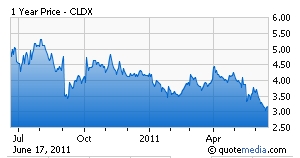 - Celldex's lead drug candidate, CDX-110 has had remarkable data in brain cancer to date. Investors have been waiting forever for news that the drug will be moving to phase 3 trials (the last stage required for FDA approval), and it looks like the FDA/EMA should be giving a response soon. With potential worldwide revenue of $400 million (conservative estimate and doesn't include off label use), the drug is unpartnered and wholly owned by the company.
With increased interest in the cancer immunotherapy field, the company stands to benefit from increased spotlight. Also, there are plans for CDX 110 to be expanded to other settings, including head and neck cancer, lung cancer, a combination trial with Avastin, and a trial in pediatric pontine glioma run by Stanford, to name a few. Lastly, final survival data is expected at SNO this year, and it looks to be very positive and another potential catalyst this year.
- Celldex has a deep pipeline of unpartnered drugs, including immunotherapy candidates CDX 1401 and CDX 1307, as well as an ADC drug candidate using Seattle Genetic's technology (CDX 011). This last drug is the most intriguing, as it has shown signs of efficacy in breast cancer and particularly triple negative breast cancer. The latest drug to show efficacy in this setting was Iniparib, which was valued at $2 billion dollars before it failed a phase 3 trial.
With possible interim results year end and results to be presented at ASCO 2012, if the drug continues to show positive results, investors will be very happy. Also, a new candidate CDX 1127 is being brought into the clinic, which is very similar to recently approved BMY drug Yervoy, only that while Yervoy takes the foot off the brake of the immune system, 1127 steps on the accelerator. If early results are promising, this could easily be partnered as well.
BEAR CASE
- Previously, the biggest overhang with the company was its lack of cash, which has been taken care of, as it has a financial runway into 2013 now.
- CDX 110 had a problem in its prior trial. The patients who weren't getting the drug were dropping out of the trial because they found out they weren't receiving it. Everyone knows a new phase 3 trial will have to be designed very meticulously and there are potential pitfalls. The skeptics believe the company will be unable to do so, or that history will repeat itself.
- Pfizer (NYSE:PFE) pulled out of its partnership with Celldex in 2010. The company stated that it did so to strategically refocus, but some believe there were other unsaid reasons. Perhaps they got a look at more trial data for CDX 110 and decided there was something they didn't like. Maybe they just used logic and decided that the market size was too small to justify the current partnership and milestone payments and thus decided to bail.
Conclusion:
While there are many risks involved, I believe the company is set for a transformational year. Rindopepimut (CDX 110) is one of the most promising drug candidates for brain cancer, with multiple trials to attest to its efficacy and strong safety profile. CDX 011 was titled one of the top five oncology drug candidates that is currently unpartnered (by Ohad Hammer). Many potential catalysts are coming this year, and the company has now raised cash.
I've bought my shares at an average of $4.50 or so, and readers have a chance to buy at the firesale price of $3.15 or so. Don't pass it up.
AS ALWAYS, READERS ARE ENCOURAGED TO DO THEIR OWN RESEARCH. MY POSTS ARE MEANT ONLY TO GIVE A BRIEF OVERVIEW.
Disclosure: I am long CLDX.