Insiders are buying of shares of Barrick Gold (NYSE:ABX) hand over fist, according to SEDAR filings posted at CanadianInsider.com. It is often said that when insiders of a company sell shares, it can usually be for just about any reason, whether it's to diversify an investment portfolio, raise cash for a major life expense like a wedding or a divorce, etc. But when multiple insiders of a company are buying stock, is usually means one thing: They think the stock is undervalued and will rise in price.
That is exactly what I think is happening at Barrick Gold. Here's a list of recent insider transactions:
On Dec. 5, Steven J. Shapiro bought 10,000 shares at $11.56 in the public market, for a total value of $115,600.
On Dec. 9, John Lawson Thornton, chairman of the board, bought more than 400,000 shares at $12.01 per share, worth just under $500,000.
On Dec. 5, Joseph Brett Harvey, a director, bought 8,325 shares at $11.99 a share, worth just under $100,000.
On Nov. 10, Kevin Paul Michal Dushnisky, co-[resident, bought 15,000 shares at $13.50 worth $202,500.
On Nov. 6, Kevin James Thomson, senior VP of strategic matters, bough 15,301 shares at $13.19, worth $201,820.
Of course, insider trading is just one thing to take into consideration when purchasing or selling shares of a stock. With any gold mining stock, we also need to look at balance sheet strength, the profitability and outlook of current operations, estimated all-in sustaining costs per gold ounce, the price of gold, and the attractiveness of development projects.
Barrick Gold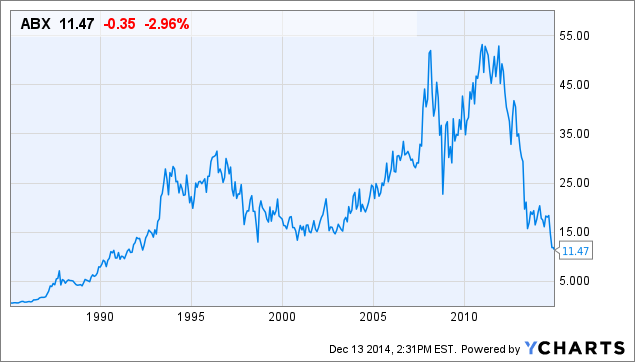 Recent Stock Price: $11.47
Shares Outstanding: 1.16 billion
Market Cap: $13.36 billion
Enterprise Value: $24.16 billion
Total Cash: $2.7 billion
Total Debt: $13.1 billion
You can see in the above chart that Barrick Gold is trading at its lowest stock price in over 20 years.
The Case for an Investment in Barrick Gold
Barrick is a large-cap mining company that's expected to produce 6.1 to 6.4 million ounces of gold in 2014 at very competitive all-in sustaining costs of $880 to $920 per ounce, which is the lowest among the senior miners. These low costs have allowed the company to produce some pretty good results, even as the price of gold has fallen to $1,200 an ounce. Year to date, the company has reported operating cash flow per share of $1.93, and adjusted earnings per share of $.53.
The company's success is a result of focusing on low-cost assets in Nevada, Chile, and Peru. For example, the Goldstrike complex in Nevada is truly a world-class asset: In 2014, the mine is expected to produce just under 1 million ounces of gold at all-in sustaining costs between $870 and $900 per ounce. At Cortez in Nevada, the results are even stronger, with production estimated between 880,000 to 920,000 ounces in 2014 at all-in costs of $780 per ounce.
Other standout mines include the Lagunas Norte mine in Peru, with 2014 production anticipated between 570,000 to 610,000 ounces at all-in costs between $590 to $620 per ounce, and the Veladero project in Argentina, with 2014 gold production between 680,000 to 720,000 ounces expected at all-in costs between $890 to $920 per ounce.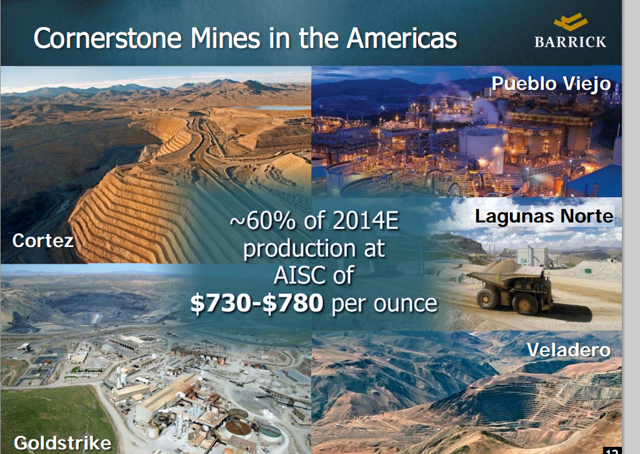 Source: Barrick Gold Corporate Presentation.
In the Dominican Republic, the company's 60% owned Pueblo Viejo mine -- 40% owned by Goldcorp (NYSE:GG) -- is a real cash cow for the company. In 2014, the company's equity share of gold production is expected to be in the range of 600,000 to 700,000 ounces of gold at all-in sustaining costs between $510 to $610 per ounce, making it it's lowest cost gold mine. In addition, Pueblo Viejo has a mine life of at least 25 years, so it isn't going anywhere.
In addition, Barrick offers investors exposure to copper prices, as it expects to produce 440 to 460 million pounds of copper this year at costs between $1.9 to $2 per pound (copper currently trades just below $3 per pound). The performance is led by the company's open-pit, heap-leach copper mine in Chile called Zaldivar, which produced 279 million pounds of copper at cash costs of $1.6 per pound.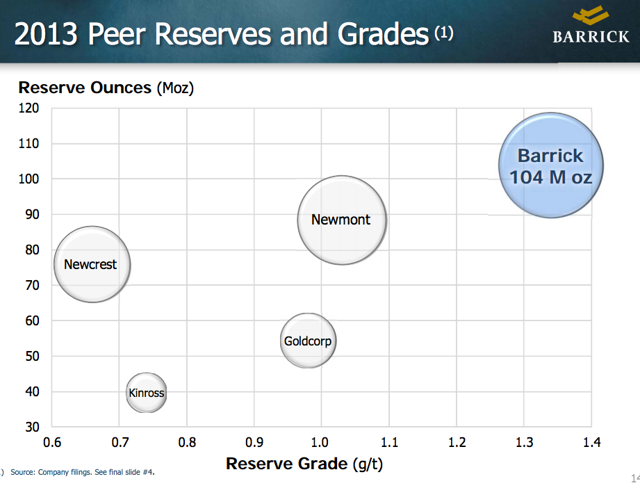 Source: Barrick Corporate Presentation.
In total, Barrick Gold boasts a massive gold reserve base of 104 million ounces at grades higher than 1.3 g/t gold, which compares quite favorably to its peers Newmont (NYSE:NEM), Goldcorp, Newcrest (OTCPK:NCMGF), and Kinross (NYSE:KGC), as you can see in the above chart.
Finally, Barrick has some pretty exciting exploration and development projects, my favorite of which is the Goldrush project. This deposit contains a total of 15.6 million ounces of gold in all resource categories, and a pre-feasibility study is set for completion by mid-2015. Next, we have Barrick's 70%-owned Spring Valley Project in Nevada. This is a 4 million ounce-plus gold deposit that should have a pre-feasibility study released in late 2015. It projects as a low-cost, heap leach project with competitive all-in sustaining costs.
Next, Barrick has spent a ton of money developing the Pascua-Lama project, located on the border of Chile and Argentina. This is one of the world's largest gold and silver deposits, with 15.38 million ounces of gold in the proven and probable category and 675 million ounces of silver contained within the gold reserves. Once in production, Pascua Lama is projected to produce 800,000 ounces of gold and 35 million ounces of silver annually at all-in sustaining costs of just $50 to $200 per ounce.
Investors in Barrick are familiar with the situation at Pascua Lama, but for those who are not, here is the story. Construction at Pascua Lama was temporarily suspended in Q4 2013 and is now on care and maintenance, after the company struggled with higher than expected development costs and several environmental challenges at the Chilean side of the project. The company took a $5.1 billion writedown of the asset in the second quarter of 2014. The company had once estimated construction costs of $2.8 to $3 billion, but this figure ballooned to as much as $8 billion in July of 2012 and $8.5 billion in November 2012.
The decision to restart the Pascua Lama project will ultimately depend on improving the project economics, the price of gold, and more certainty regarding legal and regulatory compliance on the Chilean side of the project. The bottom line is that a lot of work needs to be done to restart this project and investors can't count on this ever happening, although it's possible somewhere down the line.
Why Barrick Has Sold Off
Barrick is clearly being weighed down by its high debt load, with total debt of $13.1 billion. I'm not that worried for a few reasons.
First, the company's debt repayment schedule is flexible over the next three years, with approximately $200 million maturing by year-end 2015 and $1 billion due by the end of 2017. The company is currently focused on reducing its net debt and it maintains good liquidity, with a $2.7 billion cash position and a $4 billion undrawn credit facility. So I think Barrick can easily either refinance or repay this debt when it's due.
In addition, it remains one of the lowest cost gold producers and is currently profitable with gold at $1,200 an ounce. In the most recent quarter (Q3 2014), Barrick reported net earnings of $125 million or $.11 per share, operating cash flow of $852 million and adjusted net earnings of $222 million or $.19 per share, after adjusting for unrealized losses on non-hedge derivative instruments and unrealized foreign currency losses.
Here's the bottom line for me with Barrick: The company has a number of great, low-cost assets and has sufficient liquidity to meet its ongoing debt requirements. While the situation at Pascua Lama is certainly disappointing, I think the problems are well-known and already priced into the stock. So while Barrick is still highly leveraged and has had its share of issues, the stock is attractively priced as we speak, as it trades at a enterprise value/EBITDA of 5.26 and carries a book value per share of $11.37, according to Yahoo Finance. And I place a high value on the company's development assets, mainly the Goldrush and Spring Valley projects.
For these reasons, I am bullish on Barrick and will buy shares in the coming months.
Disclosure: The author has no positions in any stocks mentioned, and no plans to initiate any positions within the next 72 hours.
The author wrote this article themselves, and it expresses their own opinions. The author is not receiving compensation for it (other than from Seeking Alpha). The author has no business relationship with any company whose stock is mentioned in this article.