Shares of leading CRM company Salesforce.com (NYSE:CRM) have taken quite a hammering ever since the company issued weaker-than-expected revenue guidance for fiscal 2016. As of midday Monday, the stock has tanked roughly 8.5% since November 19 when CRM revealed it expected revenue growth in the coming fiscal year to clock in at $6.45 billion-$6.50 billion, or 20%-21% growth. For a company that has been growing its top line at a 30%-plus clip over the last five years, the low guidance was disconcerting and caught many investors by surprise.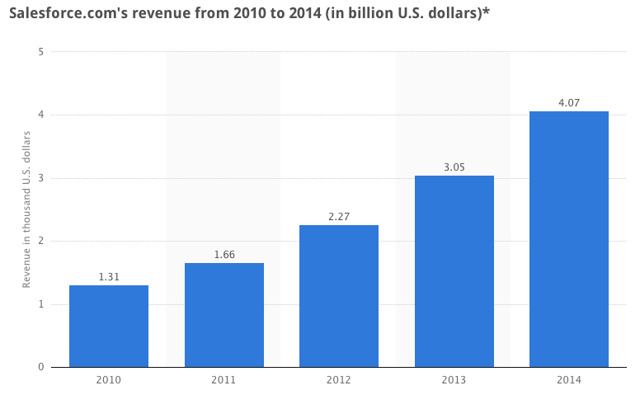 Source: Statista
Salesforce.com has richly rewarded long-term investors; the stock has been a 10-bagger, climbing more than 1,000% since the company went public. Despite it's impressive growth, Salesforce's bottom line has been nowhere near as impressive. The company has not reported a GAAP profit since 2011. Salesforce enjoys the same equivocations as Amazon.com (NASDAQ:AMZN) - both companies have managed to make investors comfortable with red ink. While slowing growth is nothing to be proud of, the trend might actually be a blessing in disguise.
Slower Growth Might Allow Salesforce To Become Profitable
One chief characteristic of pure-play SaaS companies such as Salesforce, NetSuite (NYSE:N), Workday (NYSE:WDAY), ServiceNow (NYSE:NOW), Concur Technologies (NASDAQ:CNQR) and others is that they sport high sales and marketing expenses as a percentage or revenue.
| | |
| --- | --- |
| Company | Sales & Marketing Expenses as a % of Revenue |
| Salesforce | 51% |
| Workday | 42% |
| NetSuite | 50% |
| ServiceNow | 46% |
| Concur Technologies | 42% |

Oracle (NYSE:ORCL) has the second highest SaaS revenue after Salesforce. The company's Sales & Marketing expenses as a percentage of revenue are just 20%.
This conundrum of high sales and marketing expenses puts a lot of pressure on the operating margins of these companies. Apart from Oracle, all the other SaaS companies mentioned here are not profitable.
High marketing costs is a key component of a typical SaaS company. Legacy software companies such as Oracle and SAP (NYSE:SAP) are luckier than SaaS companies in that they sell perpetual licenses and charge customers a large one-time license fee upfront, plus maybe another 15%-20% of the license fee as maintenance fee every year. A large chunk of Oracle's revenue does not come from selling new software, but rather from license updates, as well as support and maintenance of installed software. These companies benefit because their revenue and marketing expenses are almost perfectly aligned. SaaS companies, however, operate quite differently.
Companies such as Salesforce are, however, not so lucky. Unlike old-line software companies, SaaS companies operate by ''renting out'' software to companies which use it and pay on a monthly basis. These companies incur huge customer acquisition costs upfront, but their revenue comes in gradually as the months roll on. For a SaaS company to generate enough revenue to cover its operation expenses, it has little choice but to expand its customer base as wide as possible. Moreover, typical customer contracts last 12-24 months, meaning the company has to spend quite lot of money to minimize churn and make sure customers renew contracts. Other characteristics of SaaS companies include:
A 1.5-year pay-back period. This is the time taken by the company to earn enough revenue from customers who sign up to cover all customer acquisition costs. Customers who leave before this period is over therefore end up leaving the company with a negative cash position.
75% annual retention rate. This means the typical SaaS company turns over its entire customer base every 4 years on average.
30% of revenue goes to serve customers, leaving the company with a gross margin of 70%. For every $1.00 of revenue, $0.30 goes to service costs such as tech support, servers, licenses, account management and so on.
15% of revenue is spent on R&D.
15% of revenue goes to administration, HR, office space, finance and execs.
What all this boils down to is that the more a SaaS company grows its customer base, the higher its marketing expenses continue to grow, making it even harder for the company to turn a profit. Simply put, as long as a SaaS company is growing revenue rapidly, it becomes incredibly hard for it to become profitable.
A company like Salesforce, however, is able to milk more revenue from its existing customer base via upselling and upgrades. Salesforce charges more for every extra person that uses its software and also increases the charge per person for extra features. Salesforce's net churn (rate of cancellation minus the rate of upgrades) is also quite low and can sometimes turn into negative churn. But that does not inure the company from the curse of all SaaS companies. As long as Salesforce is growing its top line at a brisk clip, it's likely to continue languishing in the red.
That's why Salesforce growing its top line around 20% instead of the recent 35%-plus clip could actually help the company become profitable. Of the operating expenses listed above, both R&D and administration expenses are quite inelastic and are not likely to be affected much by slower growth. But sales and marketing expenses, by far the company's biggest line item, are likely to come down considerably and ease margin pressure, allowing it to start turning a profit consistently.
Stock-Based Executive Compensation
Many investors contend that Salesforce's unusually high stock-based executive compensation is one of the reasons the company has remained unprofitable - and they are right. Salesforce spends roughly 10%-12% of its revenue in stock-based compensation, which is simply excessive. In the current fiscal year, it will dole out $564.16 million, or 10.5% of its revenue, as stock-based compensation. In contrast, the average tech company spends 1%-3% of revenue as stock-based compensation.
For instance, Amazon typically spends less than 1% of its revenue as stock-based compensation, though of course its revenue is much larger than Salesforce's. Salesforce's high stock-based compensation not only places a lot of pressure on its bottom line, but also keeps on diluting its shares, sometimes by as much as 5% every year. In comparison, Amazon's share dilution never runs higher than 1%. This is usually not a big problem when investors are happy with the company and keep bidding up its share price, but could become problematic when investors are feeling skittish about it.
What's worrying about Salesforce's stock-based compensation is that it keeps growing in tandem with revenue growth. This means that unless the company changes its policy, investors should not expect this trend to change. In its defense, Salesforce started the practice of rewarding its employees handsomely with stock back in the days when it faced bare-knuckle competition from Oracle and SAP. Back then, the company had little cash flow to speak of, and had to devise a means to attract top talent from Silicon Valley to help it compete effectively against its deep-pocketed rivals. The company has, however, over time managed to build a lot of goodwill around it and should have no problem retaining top talent without being profligate.
How Soon Can Salesforce Become Profitable?
Salesforce's strategy at this point could be to start slamming the brakes on its customer acquisition spree. Former CFO Graham Smith once hinted that the company had a goal to become profitable by the time it hit $10 billion in sales. Assuming the company will focus on growing organically and has no plans to make another large acquisition like ExactTarget and maintains a 20% revenue growth rate going forward, then it will hit $10 billion in sales in 14 quarters. The company might, however, become profitable sooner than that. Assuming Salesforce's sales and marketing expenses grow at only 10% going forward and its stock-based compensation holds steady at the current level, the company could become profitable in as little as 4 quarters.
Stock Performance
Salesforce has a consensus analsyts Buy rating, with Goldmann Sachs and Stern Agee being the latest analysts to rate it as a buy. The stock has a consensus target price of $69.39, suggesting 26% upside to current price. I, however, believe that Goldman Sach's target price of $74, or 34.3% upside to current price, is more realistic guided by a number of factors. Salesforce remains the leading CRM company with 16% market share. The CRM market is predicted to grow at a healthy 21% clip to hit $37 billion by 2014 giving Salesforce good growth runways. Moreover, Salesforce has managed to differentiate its CRM offerings from those by players like IBM (NYSE:IBM) and Oracle.
Given the spate of consolidations in the market by large players such as Oracle and IBM, I expect the large players to continue gobbling up smaller players thus eliminating some competition and the need to spend heavily on sales and marketing. Salesforce might also continue pulling off large buyouts like ExactTarget, which will allow it grow inorganically. Moreover, Salesforce has managed to differentiate its CRM offerings from those by other players in the space.
With Salesforce becoming profitable while maintaining strong topline growth, you can expect its shares to hit fresh highs.
Disclosure: The author has no positions in any stocks mentioned, and no plans to initiate any positions within the next 72 hours.
The author wrote this article themselves, and it expresses their own opinions. The author is not receiving compensation for it (other than from Seeking Alpha). The author has no business relationship with any company whose stock is mentioned in this article.