When Verizon (NYSE:VZ) announced its $130 billion offer to take full control of its Wireless assets from Vodafone (NASDAQ:VOD), there was a lot of uncertainty as to which company would come out on top. Right away, investors knew that the sale would cause Vodafone's net profit to decline significantly while the deal was expected to cause a 10% annual boost to Verizon's EPS. However, after more than a year, the long-term beneficiary is starting to become more clear.
What we initially thought
Verizon Wireless is a cash cow. The segment accounts for roughly 70% of Verizon's total revenue and essentially all of its operating income. Prior to Verizon's $130 billion payment to Vodafone, it owned just 55% of the asset, meaning it shared profits, yet was responsible for pricey U.S. endeavors like 4G network expansion and spectrum acquisitions. Verizon also had to agree with Vodafone on expansion plans and large partnerships when it related to Wireless.
Therefore, it's clear to see why Verizon would want full ownership of not only its most profitable segment but also an asset that appeared promising and highly competitive with the nation's largest, most developed 4G network. As for Vodafone, it is a global company, albeit with operations that are mostly in Europe.
The company gets more than a quarter of its business from the U.K. and Germany while the rest is allocated in other regions of Europe and the rest of the world. That said, the benefit for Vodafone in selling its Wireless assets is that it would have financial freedom. It could have paid off its $66 billion in debt, add to its $20 billion cash position, or complete acquisitions and make big investments for future growth.
Which company comes out on top?
With it being over a year since Verizon's announced acquisition of Wireless, we've seen a lot of change. First and foremost, in the U.S. we've witnessed a vicious price war in the wireless space. During the second and third quarters, Verizon weathered the storm nicely, maintaining its premium prices while managing to grow its wireless postpaid connections at a rate that outperformed competitor AT&T (NYSE:T). As a result, Verizon was able to keep its operating margin well above its competitors.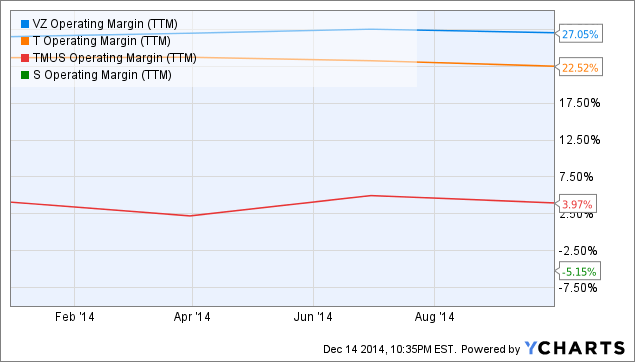 VZ Operating Margin (NYSE:TTM) data by YCharts
However, just recently Verizon bowed down to the lower service prices by increasing data allowances and noting that retail postpaid disconnects are trending higher versus previous quarters and last year. Verizon said it expects short-term EBITDA pressure on its wireless segment.
That said, price cuts in the wireless space have drastically impacted both AT&T and T-Mobile's (NASDAQ:TMUS) margins for the worse. Therefore, based on Verizon's outlook, investors can assume that connection growth is slowing if not over, and after lowering prices, its margins are most likely falling too on a year-over-year basis. In other words, Verizon's wireless business appears to have worsened, or at least compared to 2013 when it bought the asset from Vodafone.
For investors this is not good, as Verizon took a huge risk to acquire full control of Wireless, increasing its debt position from around $55 billion last year to nearly $110 billion today. So if in fact its margins are declining, it will take longer for Verizon to pay off the debt, which in turn means a less competitive edge against its three nationwide competitors.
As it appears, Vodafone sold its Wireless stake at the peak of its value, just before it began to devalue due to increased competition and limited growth in a mature market. While data consumption remains a significant growth driver for Verizon, expected to grow 11-fold from 2013 to 2018, Vodafone also will reap the rewards of a growing data consumption market globally.
As for Vodafone following the divestment of Wireless, its net profit has fallen 70% year-over-year during the first six months of 2014 to 5.4 billion euros. During its last quarter, the company's European revenue declined 5%, but it was a vast improvement from the near 8% decline during the previous quarter. Notably, Vodafone saw improvements in Germany, Italy, and Spain.
Not to mention, the company's Africa, Middle East and Asia-Pacific revenue increased almost 7% year-over-year, which is good given the struggles of these regions prior to the Wireless divestment. The reason for these improvements lie in the way that Vodafone is spending its newly acquired cash. The company has spent a large amount of capital to improve its network speeds and quality in all major markets.
Also, Vodafone has made big acquisitions, most recently the $10 billion purchase of Spanish cable company Ono SA. This acquisition fits well into the company's recently disclosed plan to launch residential broadband Internet and TV in the U.K., which adds to the company's mobile and telephone services. In looking at the Ono acquisition and Vodafone's plan in the U.K., it appears the company is aiming to expand the number of services it provides in key markets.
All things considered, I think it is clear to see which company has the upper hand more than a year following the enormous deal for Wireless. While Verizon's operations devalue with pricing competition in a mature market, Vodafone has been able to expand in growing markets and also has the financial freedom to continue doing so.
For these combined reasons, I recently bought shares of Vodafone with my sold Verizon shares, believing that the former company has great long-term upside potential. But in looking at Verizon, there is just too much uncertainty, much of which has been created following its $130 billion payment for the remaining 45% stake of Wireless.
Disclosure: The author is long VOD.
The author wrote this article themselves, and it expresses their own opinions. The author is not receiving compensation for it (other than from Seeking Alpha). The author has no business relationship with any company whose stock is mentioned in this article.