Juno Therapeutics (JUNO) expects to raise $150+ million in its upcoming IPO, set to price Thursday night, 12.18.2014. This Seattle, Washington company is a biopharmaceutical organization focused on using the body's immune system to fight cancer.
Juno Therapeutics (NASDAQ:JUNO) will offer 9,250,000 shares with an expected price range from $15 to $18. If the underwriters price the IPO at the mid-point of that range, JUNO will have a market capitalization of $1.3 billion.
JUNO filed on November 17, 2014.
Lead Underwriters: Goldman Sachs, J.P. Morgan, and Morgan Stanley
Underwriters: Leerink Partners
Business Summary: Biopharmaceutical Company Focused on Developing Treatments for Cancer
Juno Therapeutics in a clinical-stage biopharmaceutical company working on several innovative cellular immunotherapies to treat cancer. Generally, these methods work to stimulate and engage a body's own immune system to fight the disease. Juno is developing two separate treatments that work as complements to each other - T Cell Receptors (TCR) and Chimeric Antigen Receptors (CAR).
Utilizing human T cells to stimulate the immune system could change the way all cancers are treated. Juno's technology takes a patient's own T cells and genetically re-engineers them to seek out and attack cancer cells.
Recently, Juno reported promising clinical trial results at the annual meeting of the American Society of Hematology. The trials tracked the results of patients with non-Hodgkin's lymphoma and ace lymphoblastic leukemia (ALL), who were treated with the company's chimeric antigen receptor drug candidates: JCAR 014, JCAR015, and JCAR017.
Early trial results of JCAR015 showed promise in treating ALL. During the trial, 89 percent of the patients experienced complete remission. In addition, JCAR015 received "orphan drug" status from the FDA in November. This designation is for drugs designed to treat rare diseases that impact fewer than 200,000 people in the United States. Moreover, the status gives Juno seven years of marketing exclusivity for treating ALL. JCAR015 also received the FDA's "breakthrough therapy" designation.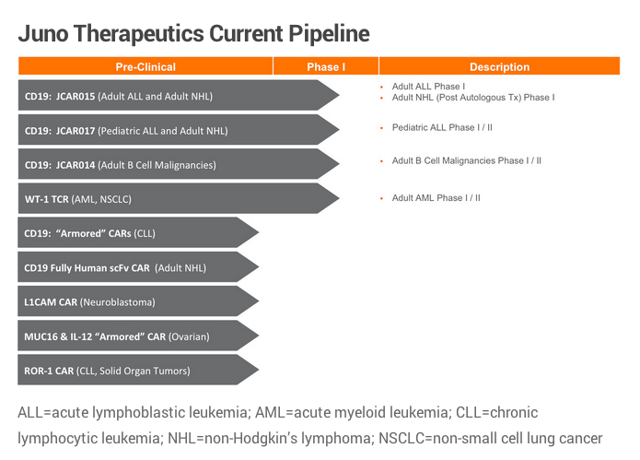 (Source)
Juno Therapeutics has a market capitalization of around $1.3 billion, and the company raised $314 million through a venture funding from Arch Venture Partners and Amazon.com (NASDAQ:AMZN) founder Jeff Bezos. Alaska Permanent Fund owns ~35 percent of the company's shares.
Executive Management
President and CEO Hans Bishop is a co-founder of Juno Therapeutics and has served in his position since September 2013. His previous experience includes positions at Avanir Pharmaceuticals (NASDAQ:AVNR), Genesis Biopharma, PhotoThera, and Dendreon Corporation (NASDAQ:DNDN). He holds a B.Sc. in Chemistry from Brunel University in London.
CFO and Head of Corporate Development Steven Harr joined Juno in April 2014. Prior to joining the company, Dr. Harr held positions at Morgan Stanley (NYSE:MS) and Global Healthcare Research. Dr. Harr received a B.A. in Economics from College of the Holy Cross and an M.D. from The Johns Hopkins University School of Medicine. Dr. Harr was a resident in internal medicine at the University of California, San Francisco.
Potential Competition: Novartis, GlaxoSmithKline, Pfizer
The race to invent an efficacious cure for cancer is full of competitors. Juno Therapeutics expects to face direct competition for its innovative therapy from other drug companies pursuing similar treatments including Ziopharm (NASDAQ:ZIOP), Baylor and Intrexon (NASDAQ:XON), Celgene (NASDAQ:CELG), Novartis (NYSE:NVS), GlaxoSmithKline (NYSE:GSK) and Pfizer (NYSE:PFE), among others.
In addition, several large biopharmaceuticals produce non-cell based treatments for cancer such as Roche (OTCQX:RHHBY), Merck (NYSE:MRK), Incyte (NASDAQ:INCY), Bristol-Myers (NYSE:BMY), AstraZeneca (NYSE:AZN), and Amgen (NASDAQ:AMGN).
Valuation
Juno Therapeutics reports the following financial data for the period ending figures from its financial documents for the period ending September 30:
Revenue: N/A
Net Income: ($51,536,000)
Total Assets: $249,362,000
Total Liabilities: $16,076,000
Stockholders' Equity: ($154,409,000)
Conclusion: Consider Buying In
While JUNO's losses are concerning, they are not increasing significantly; the periods from Aug-Dec 2013 (6 months) and Jan-Sept 2014 (9 months) are approximately equal. JUNO should be not be expected to turn a profit until it commercializes at least one of its pipeline treatments. While recent results do seem promising, it could be a while before this value is fully realized for investors.
Amazon CEO Jeff Bezos appears excited by the biotechnology, and the market JUNO's cancer treatment is certainly huge.
We are also encouraged by the firm's strong underwriters and see JUNO as one of the more promising biotech IPOs, in a strong 2014 market for such companies.
We suggest investors consider buying in.
We invite readers wishing to join the discussion on IPOs to click the +FOLLOW button above the title of this article and those looking for the latest updates to click +Get real time alerts.
Disclosure: The author has no positions in any stocks mentioned, and no plans to initiate any positions within the next 72 hours. The author wrote this article themselves, and it expresses their own opinions. The author is not receiving compensation for it (other than from Seeking Alpha). The author has no business relationship with any company whose stock is mentioned in this article.