The industrial production data for Oct'2014 surprised on the downside, with the figures coming in at negative 4.2% year-on-year. The previous month recorded a growth of 2.8% YoY. These numbers were more surprising, when compared against the core industries' growth of 6.3% YoY during Oct'2014.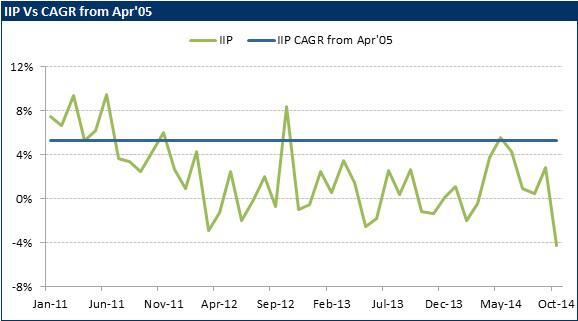 Source : Indian CSO
Industry growth
Manufacturing, constituting ~76% of the industrial production index, contracted 7.6% YoY, against a growth of 2.9% in the previous month. Mining grew 5.2% YoY (Sep'2014: 0.3%) partly aided by base effect due to mining bans in the last year. Electricity production continued to be robust, jumping 13.3% YoY (Sep'2014: 3.9%).
The sector-wise details are given below:


Source : Indian CSO
Of the major manufacturing industries, 7 out of the top 8 sectors in manufacturing slowed down. Of these, 5 sectors contracted when compared against the same month last year.

Source : Indian CSO
More surprisingly, contraction in factory output was broad-based, with 16 of the 22 manufacturing sectors contracting, which constitute ~50% of the industrial output. These contracting sectors dragged down the headline industrial production figure by 7.7%.
Item-wise / Use-based growth
Based on the type of goods manufactured, consumer goods output contracted 19% - consumer durable goods production contracted by a whopping 35%, while the consumer non-durable goods production grew 18.5% YoY. Capital goods, the most volatile item of the index, contracted 2%; while intermediate goods production dropped 3%. Basic goods (including mining and electricity), the largest component with ~46% weight in the index, grew 5.8%, and was the only item that showed accelerating growth rate.


Source : Indian CSO
What lies ahead
Though industrial output constitutes only ~26% of GDP, the dependent service industries also will take a hit, if industrial growth slows down. We also see that the consumer demand is yet to pick up, with consumer goods output contracting in 16 of the past 18 months. These factors could delay the much needed recovery in GDP, which is supposed to have bottomed out at 5% in the previous fiscal year (Apr-Mar).
November 2014 saw continuation of downward trend in inflation rates, with the consumer-level prices rising at 4.4% year-on-year. Despite comfort from much lower inflation rate and highly likely scenario of containing it within targets, the central bank is not expected to lower rates until Feb 2015. The contraction in industrial production will further intensify the uproar for rate cuts, from the corporates. We see a rate cut of 50bps in March 2015, aided by benign price levels and clarity in fiscal direction.
More important than lowering of central bank policy rates, we believe that government actions will be the key catalyst to kick start growth - especially in terms of promoting investments and thereby job creation. But we are yet to see any concrete actions on that front.
Taking all these factors into account, we believe that, India is likely to end the Financial Year 2014-15 (Apr-Mar) with a real GDP growth of 5-5.5%, but not more.
Disclosure: The author has no positions in any stocks mentioned, and no plans to initiate any positions within the next 72 hours.
The author wrote this article themselves, and it expresses their own opinions. The author is not receiving compensation for it (other than from Seeking Alpha). The author has no business relationship with any company whose stock is mentioned in this article.