Water is essential and companies that provide it often enjoy stable revenues and earnings. Artesian Resources (NASDAQ: ARTNA) is one such provider of water and water-related services. It's actually the eighth largest publicly owned water utility in the United States by capitalization, despite a market cap of just about $193 million.
The business
Artesian is actually a holding company consisting of wholly-owned subsidiaries offering water, wastewater services, and related services. The primary subsidiary, however, is Artesian Water Company, which contributes 88% of the overall company's revenues. While the company primarily operates in Delaware, it has also expanded into Maryland and Pennsylvania as well.
The company tends to get 88-90% of its revenues from water sales, and operates in three different segments:
Water Division: provides water service to residential, commercial, industrial, governmental, municipal, and utility customers through its Artesian Water, Artesian Water Maryland, and Artesian Water Pennsylvania subsidiaries.
Wastewater Division: bills customers in Maryland and Delaware a flat fee, providing the company with revenues unaffected by weather changes.
Non-regulated Division: provides contract water and wastewater operation services to private, municipal, and governmental institutions through the Artesian Utility subsidiary. This division also includes Artesian Development, a real estate holding company.
According to the company's 2013 annual report, one of its main strategic goals is "to significantly increase customer growth, revenues, earnings and dividends by expanding our water, wastewater and Service Line Protection Plan services across the Delmarva Peninsula."
Expansion requires water
Artesian may be a small company, but it operates in a few markets that seem to be growing quickly, and expansion always requires water and wastewater services. Artesian Water Company is the oldest and largest public utility on the Delmarva Peninsula, and has provided it water since 1905. The subsidiary currently provides more than 7.3 billion gallons of water annually to about 300,000 people.
Much of the land encompassed by the Delmarva Peninsula is rural with a few large population centers, such as Dover, the capital of Delaware. The peninsula also tends to rely heavily on agriculture.
Focusing on Delaware
Artesian believes that due to a number of factors, including a lower relative cost of living, attractive financing rates for construction and mortgages, and lower property and income tax rates, Delaware is especially attractive for growth opportunities going forward. There is also an availability of development sites in relatively close proximity to the Atlantic Ocean, so future home and retirement community development is also expected to expand the company's customer base.
One of ARTNA's municipal customers for instance, the town of Middletown, Delaware, has gone from a population of a little over 6,000 people in 2000 to roughly 19,418 people in 2012 -- an increase of over 200%. According to the company:
...population growth in this area is expected to continue for some time as a result of ongoing and future residential, commercial and industrial construction. As population growth continues in Middletown and other areas in Delaware, we believe that the demand for water will increase, thereby contributing to an increase in our operating revenues.
Because Artesian is a total water resource management company, it offers expertise in everything from identifying and supplying new sources of water, developing wells, treating and delivering water to customers, as well as other wastewater management services. This gives it a wide moat and a distinct advantage to capitalize on much of the growth and development in the parts of the state where it's located.
Valuations and fundamentals
Artesian last reported earnings on November 5, with net income coming in at $3.3 million-- an increase of 27% from last year's third quarter. This translated to diluted EPS of $0.37, with revenues increasing by a little over 8%, coming in at $19.6 million. Revenue from water sales was the primary driver, also increasing by a tad over 8% and totaling $17.7 million.
For the first nine months of this year, net income has increased by 9% to $7.4 million on revenues of $54.4 million. The company has also bumped its dividend twice this year, and shares currently yield 4%. The company has close to a two decade history of raising its dividend, and over the last five years its increases have averaged 3.2%.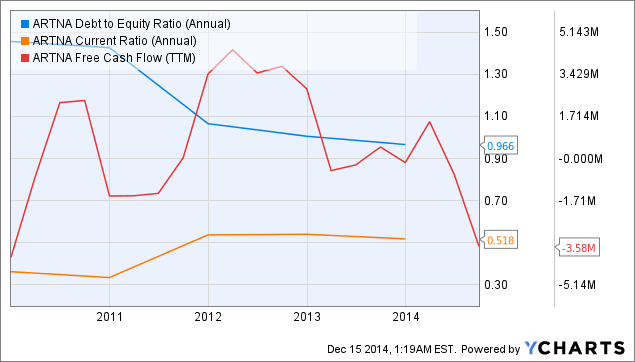 ARTNA Debt to Equity Ratio (Annual) data by YCharts
The company's balance sheet doesn't appear to be in the best shape, especially with free cash flow turning negative. The payout ratio sits at 86% as well, so the dividend is safe for now, but there isn't a lot of breathing room.
The bottom line
While Artesian appears to be a good income play in the water utilities space, shares also look a little stretched at almost 22 times earnings and 18 times forward earnings. The 4% yield is nice, but the balance sheet isn't that great liquidity-wise and the company holds a lot of debt. This wouldn't be as big of a concern to me if the company was spinning out a bunch of free cash flow, but it isn't. It does operate in a very capital-intensive industry as well, which can offset stable revenues and earnings and negatively affect cash flow when infrastructure upgrades or any other capex issue arises.
Due to its smaller size, it also doesn't take as much to "move the needle" when it comes to growth in relation to its larger peers, either. Continual growth and expansion in its core markets could inject growth into the company rather quickly. ARTNA looks like a good candidate for the watchlist until valuations become more attractive and/or the company's balance sheet looks a little stronger. Its dividend history is impressive and I like the company, I just wouldn't want to pay too much for it.
Disclosure: The author has no positions in any stocks mentioned, and no plans to initiate any positions within the next 72 hours.
The author wrote this article themselves, and it expresses their own opinions. The author is not receiving compensation for it (other than from Seeking Alpha). The author has no business relationship with any company whose stock is mentioned in this article.