Here are 10 ETFs (from a universe of over 1,000 funds) with the highest percentage decrease in shares outstanding in the past month (through June 17). All 10 funds have been trading for at least six months.
CU, the First Trust Global Copper Index, saw a massive net redemption of nearly 6 million shares during a four-week period when share prices fell by nearly 10%. Another First Trust fund, the BICK (Brazil, India, China, Korea), shrank at an equally alarming rate. Finally, the JJT and PMR funds are both downsizing themselves out of existence. Active traders not comfortable with the diminished liquidity may be wise to keep away.
[Click to enlarge]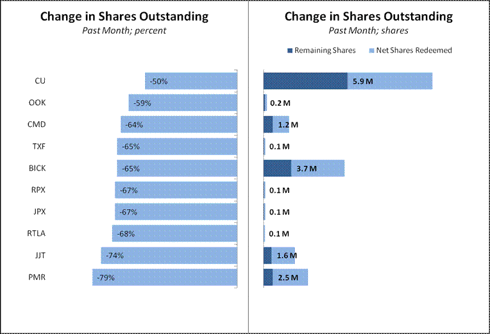 Disclosure: I have no positions in any stocks mentioned, and no plans to initiate any positions within the next 72 hours.