J.C. Penney Company, Inc. (NYSE:JCP)
J.C. Penney operates 1094 stores in 49 states and Puerto Rico, as well as a having a direct to consumer segment. Stores sell apparel and footwear, accessories, fine and fashion jewelry, beauty products and home furnishings. Products are moderately priced and targeted to middle-income customers shopping for families and homes. The five-year price to volume performance for the company can be seen below. The share price has seen a steep drop since reaching a five-year high in 2012.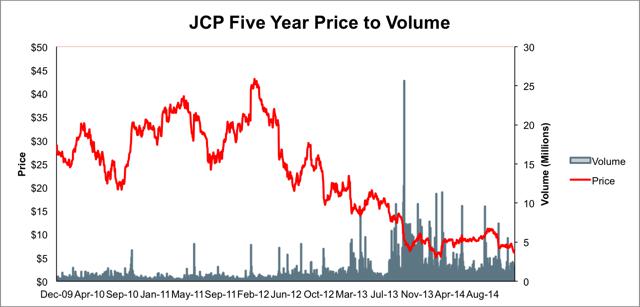 As well, the Vuru grade and key metrics are shown below. The company's growth price is negative because of the lack of free cash flow generation in recent years is affecting the projection of earnings in the coming years.

Recent Fundamental Highlights (FY end in Dec)
Margin

Gross margin increased 710bps y/y above guidance
Significantly lower clearance selling supported margins
SG&A expense decreased 1.8%

Online

Up 3%, but well below 2Q rate of 17% and 26% in 1Q

Financial Position

0.7B in cash, but 5.4B in total debt
Outlook
Recent trouble has forced management to consider growth initiatives for the company. They see the potential for 3.5B in incremental sales over 2015-2017 driven primarily by: 1) growing the under-penetrated, high margin center core department, 2) increase productivity of home segment, and 3) leverage omnichannel.
The most important of these initiatives is the omnichannel. The company plans on growing online sales by 15% per year through assortment expansion, allowing customers to buy online and pick up in store the same day and enhancing the mobile experience of the company. This should be further helped by more marketing to drive traffic. Management is pleased with the new "When it Fits, You Feel It" campaign and plans additionally investments during the holiday period.
The opportunities are there for JCP to bounce back, but the track record of management should make investors worried about the ability to capitalize. The company's retained earnings have shrunk by over 35% in each of the past two years. Also, the company's weak cash position is forcing it to use debt to fund growth. These two factors make the company's expected incremental sales projections seem very ambitious.
Economic Moat Trend
The company's turnaround is nearly complete, but growth will still be challenging. The company must focus on continued sales and gross margin improvement amid a choppy and competitive environment. Capital expenditures will need to be ramped up to keep pace with competitors and will limit the FCF upside.
The erosion of the company's net profit margin over the past couple of years has been astonishing and reflects the truly competitive nature of the retail industry.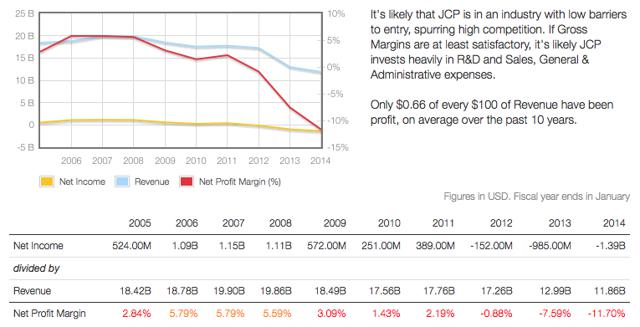 Major Risks
Consumer spending trends and other economic factors affect JCP. With a beta of 1.91, any downturns in the economy as a whole and the company will be drastically affected
Competing in highly competitive and fragmented market leaves little room for error, and any miscalculation and the company could be put in a much worse situation
The seasonal nature of the industry means that FY14 results will be heavily dependent on how the company fares this holiday season. If there is a poor showing, the company's share price could take another hit
The company has managed to keep adequate liquidity, but the company holds significant amounts of debt. Another prolonged period of suppressed earnings could hinder the company's ability to service its debt or refinance long-term obligations when they become payable.
Investment Rationale
JCP is showing signs of stabilization with same-store sales returning to positive territory and margins coming back up. The company has a game plan in place that could help the company get back on the right track to financial success and to be able to reward shareholders. JCP reported better than expected earning driven by gross margin expansion and SG&A cuts, but the sales shortfall demonstrates the uphill battle as the company works to recapture lost market share.
Management is doing well executing on controllable factors, but the eventual need for capex spending and forthcoming liquidity concerns will limit FCF growth. JCP currently trades at $6.21 (price as of Dec 12th) and can only provide potential upside for investors if management is able to fully complete their turnaround plan. However the nature of the market, economic sensitivity and financial concerns should tell investors that the significant risk associated with this company is likely not worth the potential upside.
Disclosure: The author has no positions in any stocks mentioned, and no plans to initiate any positions within the next 72 hours.
The author wrote this article themselves, and it expresses their own opinions. The author is not receiving compensation for it. The author has no business relationship with any company whose stock is mentioned in this article.