As is often the case, the larger the dividend yield, the more risky the payout. I talk about this quite a bit in this video: "Dividends, Dividends, Dividends." Please have a look. All else equal, we tend to prefer cash-flow-based operating companies such as Microsoft (NASDAQ:MSFT) rather than opaque, risky structures such as business development companies (BDCs), where traditional fundamental analysis is less informative.
It almost goes without saying that the biggest threat to BDC profitability is movement in interest rates -- and not just in one direction. With interest rates collapsing over the past several years, investors of all types have been forced to chase riskier assets for yield. This means that new competitors have emerged in the form of hedge funds and other investors seeking to finance lower-middle market and middle-market businesses. In its regulatory filings, Triangle Capital (NYSE:TCAP-OLD), for example, lists such competition as a major risk factor, saying:
"We operate in a highly competitive market for investment opportunities. A large number of entities compete with us to make the types of investments that we make in target companies. We compete for investments with other BDCs and investment funds (including private equity funds and mezzanine funds), as well as traditional financial services companies such as commercial and investment banks and other sources of funding. Moreover, alternative investment vehicles, such as hedge funds, also invest in lower middle market companies. As a result, competition for investment opportunities in lower middle market companies is intense. Many of our competitors are substantially larger and have considerably greater financial, technical and marketing resources than we do. For example, some competitors may have a lower cost of capital and access to funding sources that are not available to us. In addition, some of our competitors may have higher risk tolerances or different risk assessments than we have. These characteristics could allow our competitors to consider a wider variety of investments, establish more relationships and offer better pricing and more flexible structuring than we are able to do. We may lose investment opportunities if we do not match our competitors' pricing, terms and structure."
Conversely, an increase in interest rates would increase the cost of borrowing for BDCs, potentially reducing net investment income margins while hurting the value of existing securities held on their books. In its regulatory filings, Main Street (NYSE:MAIN) agrees, listing rising rates as a major risk factor, saying:
"Changes in interest rates may affect our cost of capital and net investment income. Some of our debt investments will bear interest at variable rates and the interest income from these investments could be negatively affected by decreases in market interest rates. In addition, an increase in interest rates would make it more expensive for us to use debt to finance our investments. As a result, a significant increase in market interest rates could increase our cost of capital, which would reduce our net investment income. Also, an increase in interest rates available to investors could make an investment in our securities less attractive than alternative investments, a situation which could reduce the value of our securities. Conversely, a decrease in interest rates may have an adverse impact on our returns by requiring us to seek lower yields on our debt investments and by increasing the risk that our portfolio companies will prepay our debt investments, resulting in the need to redeploy capital at potentially lower rates. A decrease in market interest rates may also adversely impact our returns on idle funds, which would reduce our net investment income."
Competition for deals and interest rate movements make for a difficult competitive environment, and sure enough, a dividend cut at Prospect Capital (NASDAQ:PSEC) came in a warm holiday package recently. The business development company announced that it would reduce cash dividends to shareholders to $0.08333 on a monthly basis with the following record and payment dates:
"8.333 cents per share for February 2015 (record date of February 27, 2015 and payment date of March 19, 2015);

8.333 cents per share for March 2015 (record date of March 31, 2015 and payment date of April 23, 2015); and

8.333 cents per share for April 2015 (record date of April 30, 2015 and payment date of May 21, 2015)."
Prospect's expected dividends will mark about a 25% reduction from its prior dividend of $0.1106. You may ask: Why are we writing about a firm that just announced it has cut its dividend? Well, for one, the lure of a monthly cash dividend payout has attracted many a financial advisor to scoop up shares to satisfy clients' monthly income needs. Second, even after the dividend cut, Prospect will have a forward yield of 11.7%, luring new individual investors to the table. To us, we see it as our responsibility to inform financial advisors and individual investors of the significant risks related to BDCs -- not only related to the sustainability of the dividend, but also related to the material risk of capital erosion, which has been the case at Prospect for some time. The business models of BDCs are not as transparent as we would prefer.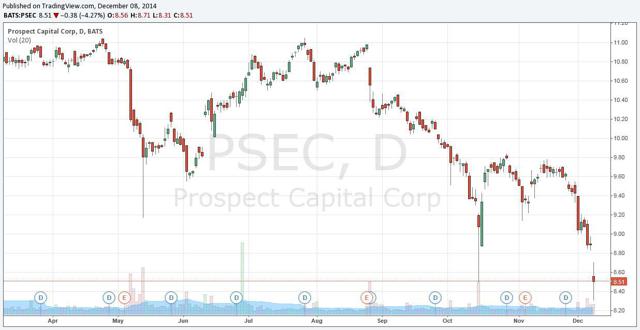 Prospect (PSEC) said that the reason for the dividend cut centered on electing "in the past year to take on less risk and focus on higher earnings quality by increasing (the) percentage of first lien loans and accepting lower interest rates in this yield compressed environment." Though we give credit to management for not chasing higher yields on investments with abnormal risk profiles, that doesn't mean its income investors are happy. Instead, it speaks to the challenging competitive environment of a BDC, and the entity's inextricable ties to the interest rate markets. Management threw in a teaser in the press release for dividend growth investors, nonetheless:
"We believe there may be upside to our new reduced dividend level, a dividend level we believe we can sustain over the next year and longer even with no dividends or fees from portfolio companies. We also believe we should wait for upside events to occur before committing to any increase in our dividend. If we earn one penny per quarter or more in dividends or fees from portfolio companies, we expect to earn $1.00 per share or more in NII over the next twelve months (25 cents per share or more on average each quarter). As a result, we believe 8.333 cents per share per month is a sustainable payment from NII over the next 12 months. To the extent our taxable earnings continue to exceed NII as well as our regular dividends, we may need to declare additional special dividends to meet our requirement as a tax-efficient regulated investment company to distribute 90% of our taxable income to shareholders."
In any case, our opinion on BDCs should be clear: we're not interested in running out and adding a company that slashed its dividend to the Dividend Growth portfolio, nor do we think its BDC peers are worthy of consideration given that they are operating in the very same environment. Let's just say that we pay close attention to Warren Buffett's rule No. 1: Never lose money.
In case you missed clicking on the video at the top of this article, it can be accessed here. Thanks for reading!
A list of BDCs: American Capital (ACAS), Apollo Investment (AINV), Ares Capital (ARCC), Blackrock Kelso Capital (BKCC), CorEnergy (CORR), Equus (EQS), Fidus (FDUS), Fifth Street Finance (FSC), Full Circle (FULL), Gladstone Capital (GLAD), Golub (GBDC), Hercules Technology (HTGC), Horizon Technology (HRZN), KCAP Financial (KCAP), KKR Financial (KFN), Main Street (MAIN), MCG Capital (MCGC), Medley Capital (MCC), Monroe Capital (MRCC), MVC Capital (MVC), New Mountain (NMFC), NGP Capital Resources (NGPC), Oxford Lane (OXLC), Pennant Park (PNNT), Prospect Capital (PSEC), Solar Capital (SLRC), Stellus Capital (SCM), TCP Capital (TCPC), THL Credit (TCRD), TICC Capital (TICC), Triangle Capital (TCAP), Whitehorse Finance (WHF).
Disclosure: The author has no positions in any stocks mentioned, and no plans to initiate any positions within the next 72 hours.
The author wrote this article themselves, and it expresses their own opinions. The author is not receiving compensation for it (other than from Seeking Alpha). The author has no business relationship with any company whose stock is mentioned in this article.
Additional disclosure: MSFT is included in the Dividend Growth portfolio.