Source: Ycharts
As seen above, Jack In The Box (NASDAQ:JACK) has performed very well in the last half-decade, with its share price appreciating from $18 per share to $78 per share, quadrupling from 5 years ago. This increase in share price can be largely attributed to increases in the company's ROIC, stemming from its franchising program.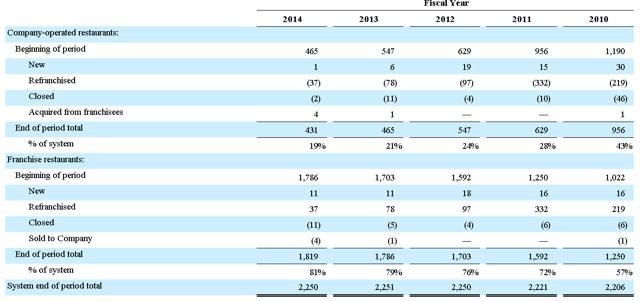 Source: SEC Filings
As seen above, since 2010, the company has been shedding company-operated restaurants, and franchising them. In the beginning of 2010, Jack In The Box had 1190 company-operated restaurants, now they have 431, representing a decrease from 43% of the system to 19%. Franchise restaurants, on the other hand, increased from 1022 in the beginning of 2010, to the 1819 now, representing an increase from 57% of the system to 82% of the system.
The company's decision to franchise its restaurants was clearly the right one. Franchising allows Jack In The Box to shed its assets and costs, with franchisees taking over, while collecting royalties from franchise store sales, and rent from franchise owners.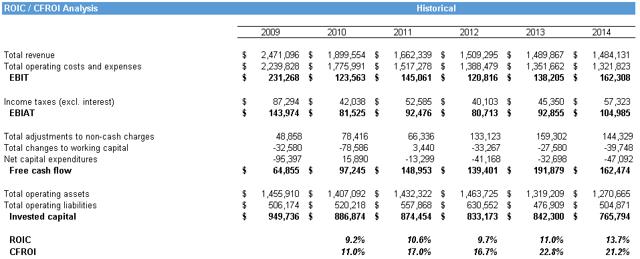 Source: SEC Filings, author's own calculations
The effects of the company's franchising program can be clearly seen above. Total revenue fell from $2.4b in 2009 to $1.4b in 2014, which can be attributed to the company selling off its restaurants to franchisees. Accordingly, operating costs fell from $2.2b to $1.3b over the same period, resulting in EBIT falling from $231m to $162m. Free cash flow, however has increased over the years, from $64m to $162m from the 2009-2014 period. Total operating assets, unsurprisingly, decreased from $1.4b to $1.2b, with operating liabilities (liabilities excluding debt) remaining more or less flat at $500m. Invested capital fell from $900m to $765m, with is also no surprise, as the company is investing less in its operations; most are sold to franchisees after all. As a result, ROIC increased from 9.2% to 13.7%, and CFROI increased from 11% to 21.2% over the same period, leading to the company's 5-year share price appreciation.

Source: SEC Filings
However, if we turn to page 2 of the company's fiscal year 2014 annual report, we find that the company mentions that it has achieved its objective for franchise ownership. It plans to maintain franchise ownership in the range of 80% to 85%, with current ownership standing at 81% at the end of fiscal 2014, compared to 79% at the end of fiscal 2013.
In other words, the days of shedding assets and shifting costs to franchise owners are long gone. The company is unlikely to experience surges in ROIC and CFROI that it has enjoyed in the past years. The main value driver for the company in future years will be its ability to grow sales and expand margins.

Source: SEC Filings
However, all is not lost, as operating results for fiscal 2014 seem promising. Same-store sales growth grew 2% in company-operated Jack In The Box restaurants, with Qdoba's same-store sales increasing at 5.7% in the same period. The company also managed to expand margins by 140bp in 2014 to 18.5%, primarily due to lower food and packaging costs despite commodity inflation of 1.8%. The company has plans to open new Qdoba restaurants in fiscal 2015, mostly in non-traditional locations such as airports and college campuses. Given the considerable increase in SSS by the company in 2014, compared to the dismal sales change in 2013, the company has clearly renewed organic growth.
In conclusion, the days of surging ROIC and CFROI are over for Jack In The Box, though all hope is not lost. Organic growth data shows a lot of promise, but investors looking for magnificent returns would do well to scout for another stock.
Disclosure: The author has no positions in any stocks mentioned, and no plans to initiate any positions within the next 72 hours.
The author wrote this article themselves, and it expresses their own opinions. The author is not receiving compensation for it (other than from Seeking Alpha). The author has no business relationship with any company whose stock is mentioned in this article.