On Monday, after a significant amount of anticipation, PetSmart (NASDAQ:PETM) agreed to sell itself to a private equity group led by BC Partners for $83 per share. In my piece, Why I Followed Jana Into PetSmart, published on July 3, 2014, I argued that a private equity takeover was likely and that more than one buyer could emerge. Since then, shares are up more than 20%.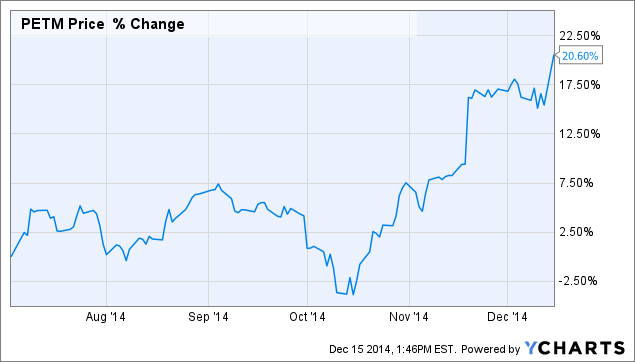 PETM data by YCharts
Why A Higher Offer Is Unlikely
I believe a higher offer for PETM is very unlikely for a number of reasons. PETM has been a well discussed takeover target for a number of months and all potential bidders have likely been involved in the process. In November, reports suggested that KKR was the likely buyer. As recently as a few days ago, reports surfaced that Apollo was close to finalizing a deal for PETM. News that BC Partners would be buying PETM comes as something of a surprise. In addition to the length of the process and number of bidders involved, I also believe a higher offer for PETM is unlikely due to valuation. The BC Partners' deal values PETM at nearly 20 times earnings and an EV/EBITDA of more than 8.5. In my previous piece, I said that I expected PETM to be taken private for about 20 times earnings. The only case in which I envisioned a higher price would be a deal led by TPG and Leonard Green, the owners of Petco. If TPG and Leonard Green were interested in combining PETM with Petco they would have already made an offer.
Conclusion
Following Jana into PETM turned out to be a very good trade. PETM investors should consider taking profits as a higher offer is very unlikely at this point. Additionally, the relatively high valuation, 20 times earnings, bodes well for other potential retail private equity targets. I have suggested that Bed Bath & Beyond (NASDAQ:BBBY) and Dick's Sporting Goods (NYSE:DKS) are potential leveraged buyout targets, and the PETM deal leads me to believe that both companies are worth significantly more than their current market valuations.
Disclosure: The author has no positions in any stocks mentioned, and no plans to initiate any positions within the next 72 hours.
The author wrote this article themselves, and it expresses their own opinions. The author is not receiving compensation for it (other than from Seeking Alpha). The author has no business relationship with any company whose stock is mentioned in this article.