The valuations of large exploration and small drilling companies have contracted substantially since the oil price started to fall off a cliff in July. Losses have even accelerated as members of OPEC couldn't agree on cutting oil production at the end of November. Some valuations have now fallen to such low and unreasonable levels that patient investors with a contrarian touch are confronted with extraordinary investment opportunities.
One of the most attractive sectors right now is the beaten down oil service sector, which consists of enterprises providing drilling and fracturing services to established oil exploration companies. Specifically, I am optimistic about the valuation growth potential of Seventy Seven Energy (NYSEMKT:SSE), which was spun-off from Chesapeake Energy (NYSE:CHK) exactly at a time when the oil price started to move lower.
For special situations investors, Seventy Seven Energy is a perfect investment candidate:
Chesapeake Energy spun-off its oil service business, Chesapeake Oilfield Operating, L.L.C., on July 1, 2014. This business was part of a bigger, more complex Chesapeake Energy.
Spin-offs offer substantial return potential to investors who are willing to buy shares in the new, publicly traded entities. This is because an inefficient share allocation (the spin-off) often leads to selling pressure when shares are listed.
Seventy Seven Energy was spun-off with the intention to allow for a higher public market valuation of the oil service business.
The Seventy Seven Energy spin-off is a classic 'Joel Greenblatt' investment opportunity.
The spin-off came at an inopportune time (judging with the benefit of hindsight) as the oil price started to slide at about the same time as the spin-off was completed.
The crashing oil price seduced investors to avoid and underweight the fundamentally attractive oil sector. I expect this trend to reverse itself in the future.
Panic selling has led to a decline in Seventy Seven Energy's valuation of a comical 80% in just three months, raising justified concerns about whether the market really reacts rationally.
Seventy Seven Energy, due to its short history as a publicly traded entity, is under-covered by the market and largely unknown, which raises the chance that the company is seriously undervalued.
The existing research does not offer investors value-adding investment advice, but rather appears to be driven by the direction of the oil price.
Seventy Seven Energy's valuation reflects profound pessimism, which I don't think is warranted.
Business
Seventy Seven Energy is an oil service company offering drilling, hydraulic fracturing, oilfield rental, and oilfield trucking services. Its two most important segments are drilling and hydraulic fracturing, which together contributed about 85% of the company's third quarter revenues of $526.8 million.
Seventy Seven Energy's drilling and hydraulic fracturing businesses obviously depend on the continuation of the exploration boom in the Lower 48: If the exploration bonanza continues for the foreseeable future and the oil price rebounds to more rational levels ($85+ per barrel), Seventy Seven Energy's valuation should rebound as quickly as it contracted.
Fleet upgrade should lead to operating income growth
At the end of the third quarter, Seventy Seven Energy's rig fleet consisted of 22 Tier 1 rigs, 57 Tier 2 rigs and 8 Tier 3 rigs. The company is aggressively upgrading its rig fleet and is moving toward Tier 1 and Tier 2 rigs that allow for multi-well pad drilling. Improving its fleet mix should have a positive effect on Seventy Seven Energy's operating margins, which already received a significant boost from 2011 to 2012 as the company reduced its reliance on less-marketable Tier 3 rigs.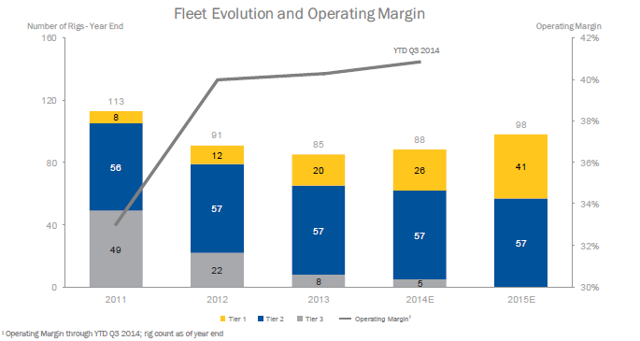 Source: Seventy Seven Energy Investor Presentation
Attractive, yet diversified operations footprint
Seventy Seven Energy is operating in nearly all high-potential shale oil drilling theaters in the United States. This profile should help Seventy Seven Energy grow its third-party revenues over the long run, grow more independent of Chesapeake Energy over time (see below), and provide the company with plenty of opportunities to grow its market share in each region.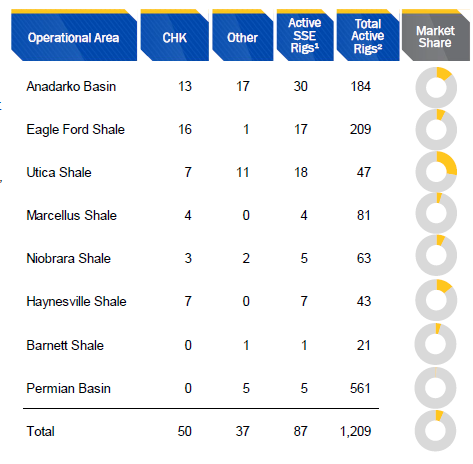 Source: Seventy Seven Energy Investor Presentation
Attractive key metrics
Seventy Seven Energy's key revenue metrics look encouraging even though its gross margin came a little bit under pressure in the third quarter: It declined from $70.8 million in the second quarter to $67.4 million in the most recent quarter.
But Seventy Seven Energy now has a rig utilization rate of 100% compared to just 93% a year ago. Its average revenue per revenue day of $23,776 actually improved over last year, and its average margin per revenue day of $8,560 remained high. Seventy Seven Energy's key revenue metrics are provided below.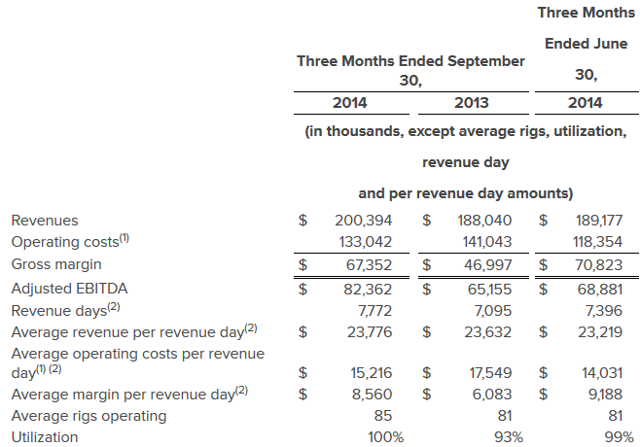 Source: Seventy Seven Energy Third Quarter Earnings Release
Another value driver: Reducing dependency on Chesapeake Energy
Being spun-off from Chesapeake Energy, Seventy Seven Energy now has to demonstrate that independence is the right way for the business to move forward. For the time being, though, the company remains heavily dependent on Chesapeake Energy, which accounted for 82% of Seventy Seven Energy's revenues in the first nine months of the year. This percentage has fallen from 92% in the first nine months of 2013, but Seventy Seven Energy is committed to diversifying its revenue sources further: Chesapeake Energy is expected to contribute only 50% of Seventy Seven Energy's revenues in the long haul, which gives the company substantial room to pursue new contract opportunities with other clients.
Wall Street is not helping
I don't think Wall Street will ever recommend stocks that have just recently collapsed in value, and that's exactly why special situation investors should take notice.
In my opinion, Wall Street's research on Seventy Seven Energy is poor. The chart below depicts the handful of brokerages that cover SSE, their ratings and their changing price targets over time.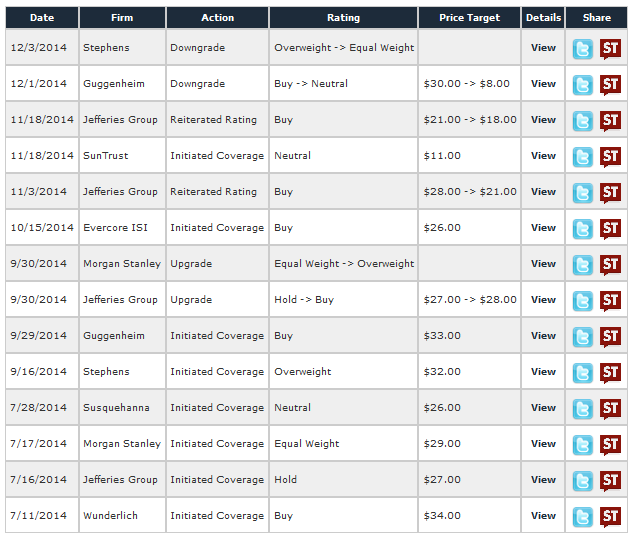 Source: Analyst Ratings Network
The only real issue I have with the research referred to above is that Wall Street appears to be just following crude oil's price action, and I honestly don't know where the value for investors here is.
Target prices in July, right after Seventy Seven Energy's spin-off, were consistently and without exception in the high $20s/low $30s, but have gradually been lowered as the oil price consolidated. I don't think that this approach to research is actually helping investors in achieving attractive risk-adjusted returns over the long term.
Share price development
Seventy Seven Energy was not the best investment for shareholders recently, which has a lot to do with the panic playing out in the oil market. Investors are scared easily, which is also why beaten down stocks like Seventy Seven Energy could be such promising investments.
Of course, if you believe in a major bear market for oil, Seventy Seven Energy is not for you, but if you see the long-term value in Chesapeake Energy's spin-off, its high utilization rates, revenue and operating income growth potential from fleet upgrades, and you refuse to act sensitively to falling share prices, Seventy Seven Energy clearly has the potential to become a multi-bagger over the next 1-3 years.
I'd venture to guess that all it takes to achieve multi-bagger status is for the oil price to merely return to where it came from: $100 a barrel. Since Seventy Seven Energy's valuation has already taken such a serious hit, I think an investment in SSE has an outstanding risk/reward ratio for investors looking for a special situation investment.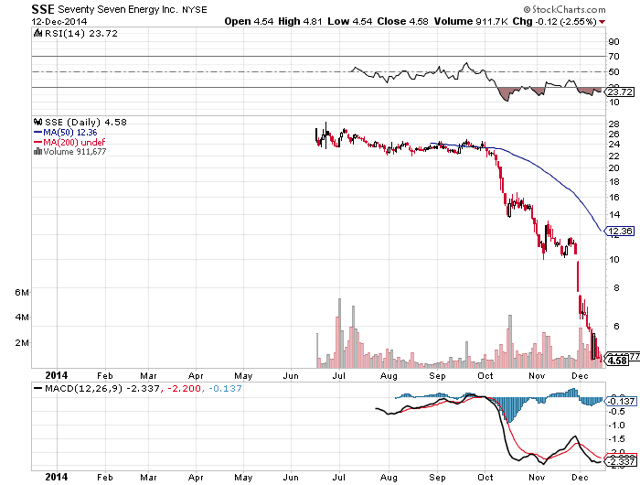 Source: StockCharts.com
Valuation
Moving on to valuation, I think many readers are now rightfully asking the question what Seventy Seven Energy should be worth. That's naturally a very valid question, and I will answer it by contending that Seventy Seven Energy is worth substantially more than 0.11 times sales.
Seventy Seven Energy achieves about $2.1 billion in revenues (on an annualized 3Q 2014 basis), but only fetches a market capitalization of approximately $233 million. Its price to sales ratio stands only at a paltry 0.11x, which is even lower than the P/S ratios of peer firms Basic Energy Services (NYSE:BAS), which has a P/S ratio of 0.16x, or Key Energy Services (NYSE:KEG), which fetches a P/S ratio of 0.12x.

Source: Achilles Research, Company Information, Financial data based on latest quarterly results
Your Takeaway
Seventy Seven Energy is a truly undervalued and poorly covered company with a short history as an independent, publicly traded entity. In addition, it operates in a sector that is profoundly detested by investors right now. Many investors probably don't even know about Seventy Seven Energy at all since the company only recently got spun off from Chesapeake Energy.
This, of course, makes the spin-off a potentially outstanding investment for special situation investors who have a long-term investment horizon and can see past the heavily publicized oil price collapse. Seventy Seven Energy is also highly appealing from a valuation point of view since the drilling company trades at lower sales multiples than its peers despite achieving substantially higher revenues. Strong Buy.
Disclosure: The author is long SSE, CHK, LINE.
The author wrote this article themselves, and it expresses their own opinions. The author is not receiving compensation for it (other than from Seeking Alpha). The author has no business relationship with any company whose stock is mentioned in this article.