Avalanche Biotechnologies, (AAVL) a clinical-stage biotechnology company, focuses on discovering and developing novel gene therapies for the treatment of ophthalmic diseases based on its Ocular BioFactory platform.
The company develops products designed to provide long-term benefit by inducing a sustained expression of a therapeutic protein with a one-time administration in the eye.
Currently the company only sells its Age-Related Macula Degeneration treatment. AMD is a progressive disease affecting the retinal cells in the macula, the region of the eye responsible for central vision.
AAVL has seen an 80% run up in its stock price this year, and I believe that this has brought its valuation to an extremely frothy level. The company trades at 2,626x revenue (Yes you read that right). While current analyst estimates for 2015 and 2016 are all over the place, it still does not warrant a 2,626x revenue multiple.
The true driver of this high multiple is the AVA series pipeline. AVA-101 is currently in Phase 2 testing, and the company expects top-line results from the treatment in mid-2015. AVA-101 is being developed as a single subretinal injection to provide a safe and effective treatment for wet AMD that is durable and reduces the need for frequent injections. When administered in the eye and expressed by the host retinal cells, the sFLT-1 protein inhibits the formation of new blood vessels and reduces vascular permeability by binding and blocking VEGF activity. AMD is the leading cause of vision loss in adults, presenting a ~$650M market opportunity.
A 2000x+ multiple is way too large, especially for a company that only has one product in its pipeline. Chimerix (NASDAQ:CMRX), the most comparable company to AAVL, develops oral antivirals. CMRX's pipeline is much broader, larger, farther into testing trials, and overall less risky.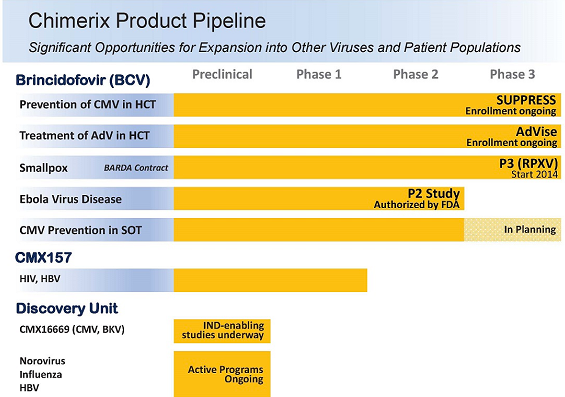 Source: Chimerix Website
With all these competitive advantages, CRMX only trades at 382x revenue, almost 3x less than AAVL.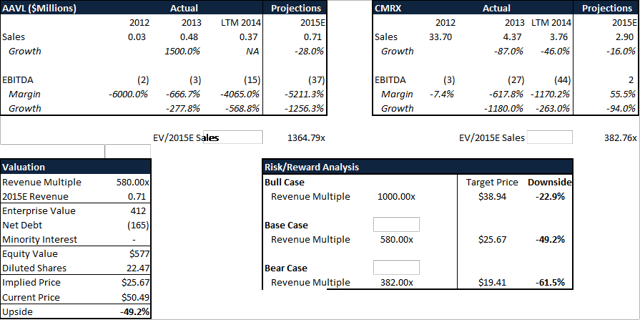 Source: S&P Capital IQ
To derive how mispriced AAVL is, I decided to compare the company to CMRX, the most comparable company in size and fundamentals. As you can see in the analysis, AAVL is trading at unreasonable multiples, especially given its declining revenue growth in 2015E, and its widening losses. I understand that a mega-growth biotech stock warrants a high revenue multiple, but 1000x revenue is a bit ridiculous.
The relatively small $650M market that AAVL plays in also discounts the large multiple that the company currently trades at. The most lofty 2015E revenue figure stands at $2M, which represents a fair valuation for the company at 500x revenue. At CMRX's multiple, even at $2M 2015 revenue, there is still 20% downside potential.
I believed that anywhere from 500-1000x revenue is more appropriate, but even at those levels, AAVL's valuation is frothy. At CMRX's multiple for 2015E revenue, the company could expect 61% downside, which is much more likely. I believe that this stock is overvalued and can expect 50% downside in the next 12 months.
The stock's fundamentals are overlooked by the market, as investor demand for this recent IPO has shot the stock price from $25-30, up to $50. Meaning that AAVL traded at the reasonable price I derived above earlier this year, and speculation has almost doubled the company's stock price.
Even the most optimistic price targets of around $40-$45 have been surpassed, and then some. AAVL has outrun its fundamentals and overall story, and I believe that the company will see a significant price pullback to a more reasonable level in the next 12 months, based on its declining and extremely volatile revenue, its ridiculously high revenue trading multiple, and its widening EBITDA losses.
Disclosure: The author has no positions in any stocks mentioned, and no plans to initiate any positions within the next 72 hours.
The author wrote this article themselves, and it expresses their own opinions. The author is not receiving compensation for it (other than from Seeking Alpha). The author has no business relationship with any company whose stock is mentioned in this article.