The financial crisis damaged the reputations of many astute professional money managers. As the share prices of banks sank, many money managers and other investors scooped-up more and more shares at what appeared to be bargain prices. Eventually, reality set in when financial institutions large and small crashed and burned. Taxpayers were on the hook to bail out the major financial institutions and smaller banks were left to fail.
The number of institutions on the FDIC's "problem List" is leveling off and the number of institution failures appears to have peaked in 2010. During the first quarter of 2011, the number of institutions on the "Problem List" increased to 888 from 884. Similarly, the current pace of failures is lower than the 157 failures in 2010. The FDIC characterizes 12% of all insured institutions as being troubled.
During the first quarter of 2011, FDIC-insured institutions recorded annual net income of $29 billion, the highest level since before the recession. The main driver of earnings improvement has been steadily reduced provisions for loan losses. This reflects general improvement in asset quality indicators, including declining levels of non-current loans and net charge-offs for all major loan types.
It appears that credit quality is improving and that earnings will benefit from a continued decline in loss provisioning, offsetting low or negative revenue growth. The following graph from Morningstar reflects Morningstar's assessment that regional bank stocks have been relatively undervalued for the past three years.
We think that well capitalized regional banks will be better able to deal with the additional burdens imposed by the new regulatory paradigm than either the largest or the smallest banks. The additional costs are likely to be essentially administrative in nature.
We have identified five regional banks that remained profitable throughout the financial crisis and are now benefiting from the consolidation caused by the numerous failures.
International Bancshares Corporation (NASDAQ:IBOC)
is a minority-owned holding company. Since opening its doors in 1966, IBC's assets have grown from less than $1 million to over $12.2 billion. Today IBC has 278 branch locations and more than 440 ATMs in more than 107 communities through Texas and Oklahoma. IBOC has a Tier 1 capital to average total assets ratio of 11.56%, risk-weighted Tier 1 capital ratio of 20.07% and a total capital ratio of 21.33%.
The
PNC Financial Services Group, Inc. (NYSE:PNC)
is a diversified financial services company in the United States. PNC is engaged in retail banking, corporate and institutional banking, asset management, and residential mortgage banking, providing many of its products and services nationally and others in its geographic markets located in Pennsylvania, Ohio, New Jersey, Michigan, Maryland, Illinois, Indiana, Kentucky, Florida, Virginia, Missouri, Delaware, Washington, D.C., and Wisconsin. It provides certain products and services internationally. Retail Banking provides deposit, lending, brokerage, trust, investment management, and cash management services. Corporate and Institutional Banking provides lending, treasury management, and capital markets-related products and services. Asset Management Group includes personal wealth management for high net worth and ultra-high net worth clients and institutional asset management. BlackRock is an investment management firm.
PNC has a Tier 1 common ratio of 10.3%, Tier 1 risk-weighted capital ratio of 16.2% and a leverage ratio of 10.6%.
Renasant Corporation (NASDAQ:RNST)
is the parent of Renasant Bank and Renasant Insurance. Renasant has assets of approximately $3.6 billion and operates over 60 banking, mortgage, financial services and insurance offices in Mississippi, Tennessee and Alabama. The company has a Tier 1 Capital to Average Asset ratio of 8.77%, Tier 1 capital to risk-weighted assets ratio of 13.59% and a total capital to risk-weighted asset ratio of 14.84%.
Union First Market Bankshares Corporation (NASDAQ:UBSH)
is the holding company for Union First Market Bank, which has 92 branches and more than 150 ATMs throughout Virginia. Non-bank affiliates of the holding company include: Union Investment Services, Inc., which provides full brokerage services; Union Mortgage Group, Inc., which provides a full line of mortgage products; and Union Insurance Group, LLC, which offers various lines of insurance products. Union First Market Bank also owns a non-controlling interest in Johnson Mortgage Company, LLC.
UBSH reports in its most recent 10-Q a Tier 1 capital to average assets ratio of 10.85%, Tier 1 capital to risk-weighted assets of 13.37% and total capital to risk-weighted assets of 15.12%.
Washington Banking Company (NASDAQ:WBCO)
is a bank holding company. The company's primary business is conducted by its wholly owned subsidiary, Whidbey Island Bank (the Bank). The business of the bank, which is focused in the northern area of Western Washington, consists primarily of attracting deposits from the general public and originating loans. The bank also offers non-deposit managed investment products and services, which are not Federal Deposit Insurance Corporation (FDIC) insured. These programs are provided through the investment advisory companies Elliott Cove Capital Management LLC and DFC Services & DFC Insurance Services. Another non-deposit product offered through the bank, which is not FDIC insured, is a sweep investment option available through a brokerage account. Rural One, LLC is a majority-owned subsidiary of the bank and is certified as a Community Development Entity by the Community Development Financial Institutions Fund of the United Stated Department of Treasury.
In its last 10-Q, WBCO reported a total risk-based capital ratio of 19.04%, Tier 1 risk-based capital ratio of 17.98% and a Tier 1 leverage ratio of 11.42%.
Each of these five companies report Tier 1 capital ratios well beyond any required by any regulatory body to be considered healthy and well capitalized. We continue by looking comparing items from the balance sheet.
Click to enlarge



These companies report return on equity notably above both the industry median and average ratios. We believe the higher ROE ratios will support higher price/book ratios. UBSH has an equity to invested capital ratio of 98%, substantially higher than its peers.
Analysts expect to see a decline in earnings for 2011 in the second half of the year. However, looking at 2012, we expect bank earnings to increase and be of a higher quality. Most of the banks have a modest and supportable dividend payout policy. PNC has a payout of just 6% which indicates that it has room to increase dividends going forward to peer-group levels. We think that IBOC has the most realistic payout policy at 31.40%.
There is a clear and strong turn-around for operating margins for each of these companies and for the sub-sector as a whole. RSNT operating margins are only 2.6% higher than their five year average indicating it is lagging behind. WBCO actually reports operating margins below its five year average which is problematic.
For the trailing twelve months, sales growth for IBOC and PNC has been negative. We believe that the lack of revenue growth is due to economic uncertainties. IBOC is located in the oil patch which has seen a slow-down in economic activity tied to changing energy costs. PNC operates in many heartland industrial states still suffering from the recession. The longer term sales growth rates have been better for all companies and the industry in general.
Net income growth for the trailing twelve month period has been anomalous for most of the companies and unsustainable. The five year growth rates for net income reflect the difficulties experienced during the financial crises and recession. Analysts are estimating solid EPS growth for the next 3-5 years.
Click to enlarge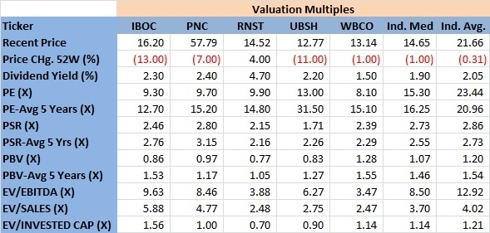 Share prices for most of these companies have declined over the last 52 weeks. The declines exceed the decline experienced by the market. RSNT pays a dividend that yields 4.7%, well above the industry median of 1.9% and the industry average of 2.05%.
The industry median PE at 15.3X is roughly in-line with the overall market. However, the industry average PE is 23.44X, much higher than the markets. It appears the market is expecting strong growth from this sector. With TTM PE ratios in the 9X-10X range, our five candidates appear to be undervalued. The current PE's for our candidates are all below their respective five year average PE's. It bears repeating here that these companies reported earnings in each of the past five years.
Though price-to-sales ratios are not very informative here, it is notable that our candidates are selling below their five year average PSRs. More to the point, the companies are selling at low multiples to their book values and below their five year average PBV ratios. Indeed, the industry is selling at PBV ratios below the five year average.
We estimate rationalized PBV ratios for each our candidate companies:
Company - Est. PBV
IBOC - 1.16X
PNC - 1.34X
RNST - 1.17X
UBSH - 1.08X
WBCO - 2.03X
We think that there remains much risk in the bank sector. Regulatory overhaul will increase the cost of doing business and price controls will limit revenue growth. The housing market will remain soft until excess inventory is wrung out and potential sovereign bankruptcies will continue to increase risk throughout the system. Healthy, well capitalized companies with proven management may come out on top once this cycle is past.
Disclosure: I have no positions in any stocks mentioned, and no plans to initiate any positions within the next 72 hours.