The Alerian MLP Index has had one of the most spectacular runs ever, for any index. At the bear market bottom on Nov 21, 2008, the index fell to 152 (only a 52% gain above its starting value of 100 on December 31, 1995). The comparable index including reinvested income had fallen to 370 from its former highs in 2007. By April 28, 2011, the MLP index exploded to 390 (up 156% from the lows) and the comparable index including reinvested income was 1,123 (on the next day). MLPs are yield securities and the yield for the index plunged to 5.86% when the index peaked, close to the record low of 5.37% in 2007.
Here are three prominent MLPs with very different performances. Enterprise Products (NYSE:EPD) and Kinder Morgan (NYSE:KMP) are the two largest MLPs, and those investments have done well. While their unit prices have slightly lagged the index, doubling off the recent lows, they continued distribution increases, building track records that should eventually make them Distribution (Dividend) Aristocrats. Constellation Energy (CEP) units are under $3 (a little above the former annual distribution) as it has been reducing borrowings to get its financial house in order.
EPD has become the largest MLP since its IPO in 1998 from internal growth and acquisitions. Its major assets include 50,000 miles of natural gas, natural gas liquids (NGL) crude oil, refined products and petrochemical pipelines; 192 million barrels of NGL, refined products and crude oil storage; and 27 billion cubic feet (Bcf) of natural gas storage capacity. New investments are in development activities in the Rocky Mountains and Gulf Coast regions, including the Barnett Shale, Haynesville Shale, and Eagle Ford Shale producing regions in Texas and Louisiana. Distributions have grown at a 8% compounded annual growth rate since 1998. The increase in Q2 2011 was the 27th consecutive quarterly increase and the units yield 6.0%.
KMP is one of the largest pipeline transportation and energy storage companies in North America, with more than 37,000 miles of pipelines and 180 terminals. The pipelines primarily transport natural gas, refined petroleum products, crude oil and carbon dioxide. Terminals hold gasoline, jet fuel, ethanol, coal, petroleum coke and steel. New investments are being made to acquire assets and form joint ventures in the Haynesville Shale in Louisiana and the Eagle Ford Shale in Texas, in addition to ongoing investments to expand infrastructure getting natural gas from these supply basins to the marketplace and build major new pipelines to move natural gas around the country.
Annual distributions have increased annually, from 63¢ in 1996 to $1.71 in 2000, and are guided to be $4.60 in 2011. KMP has two classes of securities, units and shares. Kinder Morgan Management (NYSE:KMR), a corporation, was formed for investment without tax hassle. Each share is backed by a unit of KMP and distributions are paid with stock dividends, no 1099 forms are sent to stockholders. KMP units yield 6.5% and the KMR shares yield 7.3% (from stock dividends).
These companies have outstanding track records as shown by their graphs (company supplied; click all to enlarge).
Enterprise Products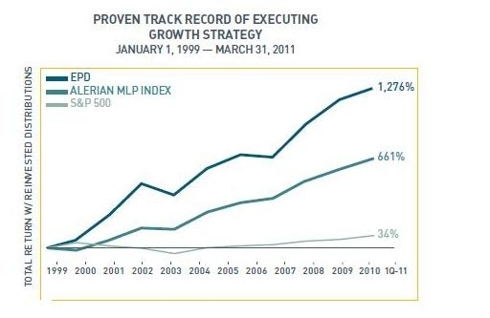 Kinder Morgan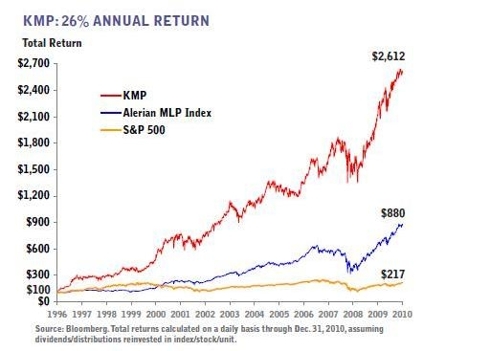 While they have prospered, Constellation Energy remains the main laggard MLP. Most of its current production is natural gas, recovered primarily from coalbed methane with proved reserves located in the Black Warrior Basin in Alabama, the Cherokee Basin in Oklahoma and Kansas, the Woodford Shale in the Arkoma Basin in Oklahoma, and the Central Kansas Uplift in Kansas and Nebraska.
The distribution was suspended in 2009 to help the company reduce borrowings (along with limited capital expenditures). Three weeks ago, CEP extended the maturity date of its credit line one year after borrowings were reduced $42 million to $115.5 million (a $100 million reduction in the last two years). The company also reaffirmed its guidance to further reduce debt $25-30 million this year. Capital spending this year is expected to be $10-12 million, completing 30-35 net wells. Distributions will remain suspended until debt levels are reduced and market conditions warrant resumption of capital spending at maintenance levels. An investment in CEP is clearly not for those weak of heart, rather speculators who are willing to wait on expectations of better times with distributions. The chart for the units is not shown because it's that bad.
The outlook for MLP business remains excellent. EPD, KMP and KMR are positioned to extend their records of raising distributions from new investments in growing areas. However, favorable tax treatment for distributions is based on a national priority to build more infrastructure to move energy around the US and that has been called into question. It can be taken away (or modified), especially when the government wants to reduce deficits. More recognition of this risk may be causing investors to demand higher yields (causing units to sell off). The MLP index is just 3 above the May low. If that does not hold, MLPs will see more selling. Caution towards MLPs is appropriate. But CEP probably will not be greatly affected, already so low. CEP units are for those willing to assume substantial risk with the hopes of large rewards if better times bring a return of distributions and higher unit prices.
MLPs continue to have a bright future. But MLPs are no longer market leaders as they have been in the last two years. A pause period will not disturb long time investors reinvesting income. And CEP is available for gamblers looking for substantial gains.
Disclosure: I have no positions in any stocks mentioned, and no plans to initiate any positions within the next 72 hours.