Things became really complicated for Amazon (NASDAQ:AMZN) in the past week, as the company has had a minor scuffle with Google (NASDAQ:GOOG) (NASDAQ:GOOGL).
As reported by Business Insider:
Google realized that Amazon had snuck a hidden app store into its own app after Amazon mentioned the store in a press release. The Amazon app was taken down from the Google Play store last night, meaning that Android users couldn't download it. The app wasn't down for long. Amazon moved quickly to release a new app called "Amazon Shopping." The only difference between that app and its original app is that the hidden app store has been disabled.
Basically, Amazon has no real chance at selling media via its own mobile application.
Why does this matter?
Because Amazon's media segment has seen stagnant growth, as media purchases have shifted toward mobile games and applications. This is something Amazon has no way of penetrating into, because the application itself will be de-listed if it attempts to directly compete with Google. This is something we just found out, and something Amazon can't really do anything about.
The bigger problem is that Amazon's media segment is its profit center. The company has very limited overhead for digital copies of books, games and software. It's just data being transferred from storage devices in a data center paired with some automated transaction software that transfers cash from one account to the next. Amazon earns a certain percentage royalty on sales, depending on whether it's a book, game or music. In other words, much of the income generated from media flows directly into the income statement and pays for non-performing divisiona that bleed cash.
The general merchandise segment is Amazon's breadwinner, and quite frankly aside from Wal-Mart (NYSE:WMT) and Target (NYSE:TGT), there's no legitimate competition. Wal-Mart and Target are grocers and sell a limited scope of products within stores, whereas Amazon's product store is relatively large in comparison, and offers much more selection and lower pricing for specialty goods.
In the past holiday season Amazon sells goods at a higher price when compared to other retailers.
At least according to Internetretailer:
The report finds that Amazon "largely remains the retail price leader for like-to-like items, but Wal-Mart and Target have lower online prices than Amazon" in those four categories, with the price differences widening as the two chains become more aggressive. For instance, the report notes that Wal-Mart, described as the "standout surprise," has online prices approximately 10% lower than does Amazon as of August 2014, a significant improvement from 1% lower six months ago. Target's online prices, meanwhile, come in at about 5% lower than Amazon's and have remained at that approximate level for the past year.
Market dynamics of Amazon
Operationally things have improved, as the company has robots running warehouses, and computers running a near automated supply chain that optimizes inventory levels and pricing levels on a constant basis. I'm not exaggerating the logistical part of the equation here, as Amazon saves on shipping expense, because it has warehouses in pretty much every state. Amazon keeps prices low because it invests heavily into big data mining, software and infrastructure. Needless to say, the company also operates at incredible scale so it secures major discounts with suppliers. In fact, Amazon recently launched a wholesale business because its pricing was so competitive.
My guess is that Amazon is trying to increase its retail mark-up to keep pace with various capital outlays that may be inclusive of datacenters, warehouses and content agreements.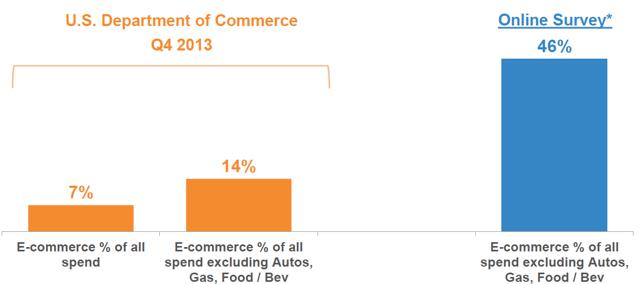 Source: comScore
The company's cloud, SVOD (subscription video on demand) and e-commerce business segments are extremely well positioned. They also have a ton of growth potential as each market is under-served and is rapidly expanding. When based on U.S. department of commerce statistics, there's approximately 14% penetration of e-commerce, when excluding spending on autos and consumables like food and gas.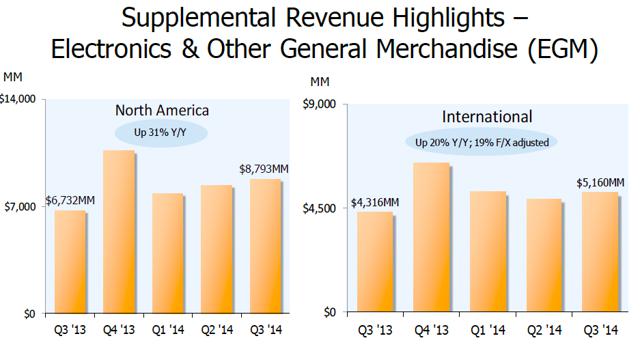 Source: Amazon Q3'14 earnings presentation
That being the case, Amazon's electronics and other general merchandise business has much more untapped growth potential in the United States, as there is a 14% penetration rate of e-commerce into total commerce spend that Amazon can compete for. Internationally, things look even more promising as economics and broadband penetration will accelerate the growth rate of Amazon's ECG group.
While Amazon's lack of profitability will be a sore spot for some, the likelihood of bankruptcy is near non-existent as the company's debt-to-equity ratio (0.3) and current ratio (0.9) aren't indicative of insolvency. The company can increase pricing or reduce spending in many core areas without negatively impacting the business so based on those factors, I'm fairly confident that balance sheet risk won't materially impact investors over the foreseeable future.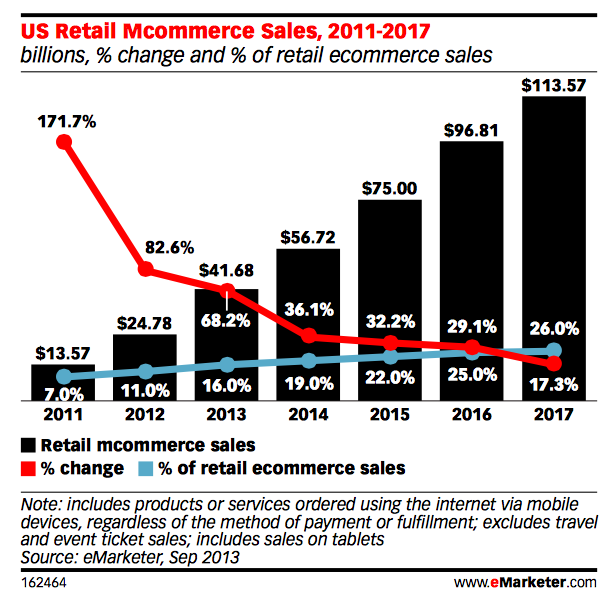 Source: eMarketer
Mobile commerce is expected to grow into a $113 billion a year market, which is why investors probably panicked when Amazon's app was de-listed from the Android store. Amazon re-launched a shopping app back onto Android without an application store within the Amazon-app. Whether this is an anti-competitive practice is up for debate. But as it currently stands Amazon will not generate much growth in media. Growth will have to come from ECG, AWS and Prime Instant Video.
Growth prospects look compelling
Amazon's media segment will not grow by much as it cannot operate a store within the Android store. Amazon's proprietary operating system doesn't have that much market share, so consumers will not purchase a meaningful amount of movies, books, games or apps via Amazon's app store. Sure, Amazon's app store is on BlackBerry devices, but even BlackBerry has had trouble with retaining its current installed base. Plus PassPort sales have yet to ramp-up into a very meaningful number.
On the other hand, Amazon's core businesses are relatively well positioned and may contribute to profitability in the foreseeable future. I don't anticipate Amazon's core e-commerce operation to show signs of weakness, and in fact profitability may be on the horizon from the ECG group as pricing trends indicate that Amazon is pushing for a larger retail mark-up.
That being the case, Amazon Instant Video and Web Services are the segments that are bleeding cash. The two businesses also are the most important for creating sizable improvements in sales and earnings.
Going forward, Amazon will be a utility provider of computing and a major distributor of programmed content. This indicates that Amazon is starting to turn into more of a "conglomerate" as it's already an e-commerce powerhouse, which is why it's hard to articulate a long-investment thesis on Amazon, and why investors are so uncertain of the company's current valuation.
The investment thesis
When justifying an investment thesis in Amazon, we have to make some key assumptions. First, Amazon's current profitability isn't permanent and will improve. Second, the market values Amazon based on its growth rate and the eventual conversion of revenue into a much higher net profit rate. When factoring both assumptions into a company that generated no FCF or EPS on a GAAP basis, the company is worth significantly more when projected outwards, and priced on a P/E basis. Amazon does mention in prior annual reports that it prioritizes its own internal free cash flow metrics when justifying financial performance.
I don't anticipate Amazon's business model to remain unprofitable on a GAAP basis as capital spending will scale and will become more efficient. Eventually the debt for the PP&E will be amortized and will run off the balance sheet, and excessive spending into new capital projects will be constrained by the net economic profit such activities would incur. When operating on the scale of Amazon, it's important to note that investment is dictated on more macro-terms, as much of the outlays is in anticipation of future e-commerce spend on aggregate. Eventually, Amazon will have to scale back its outward outlays of cash as it saturates the total addressable market of e-commerce. At the point of near market saturation, or full-blown saturation, efforts to optimize profitability on a per-unit of sale basis will fatten margin considerably. Furthermore, at such scale potential competitors will have difficulty with combating the pricing economics that Amazon operates at.
Therefore, under that given scenario, I think I can justify a buy rating on the stock despite the shaky looking value-metrics.
Disclosure: The author has no positions in any stocks mentioned, and no plans to initiate any positions within the next 72 hours.
The author wrote this article themselves, and it expresses their own opinions. The author is not receiving compensation for it (other than from Seeking Alpha). The author has no business relationship with any company whose stock is mentioned in this article.