Overview

As I sit here smack dab in the middle of the oil patch (San Antonio, Texas), I am contemplating the next move in oil prices amidst the relentless sell-off. I believe we will see $50 in short order and $40 by the summer. The unrelenting drop in oil prices continued Monday with no end in sight. Furthermore, I believe we are nowhere near the bottom presently for a myriad of reasons. Therefore, a flight to safety of oil and gas dividend growth investment dollars may occur as investors realize the continuing plummet in oil prices is nowhere near its end. Kinder Morgan (NYSE: KMI) (NYSE: KMP) should be the beneficiary of this potentially massive shift in capital allocation over the coming months. In the following sections I will make my case.
Current Chart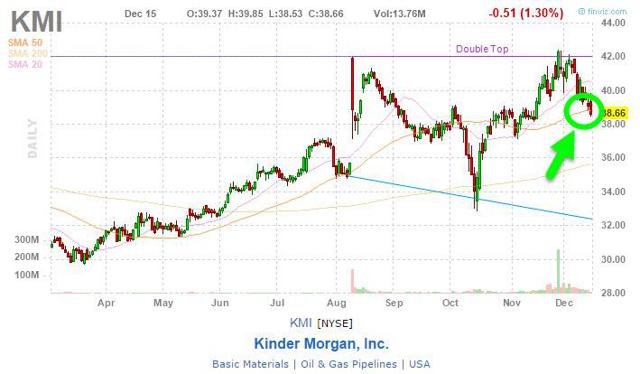 (Source: finviz.com)
This is not the Subprime Housing Bubble 2.0
Some have suggested this may be the second coming of the housing bubble of 2008. Here is the deal. Yes, things have gotten frothy in the oil patch, but it is nowhere near the magnitude of the housing debacle. The major difference is the debt has not been securitized like the subprime loan debt was increasing the risk exponentially. The securitization of subprime loans was what brought the market to its knees, not the defaults of the homes themselves. Even so, the drop in oil prices will shake out weak players.
Oil's dramatic drop is nowhere near over
There has been a tectonic shift in the oil patch as of late. Several analysts have stated the price of oil has sunk to multi-year lows due to the fact OPEC will not cut production coupled with the incredible increase of North American oil and gas production.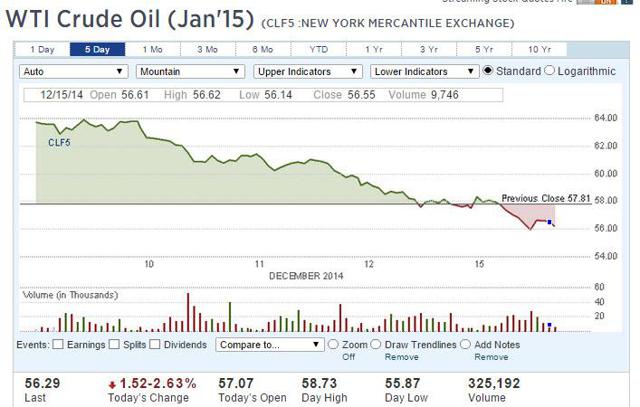 (Source: cnbc.com)
The problem is this is only half the equation. The other half of the issue is waning demand. The drop in demand has to do with our increased efficiency in the use of oil and an economic slowdown in China and Europe. Furthermore, it's not that easy to turn off the spigot. Oil and gas exploration and production players can't simply snap their fingers and shut down operations. Even if they could, they don't want to. Right now global oil producers are basically playing a gigantic game of chicken. Based on these facts, I believe we are still only in the beginning stages of a sell-off in oil and gas stocks. ConocoPhillips (NYSE: COP) was one of the first to announce capital spending cuts amounting to $20 billion and the stock got crushed on the news. I suspect more news of lowered guidance and capital expenditure cuts are on the way. In the meantime, Kinder Morgan's business prospects are still intact.
Kinder Morgan's addressable market is enormous
Cheniere Energy (NYSE: LNG) recently signed 15-year pipeline capacity agreements with Kinder Morgan and a multi-year gas storage agreement for the proposed Corpus Christi liquefied natural gas export project in south Texas. Kinder will provide 550,000 dekatherms/day of firm natural gas transportation service and 3 billion cubic feet of natural gas storage capacity to serve the LNG export facility. Kinder's plan is to expand its existing Texas intrastate pipeline system in south Texas to provide 250K dekatherms/day of firm transportation and 100% of storage services and expand its TGP Pipeline to provide 300K dekatherms/day of firm transportation.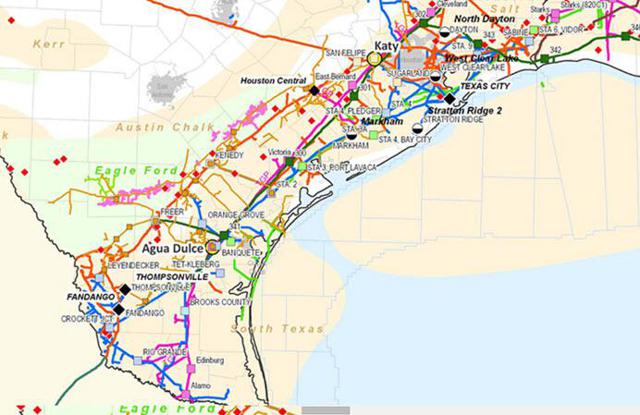 (Source: kindermorgan.com)
Moreover, according to an ICF report quoted by the company, $641 billion of investment in midstream energy infrastructure is needed through 2035. This implies $29 billion per year annual spend compared to $18 billion annual spend by all MLPs combined over past five years. So, even if there are cutbacks, there is still plenty of growth to go around. Furthermore, Kinder Morgan is in a position to pick up assets on the cheap as more highly leveraged MLPs may begin to falter. Kinder Morgan's merger couldn't have come at a better time. I submit the drop in oil prices and subsequent bankruptcy of certain players will actually be good news for Kinder Morgan in the long run.
Kinder Morgan's star will shine brighter as time goes on
Right now it seems as though some are selling first and asking questions later. I see this trend continuing into at least the first quarter of next year. Nevertheless, as time goes on I believe savvy dividend growth investors will realize the tremendous value proposition Kinder Morgan shares offer.
This process is healthy for the oil market
The cure to low oil prices is low oil prices. As prices continue to drop, the fringe players will go bankrupt and their assets will be absorbed by the likes of Exxon Mobil (NYSE: XOM) and other well healed companies such as Kinder Morgan. Furthermore, the economic benefits will start to show up as people have more money in their pockets to spend. I know my outlook has already changed regarding taking a road trip to see my family members in other states. I see the entire process coming to fruition in March or April of next year. I say Kinder Morgan offers one of the best opportunities right now for dividend growth investors.
Kinder from a long-term dividend growth perspective
When compared to the dividend growth plays, most investments have nowhere near the safety and security of Kinder Morgan. Kinder Morgan has more business than it can handle currently and has already guided for a dividend increase of 16% next year and an annual 10% dividend growth rate over the next five years. So let's do the math.
2015 = $2.00
2016 = $2.20 ($2.00 x 1.1)
2017 = $2.42 ($2.20 x 1.1)
2018 = $2.66 ($2.42 x 1.1)
2019 = $2.92 ($2.66 x 1.1)
2020 = $3.22 ($2.92 x 1.1)
Kinder is currently trading for $38.28 per share. So if you bought shares at the current price and held them for five years, the yield would be 8.4%. Not to mention the fact there is significant opportunity for capital gains as well. I don't see any other opportunities currently for dividend growth investors with this type of safety and security. For dividend growth investors who are looking for safe and secure income sources, I don't see much out there that can compare to Kinder Morgan. The company will have an over $125 billion market cap post-merger. Cash flows are fee based with 1.1x coverage when including a $20 billion tax benefit due to a step up in asset valuation post-merger. What's more, the merger provides an additional margin of safety by providing a lower cost of capital.
Conclusion
Oil prices don't tend to stay down for long in recent years. The last big drop in oil prices occurred in 2008/2009 when the price fell from $150 to $36 in about five and a half months' time, before bouncing right back.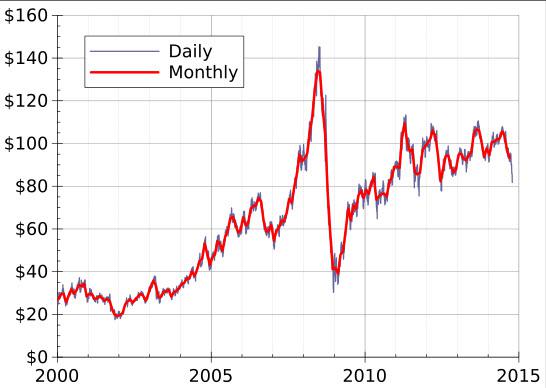 (Source: New York Mercantile Exchange)
On top of this, the situation was much grimmer at the time. In comparison the current sell-off looks like a tiny blip on the radar screen. In the midst of the sell-off it's hard to see the forest though the trees. Don't let the doomsayers get the better of you, this is not the end of the world.
Final Thought
Everyone talks about buying low and selling high, but in reality it is a very hard thing to do. I believe legging in to a position in Kinder Morgan in 20% increments over the next five months will significantly lower the risk/reward scenario for dividend growth investors contemplating a new position in the stock. The North American Shale oil boom is going nowhere. The drop in oil prices is healthy for the industry just as a pullback in the market is healthy for a bull run. The party may be over for some, but much hard work will remain for others such as Kinder Morgan.
Disclosure: The author has no positions in any stocks mentioned, and no plans to initiate any positions within the next 72 hours.
The author wrote this article themselves, and it expresses their own opinions. The author is not receiving compensation for it (other than from Seeking Alpha). The author has no business relationship with any company whose stock is mentioned in this article.