Winning Isn't Easy
Anyone that has ever tried their hand at a black jack table understands that the house always wins. That sentiment hasn't always been the case for Full House Resorts (NYSEMKT:FLL). Full House has experienced some good days since its beginning in 1997 as a manager of casinos. However, winning hasn't been manageable for the House now that the strategic gamble is casino ownership.
Full House Resorts began this transformation into owner operator in 2007 upon acquiring Fallon, Nevada's Stockman's Casino. Under the recently ousted CEO, Andre Hilliou, Full House has expanded ownership into three casinos with the latest acquisition being the Silver Slipper Casino in Mississippi in 2012.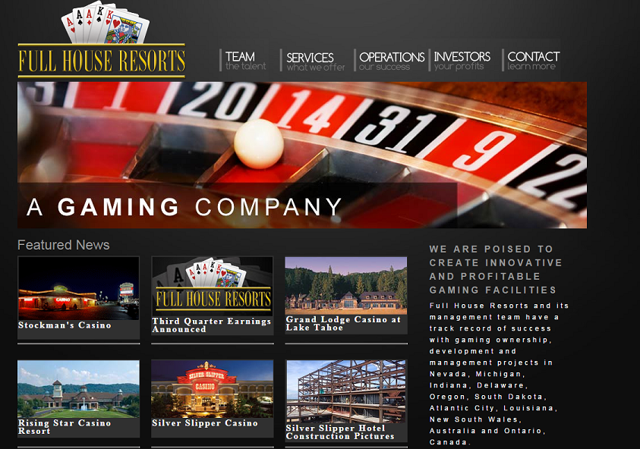 Source: Full House Website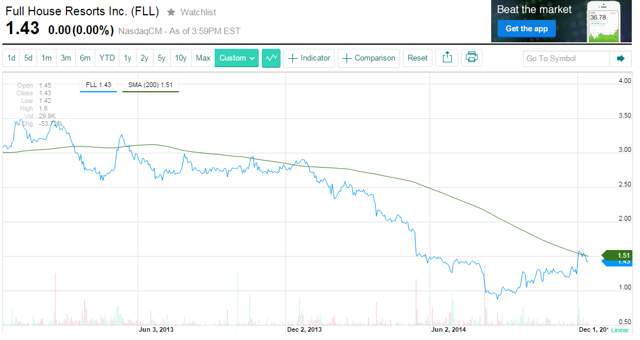 Source: Yahoo Finance
With profitability always a fiscal quarter away but never actually materializing, FLL's share price has fluctuated between $1 and $4 and back to $1 since the strategic change in 2007. Share price is currently $1.43 while attempting to push over the 200-day SMA.
Unlucky Number 5 to Lucky Number 9
This lack of profitability and poor stock price action brought a group of activist investors led by former Pinnacle Entertainment chief, Daniel Lee to the Full House gaming table. After a few weeks of good old fashion proxy fighting with the Lee group looking for a special meeting both sides came to an agreement that didn't bode well for then CEO, Hilliou and COO, Mark Miller. Evidently, the Board of Directors agreed with the activist group that change was needed as both men were ousted. The collective group also increased the size of the board from five members to nine while naming Lee as CEO.
Lee and the newly sized board have some serious work ahead of them but the odds look to be promising. Both sales and income have been flat and virtually break even respectively over the last few years. On the surface this is definitely not a story of success. It appears that Hilliou and Miller have maintained this steady pulse-less flat line with little to no effort put forth on the business development side. There has been no attention to the details needed for the new strategic focus of ownership. The same approach of focusing solely on casino management has carried on into the new casino ownership strategy. This system of manage only may have proved semi-successful from 1997 to 2007 but lacked any hope moving forward. A quick perusal through the company's web site shows a serious lack of the brand awareness needed by a company claiming to be in the entertainment industry. In fact, the site still mentions Lee Iacocca as a board member - yes that Lee Iacocca. Iacocca resigned from the board in September 2013. It's kind of neat that the icon of Chrysler had an affiliation with Full House but is hardly relevant to successful gaming promotion.
Playing The Odds
The bright spot to this company lies in its low market cap and decent balance sheet. FLL has cash equal to approximately half of its market cap. Keep in mind that market cap is a puny $30 million. However, since they've entered ownership P/B has fallen to a ridiculously low 0.4, which surely has Lee smiling from ear to ear. This balance sheet is the golden carrot for the newly appointed management team. There are clearly two options facing the group. The two obvious options are the sale of the company or continuing the strategic transformation into casino conglomerate.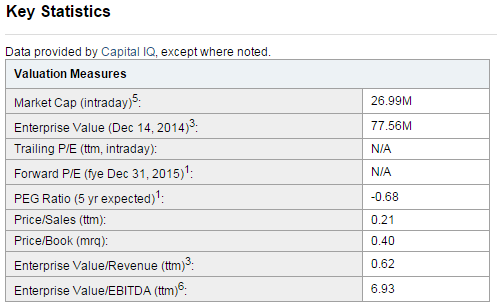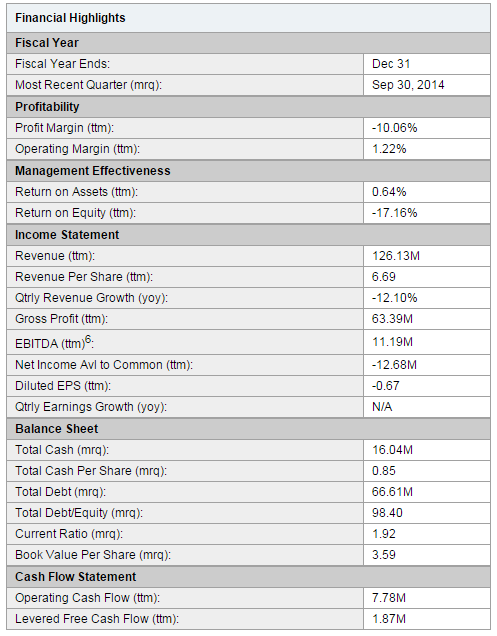 Source: Yahoo Finance
First is the option of a quick flip of the company with a sale that should easily grab 1.5 to 2.0 times current market cap. In fact, this is the path of least resistance and quite possibly the path likely to be taken. In response to the early days of the recent Lee proxy fight, Hilliou came out stating they were open to offers.
The other option requires a lot of attention to detail but may benefit shareholders more positively over the long haul. If Lee and company decide to roll up their sleeves and continue the strategic initiative to fully transform Full House Resorts into a successful entertainment brand, well, the sky's the limit.
The House Finally Wins
I'm sure Daniel Lee will be addressing shareholders fairly soon. It is unclear at this moment what he will put forth as the company's strategic vision. Regardless of path, expect share prices to climb over both the short and long term. With current share prices depressed, P/B valuation so low and a fairly impressive cash position; any mention of a plan from Lee will surly drive share prices upwards over the 200-day SMA.
Disclosure: The author is long FLL.
The author wrote this article themselves, and it expresses their own opinions. The author is not receiving compensation for it (other than from Seeking Alpha). The author has no business relationship with any company whose stock is mentioned in this article.
Editor's Note: This article covers one or more stocks trading at less than $1 per share and/or with less than a $100 million market cap. Please be aware of the risks associated with these stocks.