This morning while screening on Barchart for S&P 500 stocks having the highest technical buy signals Quest Diagnostics (NYSE:DGX) was near the top of the list. The stock hit 11 new highs and is up 4.95% against a market that fell 5.41% using the Value Line Index of 1700 stocks as my benchmark. Although recently the stock lagged behind its sector it has recently gained momentum.
Click to enlarge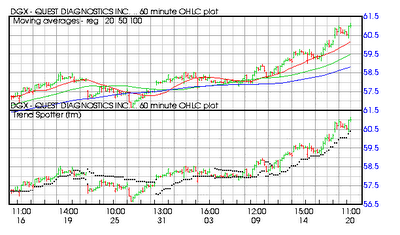 Quest Diagnostics is a leading provider of diagnostic testing, information and services that patients and doctors need to make better healthcare decisions. The company offers the broadest access to diagnostic testing services through its national network of laboratories and patient service centers, and provides interpretive consultation through its extensive medical and scientific staff. Quest Diagnostics is a pioneer in developing innovative new diagnostic tests and advanced healthcare information technology solutions that help improve patient care.
Factors to consider
Barchart technical indicators:
100% Barchart technical buy signal
Trend Spotter buy signal
Above its 20, 50 and 100 day moving average
11 new highs and up 4.95% in a down market
Relative Strength Index 76.49%
Trades around 60.94 with a 50 day moving average of 57.95
Wall Street brokerage analysts have released three strong buy, six buy, 11 hold and only one under perform recommendation on the stock.
Sales are projected to increase by 2.70% this year and another 3.30% next year.
Earnings are a more positive story with estimates of a 6.90% increase this year, 11.50% next year and 11.21% annually for the next five years.
General Investor Sentiment:
On Motley Fool the 783 readers expressing an opinion are voting by 96% that the stock will beat the market.
CAPS members vote 554 to 30 for that result.
The more experienced All Stars agree with a 195 to 4 vote.
Summary: Quest Diagnostics is starting to gain momentum after recently lagging behind the sector. Analysts had two major concerns - first, some acquisitions that now have seem to be merged properly and secondly, some legal concerns of over billings made by the State of California that have now been settled. Long term investors could see an annual total return of between 15% - 17% over the next five years.
Disclosure: I have no positions in any stocks mentioned, and no plans to initiate any positions within the next 72 hours.