I have been following eMagin (NYSEMKT:EMAN) for several years now and hold a small position, waiting to see some glimmer of hope that they will make inroads in the consumer OLED (Organic Light Emitting Diode) arena. Indeed, in the company's last annual report, they affirm that the consumer market holds the largest potential for growth:
We believe that the most significant driver of the longer term near-eye virtual imaging micro-display market is growing consumer demand for mobile access to larger volumes of information and entertainment in smaller packages. This desire for mobility has resulted in the development of mobile video personal viewer products in two general categories: (NYSE:I) an established market for electronic viewers incorporated in products such as viewfinders for digital cameras and video cameras which may potentially also be developed as personal viewers for cell phones and (ii) an emerging market for headset-application platforms which include accessories for mobile devices, portable DVD systems, electronic games, and other entertainment, and wearable computers.

(source: 2013 Annual Report)
The statement that the consumer market is the significant growth driver has appeared in the last few annual reports for eMagin. These repeated growth refrains have yet to materialize.
In this recent press release, eMagin announced they are developing a head mounted virtual reality display. This device will be the first consumer product they have announced since the mid 2000's, so it appears they are taking actual steps to move into this vaulted consumer market. The announcement didn't excite investors, however, as the stock price stayed near its lows.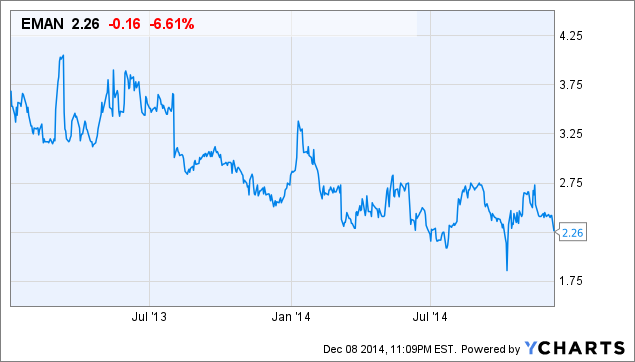 Will 2015 be the year that eMagin breaks out?
It appears that investor optimism for significant growth has been driven out of the eMagin stock price. The chart below shows the rough few years eMagin has faced, though the recent improvements in average margin and slowing revenue shrinkage shows some hope for 2015.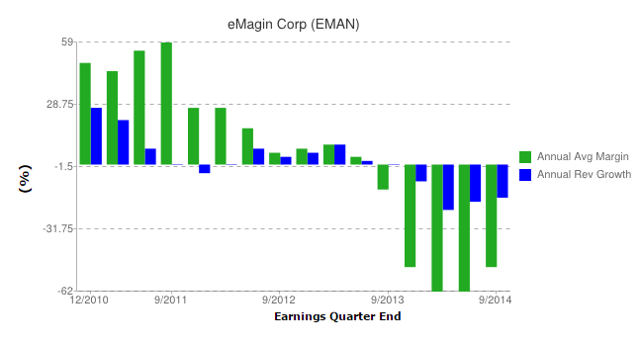 The anaylsts that follow eMagin are yet to be impressed. Initial 2015 estimates in May came in at four cents a share, and the projection for 2015 is now negative for both revenue growth and EPS:
Fiscal Year 2015 Revenue / EPS Estimate History
Estimate Date
Est EPS
Est Revenue
11-17-2014
($0.04)
$25,600
8-18-2014
($0.04)
$32,700
7-16-2014
($0.06)
$32,500
5-19-2014
$0.01
$32,500
5-15-2014
$0.04
$32,500
Courtesy Yahoo Finance
For the last several quarters, production problems have hurt eMagin, though it appears the worst of the machine production problems are behind them. Even if they can ramp up production, there are a lot of competitors in the OLED space, including mega-players Samsung (OTC:SSNLF) and LG.
Conclusion
While eMagin is positioned to thrive in a growing market, more proof of successful execution is needed before I will be bullish on this stock. The recent quarter's financial improvements give me some near term hope, but until revenue starts growing and eMagin can demonstrate it can penetrate the consumer market, I don't see a reason to believe the stock will move above current levels.
Disclosure: The author is long EMAN.
The author wrote this article themselves, and it expresses their own opinions. The author is not receiving compensation for it (other than from Seeking Alpha). The author has no business relationship with any company whose stock is mentioned in this article.
Editor's Note: This article covers one or more stocks trading at less than $1 per share and/or with less than a $100 million market cap. Please be aware of the risks associated with these stocks.