Investors are getting an early Summer Christmas this week with a slate of earnings that can move the market. With big names in tech, consumer goods/services and even financials, these earnings reports can move the market. We believe these reports will impact the market since we have not had a lot of microeconomic news in quite some time, and a re-shift to how well companies are doing can really bring about some good news and good movement in the marketplace.

Here are some we like the best:


Adobe Systems (NASDAQ:ADBE) and Oracle (NYSE:ORCL) - Application software and the established tech companies like Adobe and Oracle are often seen as bellwethers for the technology market. With a lack of recent earnings and company news about how we are actually doing, there should be some extra careful attention paid to these two companies and their reports. Both companies are expected to show some good numbers. Oracle is looking for a growth in EPS to 0.60 to 0.71 and an 11% sales growth. The company is looking very solid with growth coming in its licensing software as well as its growth in servers/cloud. The company can single handedly lift the market, and we believe a bullish report is on the way. Adobe has less impact, but the company also looks very promising. The company has beaten for four straight reports, but it has had inconsistent growth. The stock, though, has dropped over 10% since the beginning of June, and it seems like a beat will be enough to give this stock a pop. We believe owning ORCL stock is great with a selling of the $30 puts. We also like selling the $30 puts as a bottom.

Click to enlarge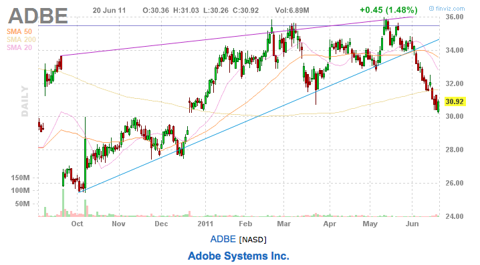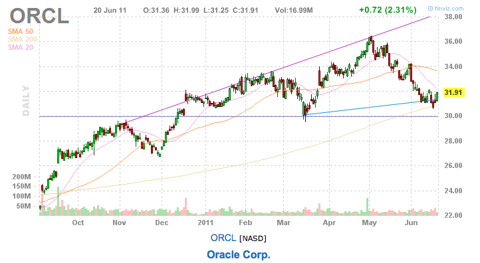 Discover Financial Services (NYSE:DFS) - Financials could get a lift this week as we are bullish on DFS.

Discover Financial looks ready for a bounce moving into earnings week as the stock this morning popped over a large resistance line and looks ready to make a hefty move from that line to its next resistance line at the 50-day MA at 24.00. The company is slated to show some more great improvements in its business, doubling its EPS from 0.33 to the estimated 0.65. The company is also slated to improve revenue, and the company is coming off of a 40% beat in EPS last quarter and a 200% beat in EPS from one year ago.

While financials have been weak, credit card companies have been much stronger with organic growth in sales and earnings. Discover has been one of the best in the bounce back, and it looks primed for another move higher into this report. The company has had great movement into and out of earnings for the last three quarters, and we do not see this time being any different for the company. The company has seen good metrics with falling late payments and declining delinquencies touching multi-year lows.
Consumer Companies (NASDAQ:BBBY) (NYSE:BKS) (NASDAQ:FINL) - Further, the consumer may be looking a bit better with a great group of companies ready to report in Bed, Bath and Beyond, Barnes & Noble and Finish Line. BBBY and FINL have been good performers in the market in the past year. BBBY has been a great disaster hedge for the housing market as it has continued to falter. People who are not moving or are not buying new homes are still wanting change and to remodel. Personal income is there ... housing prices are not. Therefore, BBBY has been a great way to play that dilemma. The company has performed excellent into and out of earnings for the last several quarters, and this week should be more of the same. Finish Line should be looking good as shoes have been selling very well especially on the running side, which is where FINL has a large focus. Finally, Barnes & Noble could be poised to make a surprising move. The Nook has been getting a lot of attention as of late with a number of consumer reporting companies reporting it is the best reading gadget as well as sales appearing to be better than expected. Overall, we think it is going to surprise the -0.91 EPS estimates. These all can together give boosts to the consumer marketplace.

Click to enlarge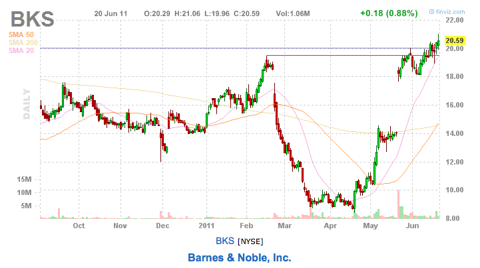 Disclosure: I am long DFS.