Honeywell International Inc. (NYSE:HON) has announced its earnings guidance for the final quarter and for the following year. The company is adhering to a business plan for generating double-digit growth in earnings. Based on the latest earnings guidance, Honeywell will continue to post double-digit growth in earnings. Although the company has forecasted lower sales for the final quarter, full-year earnings per share will be on target to achieve the earlier estimate of $5.50-$5.55. In addition, Honeywell is citing organic sales growth of 4%, EPS between $5.95-$6.15, and free cash flow of $4.2-$4.3B for the next year.
At the end of first half of 2014, I recommended defensive investors to buy and hold this stock for safe returns. I had predicted that its business model, which includes a portfolio of short and long-cycle businesses, will allow it to sustain its profitability. In addition, its emphases on new product introductions, improving end markets, penetration in high-growth regions and productivity gains will lead it to successfully achieve its goal of generating double-digit growth in earnings. And, in the third quarter of this year, the company had practically showed that it is heading in the right direction by posting 5% growth in sales and around 19% growth in earnings per share.
In addition, Honeywell has been continually making innovative launches over the years. Recently, it has announced the new Gulfstream 500- and 600-series planes as well as number of other innovative technologies, including bombardier business aircraft in 2015, synthetic vision, traffic and 3D airport maps, wireless connectivity and cockpit avionics. In addition, Honeywell's scanning and Mobility businesses also have momentum and the company is planning to deploy over 75,000 units of its next-generation mobile delivery device by the end of this year.
Honeywell's latest earnings guidance affirmed my opinion. I still believe that Honeywell is a good stock for defensive investors. Its dividends are completely safe as the company is predicting to generate $4.3B in free cash flows, when dividend payments are expected to be at $1.5B for 2015. We can also expect considerable increase in its dividends in the coming days as free cash flows are offering a considerable room for the potential increase.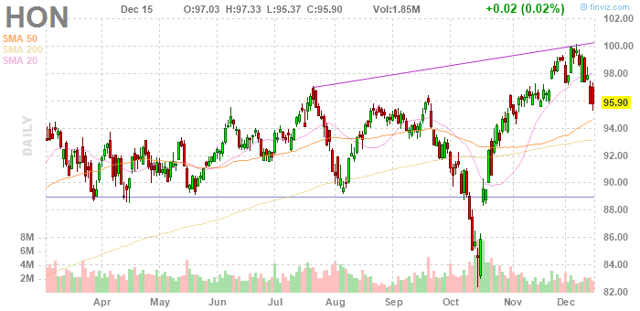 Honeywell's share price surged significantly after it announced third-quarter results and reached the 52-week high of $100/share. However, concerns related to the slight drop in the fourth quarter sales slowed its momentum. I believe that the existing selloff will be very short-term and that it provides a buying opportunity as Honeywell is primed to achieve its earnings guidance.
Disclosure: The author has no positions in any stocks mentioned, and no plans to initiate any positions within the next 72 hours.
The author wrote this article themselves, and it expresses their own opinions. The author is not receiving compensation for it (other than from Seeking Alpha). The author has no business relationship with any company whose stock is mentioned in this article.