Since 2010, I've been using LendingClub (NYSE:LC) as a platform to increase my passive income. My wife and I were fortunate enough to participate in the directed share program LC set up for retail investors. With the IPO success on December 11th, everyone is wondering what the future of the company is, as well as the future of the banking industry. With a 56% increase from its IPO pricing, investors might be salivating at the chance to own the leader in Peer-to-Peer lending. LC is up about 70% from its IPO price of $15.
Obviously, I'm optimistic about the future of LC, but there are some serious concerns that investors, in both the DSP and potential investors, should be aware of. Before I get into the cons of LC, I'll explain some of the benefits of the IPO, for LC and its investors.
First, LC has been expanding its loan offerings, which is its revenue stream. In 2007, LC opened its platform on Facebook (NASDAQ:FB) only offered unsecured personal loans to those with a credit score of 640 and above, with a maximum of $25,000. Now, LC offers personal loans of up to $35,000 to borrowers with a credit score of 660 or more, business loans of up to $300,000, and after acquiring Springstone Financial LLC. they now offer healthcare and education loans of up to $40,000. Higher loan amounts allow LC to collect more in origination fees, currently 1-5% of loan amounts and is based on the borrower's credit risk. Varied loan products also attracts new borrowers, as LC has the potential to become the "go-to" platform for those looking to borrow money.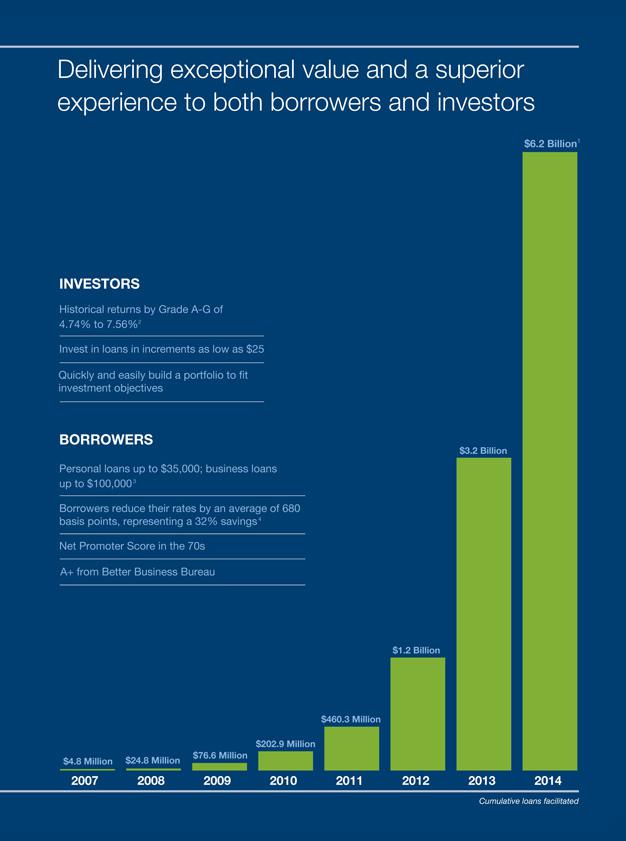 LC has also been diversifying its revenue. In addition to charging loan origination fees, LC has now started charging investors a 1% fee for collecting payments from borrowers. This allows LC to create a monthly cash flow from notes on its platform, and shows investors that they are committed to ensuring that borrowers pay on time. LendingClub has also offered to manage accounts of $2,500 or more, and charge investors for the convenience of a completely passive portfolio. As LC's platform and loan products grow, there will be more opportunities to diversify their income stream.
LendingClub had been banned to investors in 24 states (20 of those states allow investors to use LC's trading platform), and to borrowers in 5 states. However, as a public company, it will now be governed by federal regulations under the SEC, and will be able to operate everywhere. If LC is able to operate in every state, this not only allows them access to more investors/borrowers, LC could significantly change online financial products. Let's consider a home mortgage, the holy grail of the banking industry.
There is one online lending platform that offers accredited investors the opportunity to invest in home mortgages, and that's Social Finance (sofi.com). Sofi also offers student loans and refinancing, MBA loans, mortgage refinancing and of course personal loans. Mortgages are only offered in California, Washington, North Carolina, Pennsylvania, Texas, New Jersey and Washington, D.C. LC has already stated that the proceeds from its IPO will be used to pay down debt, increase their financial stability, and acquire other financial companies. If LC were to acquire SoFi, they would not only become the largest peer-to-peer lender, but also the largest online home mortgage platform. The ability to offer home mortgages, along with the validation (and media coverage) of their IPO, could significantly change the banking industry as we know it.
Now, the pitfalls. To be blunt to investors, LC is really a facilitator/matchmaker of borrowers and lenders. Increasing demand of investors, while a shrinking supply of borrowers could cause LC to issue larger, risker loans in order increase revenue. This would be the worst-case scenario for borrowers and lenders. Institutions have flooded the platform, which does validate their services, but also makes it a little more difficult for retail investors. LendingClub also had to partner with Web Bank in Utah in order to grow their platform. It appears as if those pesky banks are here to stay.
First nine months of 2014, LC had an EPS of -$0.41. Investors who didn't participate in the IPO of $15 have to seriously ask if they want to own a company with negative earnings, a P/S of 62.03. The real money is in using the LC platform and investing in loans. 84% of investors with less than 100 notes have seen positive returns, while 99.9% of investors with more than 100 notes have had positive returns. Accounts that have been opened for a year to a year and a half have average returns of 8.5%. This type of monthly cash flow is almost unmatched for income investors. Accounts are FDIC insured with Wells Fargo (NYSE:WFC). WFC also profited in the IPO, with 50 million shares now worth over $1.2 billion.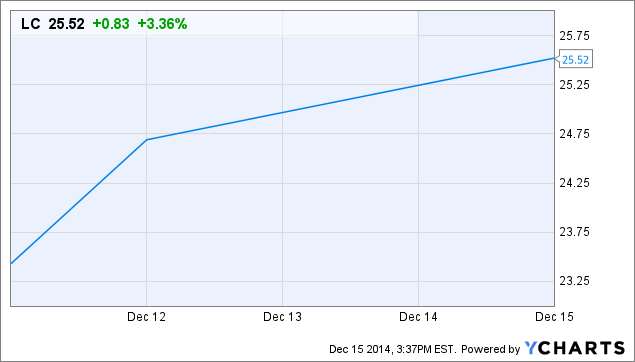 Competition to LC has increased, especially since the SEC has been slow to release the rules on crowd funding in Title III of the JOBS Act. Companies have been positioning themselves in order to take advantage of the SEC's ruling. This would flood the market with new investment options, as well as new opportunities for those seeking funds. LendingClub's major competition, besides every bank in the world, is Prosper, a peer-to-peer lending platform that has supported over $2 billion in loan offerings. As investors, both retail and institutional, are given more options for creating ROI, and as borrowers are given more options for financing, LC could see a decline in platform participants. There isn't anything proprietary about offering a platform for loans, so LC must establish itself as "THE" platform for loans and income investment.
Investors should focus on using the platform for positive returns. An $8.9 billion valuation is pretty steep for a company with negative EPS. Although this my position in LC is very different from my value investment strategy in dividend producing companies, I'm focusing more on continuing to reinvest my monthly cash-flow on their platform. To those who profited on the IPO, kudos to us. To investors looking to invest in LC, you should focus on the 8.5% returns on the platform.
Disclosure: The author is long LC, WFC.
The author wrote this article themselves, and it expresses their own opinions. The author is not receiving compensation for it (other than from Seeking Alpha). The author has no business relationship with any company whose stock is mentioned in this article.