Monmouth Real Estate Investment Corporation (NYSE:MNR) recently announced that it had acquired a Jim Beam Brands Co.-leased industrial building for $28 million. The Class A 599,840-square-foot building is located in Frankfort, Kentucky and is leased for 10 years to the premium spirits producer. Commenting on the new acquisition, Mike Landy, Monmouth's CEO said:
We are extremely proud to welcome Jim Beam to our high quality tenant roster. The Beam company has been in business in Kentucky for over 200 years and their name is synonymous with the World's finest Bourbon. The Bourbon industry is booming globally with 95 percent of all Bourbon made in Kentucky.
For Monmouth, the trophy investment in the bourbon capital of the world was just another announcement for the New Jersey-based REIT; however, for me, the excitement continues as Monmouth is getting ever-closer to covering its annual dividend payout. Indeed, Spirits are high with Monmouth REIT.

Monmouth Is Moving The Needle
Just over a month ago, I wrote an article on Monmouth detailing some of the company's recent acquisitions (see that article HERE) and since that time Monmouth has announced Q4-14 and year-end earnings. Here's a recap of acquisition activity (as explained by Mike Landy on the recent earnings call):
In fiscal 2014 we acquired approximately 1.5 million square feet of high quality industrial space at an aggregate cost of $97.6 million bringing our portfolio to a total of 82 properties containing 11.2 million square feet. This represents a 17% increase in our gross leasable area year-over-year. Moreover going back four years we have successfully grown our portfolio GLA by approximately 60%.
So today Monmouth owns 87 properties located in 28 states, containing a total of approximately 12.4 million rentable square feet. Here's a snapshot of GLA (gross lease area) growth from 2010 - 2015 (estimated):

Here's a snapshot of growth in Total Real Estate Assets (2010-2015 estimated):

Monmouth's weighted average age of its real estate portfolio today is now approximately 10.5 years which means that the portfolio is considered a "very modern, high quality industrial property portfolio." (the chart below was prepared in November 2014)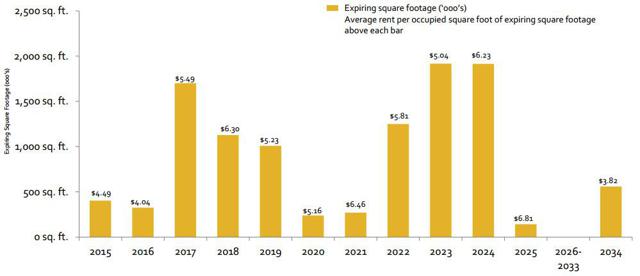 Monmouth's occupancy rate on its portfolio remains strong at 95.9% (was 96% a year ago).

Further evidence of Monmouth's modern age facilities is the limited near term rent roll percentages. As illustrated below, Monmouth's rent roll % over the next 3 years is modest.

Also during the fourth quarter, Monmouth acquired a brand new 328,000 square foot built-to-suit distribution center for $23.7 million. This Class A facility is leased for 10 years to FedEx SmartPost (already a tenant of Monmouth).
One key differentiator for Monmouth is the large concentration of FedEx lease contracts in the portfolio. Prior to Q4-14 results, Monmouth has over 52% leased to various FedEx companies (FedEx Ground is 41.3%, FedEx Express was 9%, and FedEx Smartpost was 2.5%.
One analyst asked Monmouth about FedEx's business model on the latest earnings call and Mike Landy responded:
FedEx has added 50,000 employees this Holiday Season. They spent 2.5 billion ramping up the ground network over the last five years. They are anticipating 300 million packages between Black Friday and Christmas. Already you're seeing 24% year-over-year growth. We don't anticipate the weather issues that you saw last year.

Retailers are reporting surging online sales which means in the future they'll be investing more heavily in focusing on Omni-channel distribution which means the growth in our FedEx buildings is just going to continue. And it's been a real strong component that's why in my prepared remarks I focused so much on quality and being linked to the secular shift that is e-commerce because this is a major game changing event. And we're right in the midst of peak season and FedEx numbers are off the charts. The only problem is we can't grow fast enough and we view that as a good problem.
Landy then commented on Monmouth's on-going relationship with FedEx:
Well as you know FedEx is now essential to world commerce and it's a material factor for all the major corporations distributing to FedEx facilities and FedEx's computers and software. And so we have been very fortunate to have a good relationship with FedEx which we continue to grow with. And we think that will continue.

We are sure that FedEx probably has a very aggressive plan for increased buildings and we know they are building because we are getting the contracts for buildings in 2015, 2016. And we expect additional buildings in 2017, 2018, and 2019 as FedEx continues to expand.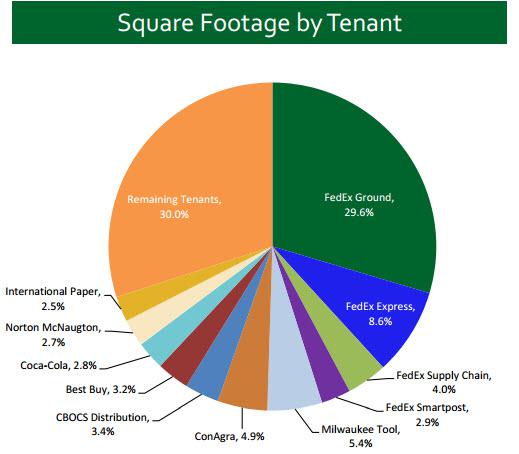 What About The Balance Sheet?
As of the end of the fiscal year, Monmouth's capital structure consisted of approximately $313 million in debt of which $288 million was property level fixed-rate mortgage debt and $25 million were loans payable.
Around 93% of Monmouth's total debt is fixed rate with the weighted average interest rate of 5.2% (as compared to 5.6% in the prior year period). The chart below was as of November 2014.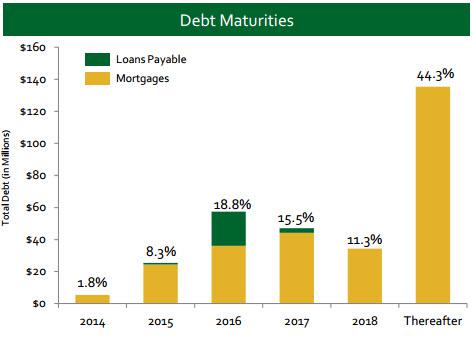 Monmouth has a total of $111 million in perpetual preferred equity combined with an equity market capitalization of approximately $577 million. Here's a snapshot of Monmouth's Total Capitalization compared with the peer group:

I have been pleased with Monmouth's improved credit metrics that include net debt to total market capitalization of 29% and net debt plus preferred equity to total market capitalization at 40%. Fixed charge coverage is 2.1x, net debt to EBITDA is 5.5x, and net debt plus preferred to EBITDA is 7.7x.
Monmouth's liquidity stands at $20.5 million in cash and cash equivalents and $40 million available on the expanded credit facility (including an additional $20 million potentially available from the according feature). In addition Monmouth has $59.3 million in marketable REIT securities representing 7% of un-depreciated assets. (More on that later).
So Why Are My Spirits High?
In the latest quarter, Monmouth's Core funds from operations were $7.5 million or $0.13 per diluted share (and $5.4 million or $0.12 per diluted share from the same quarter in 2013). This represents an 8% increase in core FFO per diluted share.
Adjusted funds from operations (or AFFO) which excludes securities gain or losses and excludes lease termination income, was $6.7 million or $0.12 per diluted share for the fourth quarter (compared to $5.3 million or $0.12 per diluted share a year ago). The per share results for the quarter reflect a partial impact of Monmouth's recent equity offering completed in May (proceeds from this offering are still being deployed).

Monmouth's Core FFO excluding securities gains for the full fiscal year 2014 was $26.8 million versus $20.2 million in 2013. On a per share basis core FFO excluding securities gains was $0.54 per diluted share in fiscal 2014 compared to $0.48 per diluted share in 2013, representing a 13% increase.
AFFO which excludes securities gains or losses and excludes lease termination income was $0.52 per diluted share for fiscal 2014, as compared to $0.46 per diluted share a year ago. Representing, a year-over-year increase of 13%. As a result of our recent acquisition activity, Monmouth anticipates continuing to grow its AFFO per share going forward.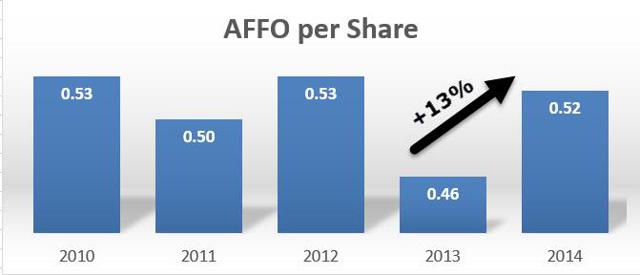 As evidenced by Monmouth's dividend history, the company has not been able to cover its dividend without the help of its securities gains. However, it appears that in 2015 Monmouth will be in a better position to grow earnings to the point that AFFO will cover the dividend. Here's a snapshot of the recent dividend history: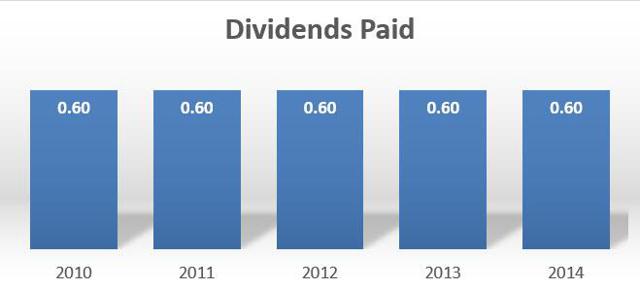 In 2015, it will take four quarters of $.15 per share profits (or AFFO) but given the super-sized performance in 2014 and the pipeline (in 2015) I am optimistic that Monmouth could be in a position to cover its dividend with rental profits only. As Mike Landy explained on the latest earnings call:
…our recent acquisition activity has contributed to a 13% improvement in our AFFO per share earnings this past fiscal year and with our $266 million acquisition pipeline, we anticipate additional growth going forward.
One thing to consider if you're looking at an entry position in Monmouth is the fact that the company has NEVER cut its dividend and the company was one of the few REITs that maintained its dividend throughout the Great Recession (100% cash dividends since inception).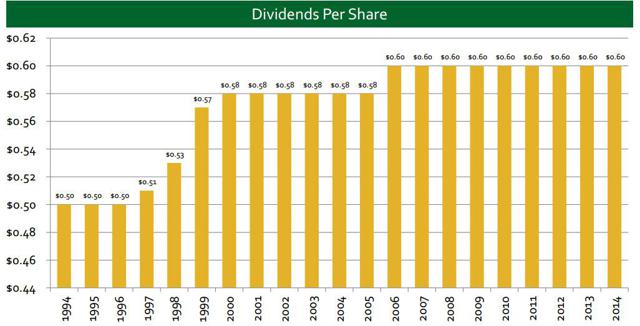 In terms of purchasing today, I'm sitting on the sidelines. I do like the positive growth that I'm seeing, especially the solid acquisition activity. However, Mr. Market seems to be more enamored with the activity than me.

Likewise, I would like to see the dividend fully covered (by AFFO) before I take a nibble. Currently the yield is 5.7% and while that's not a bad starting point, I'm not going to sacrifice yield for growth. That's because there are too many other Net Lease REITs that are growing their dividends and that tells me that I need to maintain discipline and focus on dividend safety and dividend growth.

Bottom Line: Monmouth's has done a very good job with growing its pipeline and creating shareholder value. While I will continue to look for an opportunistic entry price, it's clear that Mr. Market's spirits are higher than mine.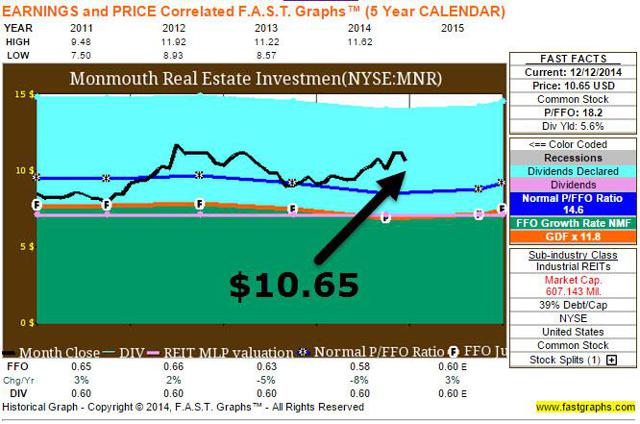 In my REIT newsletter, I provide high-level analysis so that investors can attempt to find an adequate margin of safety. Remember the number one rule of investing: Protect Your Principal at ALL Costs. Subscribe here.
Source: SNL Financial, FAST Graphs, and Monmouth Investor Presentation.
REITs mentioned: (NYSE:STAG), (NYSE:EPR), (NYSE:GTY), (NYSE:NNN), (NYSE:O), (NYSE:SRC), (NYSE:ADC), (NYSE:CSG), (ARCP), (NYSE:GPT), (NYSE:WPC), (NYSE:LXP), (NYSE:OLP), (NYSE:GOV), and (NYSE:STOR).
Disclaimer: This article is intended to provide information to interested parties. As I have no knowledge of individual investor circumstances, goals, and/or portfolio concentration or diversification, readers are expected to complete their own due diligence before purchasing any stocks mentioned or recommended.
Disclosure: The author is long O, DLR, VTR, HTA, STAG, CSG, GPT, ROIC, HCN, OHI, LXP, KIM, WPC, DOC, UDF, EXR, MYCC, BX, TCO.
The author wrote this article themselves, and it expresses their own opinions. The author is not receiving compensation for it (other than from Seeking Alpha). The author has no business relationship with any company whose stock is mentioned in this article.