It is just over one year following the Great Debate on GPT. The resolution was that GPT had a positive expected value and was a worthy addition to a long term, adequately diversified portfolio. Before the debate, 85% of respondents indicated that they agreed. 7% disagreed while 7% indicated that they held no opinion, were undecided, confused, or debarred from the securities market. Today I am declaring the winner. With a positive 19% total return since the debate, the bull case emerged victorious.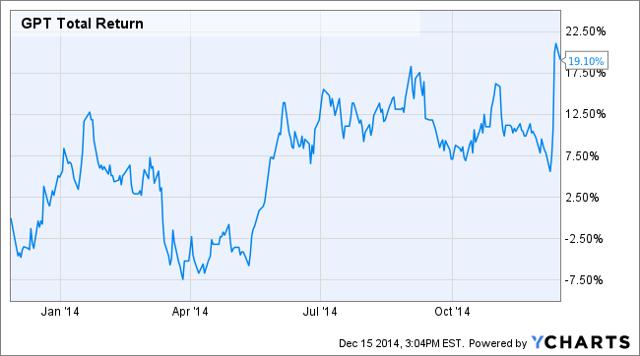 We caught up with Terrier Investing, the reclusive and notorious hedge fund star who supported the resolution, on board his new Gulfstream G750 en route to his private island compound.

Q: Mr. Terrier, sir, what went right?
A: What went right: an excellent management team continued to execute to plan. In the short-term, Gramercy's size allows it to "sharp shoot" for especially attractive properties or smaller portfolios with strong tenant quality and the potential for rent escalation; in the long-term, the company's "value investing" approach to net-lease will pay literal dividends for shareholders (as many properties appear to have significant better/higher-use once current leases expire).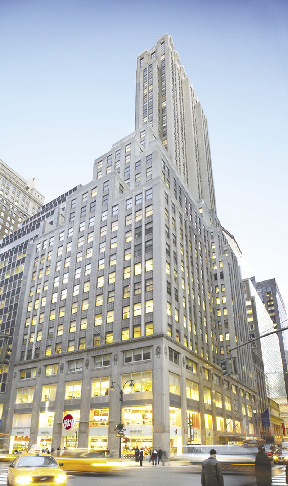 GPT headquarters in Manhattan
Q: What went wrong?
A: What went wrong: I didn't own more.
Q: What has happened since then to impact your view of this opportunity?
A: What I think now: I believe there is still upside that requires nothing more than another year at the office, and so I continue to hold shares in my portfolio. The management team has demonstrated the soundness of the strategy repeatedly. Investors should note that higher interest rates are a likelihood in the coming year (although I've been saying that for several years now). As the vast majority of the management team's career was spent in a "normal" interest rate environment, I have confidence in their ability to handle whatever the market throws at them.
Q: I have known TI for a long time and need to ask some pointed questions. I don't want to be a cheerleader for either my friend or for GPT. Time for the tough questions. What is with this plane? G750s don't even exist.
A: Yeah they do. You are on one. Once you have heard of it, I will be flying something else.
Q: This island we are going towards, it is not on a map. What is the deal? It is true that it is an artificial island made out of the skulls of your vanquished enemies?
A: On the advice of counsel, I will not answer that question until we are out over international waters.
Congratulations to Terrier Investing and thank you for spending the time to answer my questions.
Disclosure: The author is long GPT.
The author wrote this article themselves, and it expresses their own opinions. The author is not receiving compensation for it (other than from Seeking Alpha). The author has no business relationship with any company whose stock is mentioned in this article.
Additional disclosure: Chris DeMuth Jr is a portfolio manager at Rangeley Capital. Rangeley invests with a margin of safety by buying securities at deep discounts to their intrinsic value and unlocking that value through corporate events. In order to maximize total returns for our investors, we reserve the right to make investment decisions regarding any security without further notification except where such notification is required by law.