After reading my short-sell theses on ServiceNow (NYSE:NOW) and Workday (NYSE:WDAY), an astute Seeking Alpha reader messaged me to suggest that Proofpoint (NASDAQ:PFPT) might also fit my short criteria. He was right and I'm now short PFPT. Here's why:
First, the positives:
Proofpoint is an SaaS security provider which describes itself as (see latest 10-Q):
Proofpoint is a pioneering security-as-a-service ("SaaS") vendor that enables large and mid-sized organizations through out the world to defend, protect, archive and govern their most sensitive data. Our SaaS platform is comprised of an integrated suite of on-demand data protection solutions, including threat management, regulatory compliance, data governance, and secure communication.

We were founded in 2002 to provide a unified solution to help enterprises address their growing data security requirements. Our first solution was commercially released in 2003 to combat the burgeoning problem of spam and viruses and their impact on corporate email systems. As the threat environment has continued to evolve, we have dedicated significant resources to meet the ongoing challenges that this highly dynamic environment creates for our customers such as investing significantly to expand the breadth of our data protection platform as these expenditures are primarily in connection with the replacement and upgrade of equipment to lower the cost of deployment as well as to improve the efficiency for our cloud-based architecture.
For the past few years (or more), internet security has been in the news, driving the whole sector. The upswing has been particularly strong recently due to attacks like that on Sony. For example here's how SA news described the ramifications of the Sony hack:
Cybersecurity a major concern in C-suites after Sony hack

A blog post from computer security firm F-Secure may send a chill through the C-suites of major corporations across the globe.
F-Secure calls the Sony Pictures (NYSE:SNE) hacking incident the worst ever seen by a company, but that's not even the scary part.
The take from F-Secure is that it's sophisticated extortionists behind the incident - not ticked off North Korea sympathizers.
The public execution of Sony Pictures could just be a warning aimed at future targets, theorizes F-Secure.
The FBI has issued a flash alert which warns that other company might already have the malware in their systems.
Yet despite what's been a booming market for at least several years (and realistically even longer than that), PFPT is currently unprofitable and in fact has never turned a profit. Moreover, it doesn't expect to be profitable in the near future. Here's how the point is made in PFPT's risk disclosures (my emphasis):
We have incurred net losses in every year since our inception, including net losses of approximately $46.9 million and $15.6 million, respectively, for the nine months ended September 30, 2014 and 2013. As a result, we had an accumulated deficit of $256.9 million as of September 30, 2014. Achieving profitability will require us to increase revenue, manage our cost structure, and avoid unanticipated liabilities. We do not expect to be profitable in the near term. Revenue growth may slow or revenue may decline for a number of possible reasons, including slowing demand for our solutions, increasing competition, a decrease in the growth of our overall market, or if we fail for any reason to continue to capitalize on growth opportunities. Any failure by us to obtain and sustain profitability, or to continue our revenue growth, could cause the price of our common stock to decline significantly.
Of course revenue has been increasing, as it has been with many cloud companies, but in this case the stock price increase isn't really explained by revenue growth, it's almost all due to multiple expansion.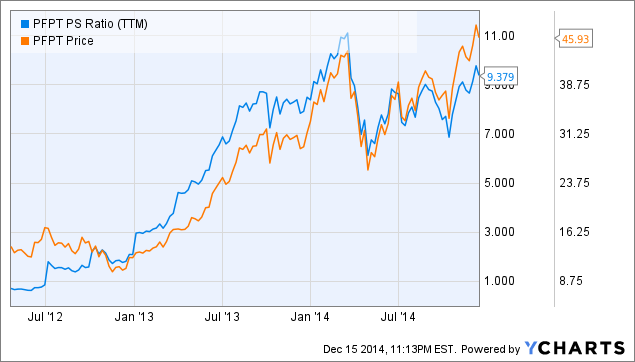 PFPT PS Ratio (NYSE:TTM) data by YCharts
When a valuation multiple expands almost ten-fold - particularly in a "hot" sector - and despite having no real change in business outlook, I see "over-exuberance" at work and expect that multiple contractions won't be far off. That's particularly true in today's market where some bubble stocks are beginning to come back to reality (see TWTR for example).
But PFPT isn't just unprofitable with no prospects of near-term profitability, margins are actually declining! So for example in the latest 10-Q we see that for the nine months ended Sep. 30 of 2013 and 2014 respectively, R&D expenses have increased from 24% of revenue to 27%, sales and marketing have increased from 51% to 52% and G&A has remained constant at 14%. Thus all the growth has been achieve with dis-economies of scale!
I've mentioned in other articles that an increased use of stock based compensation tends to result in a decrease in financial discipline, and that's a dynamic that's likely operative here too. See for example the tendency to increase stock based compensation as a percentage of revenues as well as the slight decrease in revenues per employee: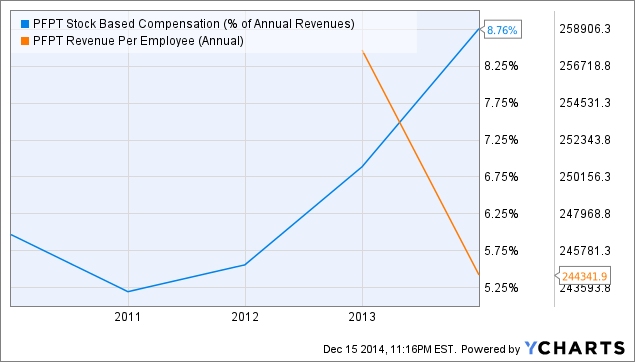 PFPT Stock Based Compensation (% of Annual Revenues) data by YCharts
Another way to gauge PFPT's valuation is on a relative basis. The chart below (stats taken from yahoo!) gives a quick overview of the valuation metrics (as of the close on Dec 15, 2014) of some of the major companies in the space. Though PFPT doesn't sport the absolute highest P/S ratio, when one takes into account growth, profitability and balance sheet quality, it ranks as the most overvalued company.

As a final confirmation, insiders have only been acting one way, that is selling: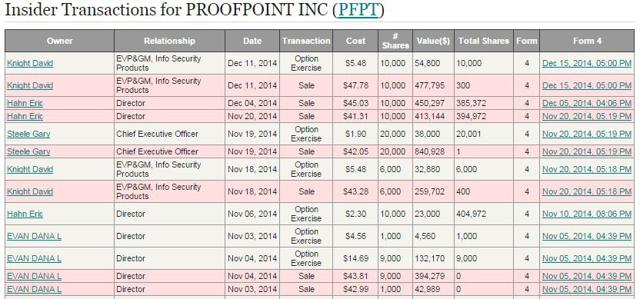 As a result of all this, I've added PFPT to my short portfolio.
Disclosure: The author is short PFPT, NOW, WDAY.
The author wrote this article themselves, and it expresses their own opinions. The author is not receiving compensation for it (other than from Seeking Alpha). The author has no business relationship with any company whose stock is mentioned in this article.
Additional disclosure: I actively trade around core positions.