Vivus (NASDAQ:VVUS) announced Monday that its anti-obesity drug, Qsymia, is the sole anti-obesity agent listed in the CVS Caremark Performance Drug List (PDL). The CVS PDL serves as a guide within a plan for doctors to refer to that have been screened for clinical effectiveness and cost efficiency.
Qsymia and competitor Belviq, from Arena Pharmaceuticals (NASDAQ:ARNA) were both approved in the summer of 2012. A third drug, Contrave from Orexigen (NASDAQ:OREX), gained approval this fall. Ever since approval, one of the major hurdles that these drugs faced was gaining acceptance by doctors and insurance companies. Consumer acceptance is another dynamic that has had challenges of its own.
For the past 18 months or so, prior to the Contrave launch, Qsymia has been the least expensive option of these newer drugs. With the Contrave launch, that dynamic has changed. Contrave is available for between $45 and $70 depending on insurance coverage.
The announcement by Vivus Monday might be the first glimpse of a battle in the anti-obesity drug space that investors will want to keep a close eye on. For the most part, these anti-obesity drugs have enjoyed very similar coverage when looking at the fingertip formulary. Simply getting obesity drugs covered has been challenging and great strides were made over the past 2 years. Within that dynamic there has been a modest jockeying for position. Getting insurance coverage is a big first step, but getting onto a better tier of coverage is an important second step.
The battle of obesity drugs has three fronts:
Getting doctors to script anti-obesity drugs
Getting insurance companies to cover the drugs
Getting consumers to consider a pharmacological solution
The battle of getting doctors to script drugs has essentially been led by Arena's partner Eisai. Eisai built the sales rep force up to 600 reps calling on doctors, as compared to Vivus, which deploys about 150 sales reps. Orexigen and it's partner, Takeda, launched in late October, and brought 900 reps to the market. That changes the dynamic greatly, and may be why Vivus is taking the steps it is in terms of trying to garner a better tiers with insurers.
The battle over insurance has been a "behind-the-scenes" battle. Initially, simply getting anti-obesity drugs covered (no matter which one) was the focus. A subset of that was getting coverage on better tiers. This dynamic has mostly been happening absent any real focus from the street. In 2014, Qsymia has actually enjoyed a slightly better position in terms of insurance coverage. Assessing this is an arduous task. As time presented itself during the year, I have taken opportunity to look at not only what plans cover anti-obesity drugs, but what tier these drugs were covered on. The pattern I have seen is that Qsymia typically carries a slight advantage in being on better tiers. The methodology does not consider the number of people in a particular insurance plan, but rather simply the tiers of coverage.
Certainly this look is anecdotal, but here is how I surveyed this information. I considered 4 tiers of coverage. Tier 1 offers the best coverage and tier 4 the least amount of coverage. If the drug is covered in tier 1 it gets 4 points, tier 2 is worth 3 points, tier 3 is worth 2 points, and tier 4 one point. Typically Qsymia has a bit more placement in better tiers than does Belviq. In my opinion this dynamic exists mostly because of price point. It is not unusual for a company to offer an insurance plan more aggressive pricing in order to get onto a better tier of coverage. The chart below assess Belviq and Qsymia. Over time, adding Contrave to this data set will happen, but with a new launch, there will be many changes that need to catch up.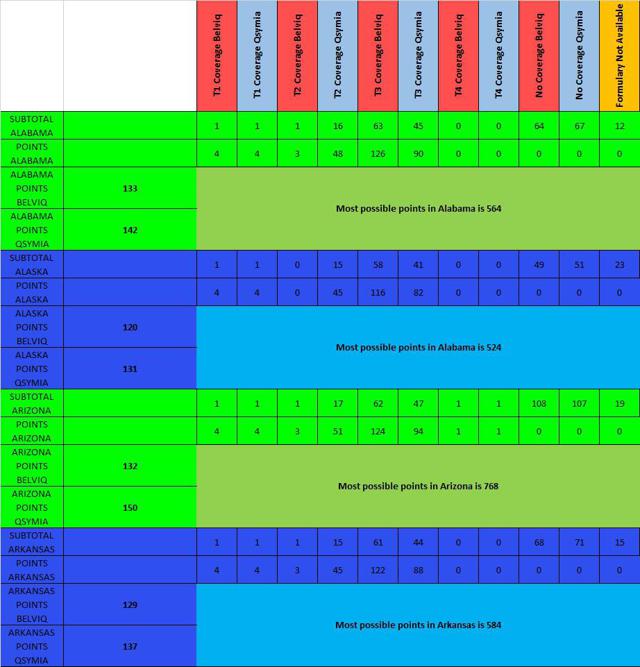 Chart Source - Spencer Osborne
As you can see from the chart, which samples 4 states, Qsymia typically carries a slight advantage. As I stated, this insurance coverage battle has been happening for quite some time. With its announcement today, a new focus for the street may arise. While Vivus investors may celebrate this accomplishment with CVS Caremark, but the bigger question is how these charts look when Contave gets into the mix. At this stage, Contrave is not listed on many formularies, because it is simply so new to the market. In my opinion the advantages that Qsymia has in these formularies is primarily due to price point rather than efficacy. The bottom line is that the pricing advantage of Qsymia has potential to disappear with Contrave and its pricing structure.
The fact of the matter is that Qsymia has enjoyed a better tier with Caremark for quite some time. The news Monday simply affirms that by listing Qsymia on the CVS Caremark PDL. That statement is not meant to disparage the work Vivus has accomplished in this regard in any way. In my opinion, the news Monday is perhaps an opportunity for Vivus to remind the street of its place in the market in light of the impressive launch of Orexigen's Contrave. This could be a double edged sword. If Contrave can be a pricing leader, it could mean that it will garner coverage that mirrors that of Qsymia, or even perhaps surpasses it.
In fairness to Vivus, the company has been harping on the insurance side of the business for quite some time. The company is very transparent about the level of insurance participation within the revenue stream in all of its conference calls. With the announcement Monday, a brighter light will be shining on the deeper data within insurance. There is still a long way to go in simply getting coverage, but as I have told readers for quite some time, getting better tiers will be a key driver in anti-obesity drug adoption.
Simply stated, the emergence of Contrave, its aggressive pricing, and impressive launch may have implications within the space that bring about less "team play" and more individual actions. Vivus scored a point with the CVS Caremark press release, but it is still very early, and the rookie in the game will impact the sector. Investors should monitor sales traction closely of all of the players in this game. Stay Tuned!
Disclosure: The author is long ARNA.
The author wrote this article themselves, and it expresses their own opinions. The author is not receiving compensation for it (other than from Seeking Alpha). The author has no business relationship with any company whose stock is mentioned in this article.
Additional disclosure: I have no position in Vivus or Orexigen