Key Energy Services, Inc. (NYSE:KEG) provides rig services, rental equipment, drilling fluids, tubing, fishing services, well testing, hydraulic choke services and more to the oil and gas industry. This company has been working through a couple of challenges and as such, the stock price has been hit hard. One of the biggest reasons for the stock decline has been the extremely negative investor sentiment towards the energy sector. This is due to a recent decline in the price of oil which has hit small cap stocks the hardest. The decline in the price of oil has not even been for a prolonged period of time and there are a number of factors that could cause oil to rebound or at least stabilize. Key Energy Services has been in business since 1977, and it has been through challenging times that were far more difficult than the industry conditions that exist today. This company is a proven survivor and with the stock as low as it is now it is priced like an option which means the potential downside is limited. However, if this stock is held through the next up-cycle in oil and if the company executes, it could be a multi-bagger.
Key Energy shares have a long history of making big moves in both directions. It has paid off to sell this stock when it was near the $20 level, and it was extremely rewarding in the past to buy it when it has plunged into the low single digits. For example, in 1996 the stock traded for about $7, but then surged to over $32 in 1997. In 1999, this stock went to $3, but then almost quadrupled in a year when it traded for nearly $12. In February 2009, which was around the depths of the financial crisis, this stock traded at $2.67. But by June of 2011, it was back to trading for nearly $20 per share. Right now there is an opportunity to buy this stock for half of what it traded for at Thanksgiving (the same day of the OPEC meeting).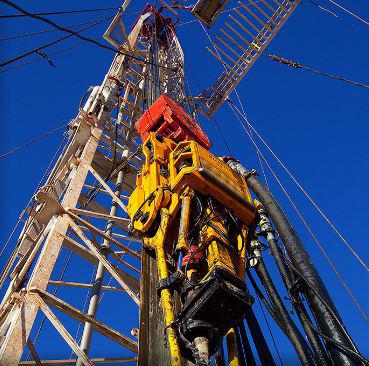 Photo credit: Key Energy Services, Inc. website
Oil at about $50 or $60 per barrel is not quite the industry crisis some investors are making it out to be, as it has been even lower and yet companies were still able to make solid profits. A recent CNBC article points out that the oil industry is likely to remain very solidly profitable with oil at current levels (or even around $50 per barrel) and it states:
As I understand the lower-oil-prices-are-bad argument, the shift to around $80 a barrel from $100 a barrel will somehow close down the American energy revolution and destroy all the new jobs and related infrastructure services that have fueled our recovery.

Nonsense. I spoke with a CEO who is literally at the cutting edge of the horizontal-drilling and hydraulic-fracturing revolution about the so-called "profit break-even point," or the marginal cost of producing the next barrel of oil. He told me it averages between $50 and $60 a barrel. And a new report from Citigroup energy analyst Edwin Morse argues that oil has to fall to $50 or less to fully halt shale-production growth.
This means that Key Energy is still operating in an environment that should provide it with opportunity. The main issue will be management execution and in that area investors want to see this company return to historical profitability. When business conditions were favorable, this company earned $1.27 in 2007 and $1.28 in 2006. In 2010, this company earned 57 cents per share. In 2011, it earned 70 cents per share and the stock even traded for over $20 per share that year. However, in 2012 this company only earned 5 cents per share and in 2013, it lost 14 cents per share. Key Energy has posted losses in 2014, and that has led disappointed investors into selling stock. I can understand the disappointment, but at current levels, the risk to reward ratio appears very favorable for investors who buy now. First of all, this company has had its ups and downs in the past and investors who have bought the stock when times were tough ended up doing very well in a relatively short amount of time. As mentioned before, this stock traded for over $20 per share in 2011, and even in 2014, the 52-week high was $10.52 per share. The stock now trades for about $1.15 per share now, as it has been mercilessly beaten down in the small cap and oil stock correction that started in October. This appears to be a very ideal time to buy Key Energy shares for both short-term and longer-term gains. When you see that this company has been able to post earnings per share that are almost equivalent to what the stock is trading at now, this stock could produce tremendous returns in the future if the company fires on all cylinders again. That is why I would like to see management execute more effectively and produce more consistent results.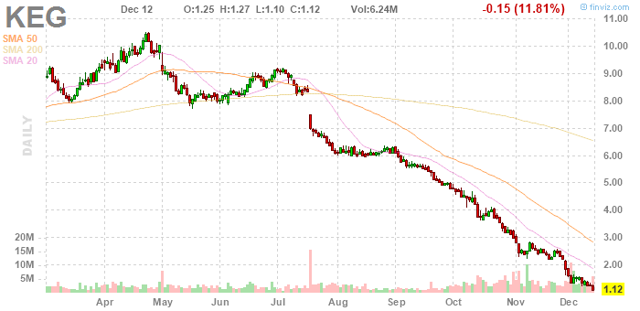 Small cap stocks that have been poor performers in any given year typically get tax-loss selling pressure in the month of November and December and the shorts tend to pile on as well. However, this can create a bargain buying opportunity, especially since these stocks often see significant rebounds in the last days of December and on into January. A big percentage gain is possible because the extra supply of cheap stock being sold for tax purposes dries up in the last couple weeks of December as traders and investors go on holidays. These beaten up stocks can also get an even bigger lift in the first couple weeks of January when tax loss selling completely ends and as short sellers cover and take profits. Many shorts have made great gains on stocks like Key Energy and want to take profits by covering, but they also want to wait to cover in January so they can delay paying taxes until the next calendar year. I believe Key Energy shares are ripe for a rebound into January because shorts have been active in it, but also because it is just too cheap. For example, book value is $7.30 per share. Furthermore, some analysts expect Key Energy to return to profitability in 2015 and report earnings of up to 29 cents per share. As 2015 rolls in, investors could start to take a fresh look at this stock and that could prompt more buying.
Key Energy generates about $1.43 billion in revenues and at the currently depressed share price it appears very undervalued because the market cap is about $172 million. Balance sheet and liquidity strength are really important considerations as this must be analyzed to evaluate potential downside risks. On December 8, Key Energy reported that it has nearly $330 million available between its cash position and credit line. This strong liquidity position reduces potential risks for investors. Plus, it's amazing to consider that the current liquidity position is nearly twice the current market cap. In theory, this means the company could buy all of the outstanding shares and go private and it would still have nearly $160 million liquid to run its business with. Furthermore, potential downside risks from here seem limited because analysts expect the company to see revenues grow from about $1.42 billion in 2014, to around $1.47 billion in 2015. Here is what the company said about its strong liquidity position:
"Taking in to account the current amendments made to the Credit Facility, Key's liquidity position as of the end of the third quarter of 2014 would have been $328.3 million, which includes cash of $57.4 million as of the end of the third quarter of 2014 and undrawn availability under the Credit Facility."
Key Energy CEO, Richard Alario owns nearly 1.5 million shares. It's a real positive when management owns a significant amount of stock since that means their interests are aligned with shareholders. Some "smart money" hedge funds also have bought a significant amount of stock. For example, MHR Fund Management has reported buying a stake that is equivalent to 11.5% of the entire company. That fund is run by billionaire Mark Rachesky who worked with Carl Icahn in the past and who has also been known to be an activist for shareholders. Some of the shares bought by Mr. Rachesky in 2013, have a cost basis of more than $6 per share, so investors can now buy for a fraction of what he paid. With this stock down from a high of about $10 per share just a few months ago to about one-tenth of that level now, I would bet the pressure is on management to focus and work even harder. When you consider that the stake owned by the CEO was worth over $15 million just a few months ago and that it is now valued at less than $2 million, it would seem he will be greatly motivated to rebuild shareholder value. The shareholder base, and potential activists (perhaps Mark Rachesky) are likely to demand changes that can lead to building shareholder value. That might mean looking at strategic alternatives, perhaps even the sale of the company, or a merger.
Another positive factor to consider is that Key Energy has been considered to be a takeover target in the past. The Houston Business Journal stated that Baker Hughes (BHI) could be a potential suitor for Key Energy. While that might not be the case until the company posts improved financial results, it does show this possibility could become more likely in the future. Key Energy does have valuable assets and patents including its "KeyView" technology which is a rig data-capture system that allows operators to improve well site safety, quality and efficiency. KeyView significantly reduces rig incidents and that is more important than ever due to safety and cost containment concerns.
After this company reported earnings on November 4, analysts at Cowen gave the shares a market perform rating and set a $4.20 price target. Standard & Poors has a $4 price target. These price targets imply significant upside and appear relatively conservative when you consider this stock was trading between $4 to $4.20 as recently as late October and even at $10 in April, 2014. This company has plenty of liquidity and it has historically been a great buy at these levels. At just about $1.15 per share, this stock is priced like an option and therefore the potential downside risk is limited. You might lose a dollar if the very worst scenarios play out for oil and for this company, but you might see many dollars of upside if this company rebounds as it has done every time in the past. The upside potential is many multiples of the current share price in the long-term and even the analysts see about $4 per share in the next 12 months. At this valuation and with this upside potential, this stock is a strong buy now, especially as it appears poised for a rally into January as tax-loss selling ends.
Here are some key points for Key Energy Services, Inc.:
Current share price: $1.15
The 52 week range is $1.10 to $10.52
Earnings estimates for 2014: a loss of 36 cents per share
Earnings estimates for 2015: near break-even results
Annual dividend: none
Data is sourced from Yahoo Finance. No guarantees or representations
are made. Hawkinvest is not a registered investment advisor and does not provide specific investment advice. The information is for
informational purposes only. You should always consult a financial
advisor.
Disclosure: The author is long KEG.
The author wrote this article themselves, and it expresses their own opinions. The author is not receiving compensation for it (other than from Seeking Alpha). The author has no business relationship with any company whose stock is mentioned in this article.