It appears that Russia may have lost control of its currency as the Ruble continues to tumble against the US dollar. Last night the Ruble was higher after Russia's central bank moved to increase key interest rates to 17%, but overnight the markets reversed course and the US$/Russian Ruble went all the way to 75. Traders are betting against the currency because of the sanctions from the West, oil prices falling and overall economic weakness which is leading some to question the country's ability to make good on its debt. There are reports that Russia came into the market this morning to push the Ruble back up to 73, but much more intervention will be necessary to shift the tide in this market.
Chart of the Day:
We have been paying close attention to the situation in Russia and between the Saudis and currency traders it appears that markets are doing a better job bringing Russia down than the sanctions from the West. The big spike at the tail end of the following chart really tells the story.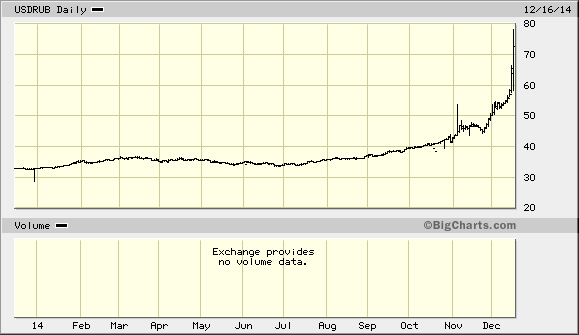 Source: BigCharts
Commodity prices are as follows (at time of submission):
Gold: $1,214.70/ounce, up by $7.00/ounce
Silver: $16.455/ounce, down by $0.108/ounce
Oil: $54.04/barrel, down by $1.87/barrel
RBOB Gas: $1.5261/gallon, down by $0.0503/gallon
Natural Gas: $3.739/MMbtu, up by $0.02/MMbtu
Copper: $2.8645/pound, down by $0.014/pound
Platinum: $1,223.80/ounce, up by $8.90/ounce
Linn Energy Closes Deal
There were an awful lot of nervous investors yesterday as everyone waited for an announcement from Linn Energy (LINE) and LinnCo (LNCO) stating that they had closed their previously announced transaction with Enervest (OTC:EOSOF). The deal, with a contract price of $1.95 billion, included all of Linn's interests in the Granite Wash and Cleveland plays and was seen as key to cementing Linn's financial standing in the current market.
The company will use the net proceeds to repay the remaining $1.3 billion it has outstanding from its purchase of Devon Energy's (NYSE:DVN) gas wells in the Gulf Coast and Rocky Mountain regions earlier this year. The repayment of this debt will increase liquidity and give Linn a comfortable cushion to operate with in an increasingly difficult environment.
Talisman Finally Finds Buyer
Over the years there have been multiple rumors regarding possible bids for Talisman Energy (NYSE:TLM), many of which never materialized but received plenty of media attention. After the market close yesterday long-time shareholders finally received an offer after years of waiting, however the price is much less than many had hoped for.
The deal, valued at $8/share here in the United States, means that Spain's Repsol (OTCQX:REPYY) will pay $8.3 billion for the oil company while also assuming $4.7 billion in debt. Buying Talisman is significant because it increases Repsol's production and reserves in areas which are safe, ensuring that another event such as that which took place in Argentina will not once again dramatically impact the company. This will also open the door to Asia for Repsol.
Repsol's acquisition is the first major deal to take place since oil's slide began but it sets a benchmark for other deals and could pave the way for more European buyers to emerge for North American energy assets. It has been rumored over the past year that there are numerous European energy companies looking to be buyers, so we would not be surprised to see others, such as Statoil ASA (STO), begin to approach some of the shale explorers.
Disclosure: The author has no positions in any stocks mentioned, and no plans to initiate any positions within the next 72 hours. The author wrote this article themselves, and it expresses their own opinions. The author is not receiving compensation for it (other than from Seeking Alpha). The author has no business relationship with any company whose stock is mentioned in this article.
Editor's Note: This article discusses one or more securities that do not trade on a major U.S. exchange. Please be aware of the risks associated with these stocks.