Sophiris (NASDAQ:SPHS) announced on the morning of December 15th that the company's treatment for benign prostate hyperplasia (BPH) called PRX-302 did not meet the predefined efficacy threshold at the three-month interim analysis. The predefined efficacy endpoint was the average IPSS score change from the baseline for those on PRX-302 versus the average IPSS score change for those in the vehicle comparison group. The IPSS score is based on a set of seven questions used to value the existence of and severity of common symptoms of BPH and is what has been used as a primary endpoint for the current treatments on the market. The company has already stated that it will be continuing through to the 12 month results and will also still be initiating a phase 2a prostate cancer trial so any shareholders or deep value investors hoping for scenario involving closing down operations and distributing cash are likely out of luck. I will look to discuss how I had represented the opportunity in my original piece, discuss interesting trading patterns I noticed premarket on the 15th, and touch on future outlook.
My Original Piece
In my original piece published on November 23rd titled "Sophiris Bio - Upcoming Catalysts Present Very Attractive Upside," I highlighted SPHS as an opportunity with an attractive risk/reward at its price of $2.18. The stock performed very well in the next few weeks, hitting a high of $3.12 and providing upside of 43% from the initial recommendation. On last Friday, the stock closed at $2.82, 29% above where I recommended it. After the stock dropped over 81% on Monday to $0.523, the stock is now 76% below where I recommended it.
One of the main points I stressed that reduced risk for this opportunity was the drug's attractive safety profile, which certainly was accurate as the IDMC completed its last analysis of the unblended safety data and reported no safety issues with the drug. Quantifying risk is extremely important in examples of stocks like this. In my original piece, the main risk factor I listed was that "a negative result from the phase 3 trial at the 3 month readout or the 12 month data release has the potential to cause significant downside," which was unfortunately the scenario that was realized. I was also asked in the comments section about what I thought the risk/reward might be. I suggested upside would be $4-$5 in the event of a positive 3-month readout and that downside would be around projected year-end cash, which amounted $1.30-$1.40. Given the positive aspects of SPHS that I discussed, recommending a stock with two or three dollars of upside and less than a dollar of downside made a lot of sense. When the stock closed at $2.98 on December 3rd though, this risk/reward profile now seemed relatively equal and far less attractive for longs. Given that I knew a data readout was eminent, would this have been the time to downgrade the stock to a hold on valuation and be pleased with my recommendation that had returned over 35%? In retrospect, this most definitely would seem to have been a smart move. I had thought about whether a downgrade was appropriate, but had decided against it as I concluded that my thesis was based on my belief that there was a decent chance of positive results from the phase three trial. In retrospect, if I had spent more time thinking about how my risk/reward had been altered by the rally, I may have chosen to reevaluate my position on the stock based on valuation.
While I thought my risk/reward numbers were much more conservative compared to numbers I saw from others, I clearly could have been more conservative. While I chose to use projected end of year cash value to look at downside risk, it may have been smarter to use projected end of year shareholder equity in order to consider both assets and liabilities. Doing this would have suggested downside risk to approximately $0.75. While I certainly would have still recommended the stock at $2.18 even with downside risk to $0.75, this certainly would have had a significant effect on my risk/reward review as the stock price approached 3.
Premarket Trading On The Negative News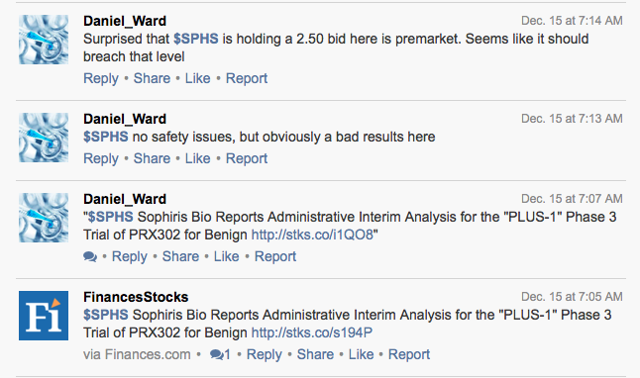 I first saw the news in my StockTwits feed at 7:07am CST (which I retweeted) and went to read the full release. After 6 minutes, I had fully concluded that this was a very bad result, yet noted that there were no safety issues. When I logged on to my investment account, I noticed there was still a bid at $2.50! Why was there still a bid at $2.50? Someone clearly had a bid up there not knowing that the negative news was out. Who says markets are efficient? My point here is that, if you know your small-cap stock might be having news coming out, watching out for a release right after 8am EST may allow you to quickly hit bids on negative news (saving yourself some money) or quickly take the offer on positive news (making yourself some additional money). While the $2.50 did get filled, the market continued to react slowly to the news and provided an excellent opportunity for traders. Following tickers on StockTwits (I follow 50 of them) or following investors with your similar interests will allow you to get the information quickly and maybe take advantage of opportunities of this nature.
My Thoughts Going Forward
With a share count of 16,844,736 as of the last quarterly report and a closing price of $0.523, the company is currently valued at a paltry $8.8 million. The company has guided that it has sufficient funds through the 12-month readout for the phase 3 study as well as for the data readout of the phase 2a proof-of-concept using PRX-302 to treat localized low to intermediate risk prostate cancer. The last patient is expected to complete the phase 3 trial in September 2015 per the 8-K from December 15th. The phase 2a proof of concept trial is also expected at around this time given that it is projected to be initiated prior to the end of Q1 2015 and that it is projected to take 6 months. Amazingly, the company is trading at 0.3x cash/equivalents and less than half of shareholder equity at the last quarterly report. Why is the market discounting the company so much? The market realizes that there are no catalysts any time soon. While initiation of the proof of concept trial in Q1 will be a minor catalyst, meaningful catalysts in the form of data readouts will not occur until Q3. Given that the company will be initiating a phase 2a trial in addition to its already ongoing phase 3 trial, it would seem that expenses will if anything increase a bit from what has been seen in previous quarters.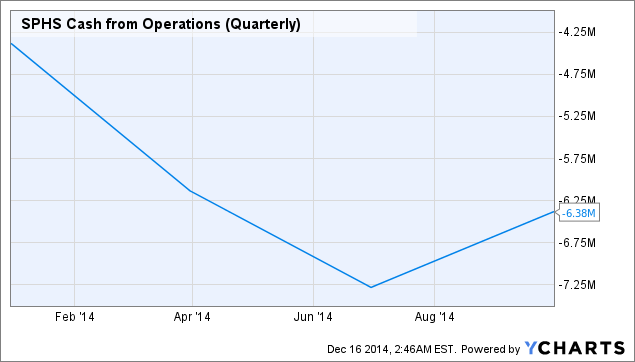 SPHS Cash from Operations (Quarterly) data by YCharts
If we were to assume cash burn of $6.5 million in Q4 and $7.5-$8 million for each of the first three quarters of 2015 with the additional phase 2a trial, the company's cash balance will likely be all used up by the end of Q3. What will the company's balance sheet look like at the end of Q2 when results are soon approaching? Given the numbers I have presented, cash/equivalents will sit at approximately $7.5 million and shareholder equity will potentially be negative by a few million.
What are the chances of a positive result from the 12-month phase 3 readout? Obviously, given the market reaction and given that the 3-month result was negative, the chances of a positive results from the readout are very low. We were not provided with the actual IPSS score data so we do not know how close or how far away the results were from a positive result. Given that this phase 3 trial is very similar to the phase 2 trial, it is hard to determine what may have caused the results not to be as good. Besides the usual difference that the phase 3 trial is much larger than any other previous trials, the only other main difference was the delivery method. The company decided to use transrectal delivery as this would be the preferable method for commercial use as opposed to the transperineal delivery method used for the phase 2b TRIUMPH trial. I asked CFO Peter Slover yesterday if this delivery method might have any potential negative effect on the trial, and he said that they were not aware of any potential negative that this might have. I would also note that difference between the average IPSS score change from the baseline for those on PRX-302 versus the average IPSS score change for those in the vehicle comparison group reduced between the 90 day reading and the 1 year reading in the TRIUMPH phase 2b study, which would not seem to provide a good read-through to the phase 3 data in September.
Conclusion
While the company does appear extremely cheap on the surface, there will likely not be any catalysts in the next three-six months, leading the company's cash reserves to dwindle without anything to trigger share appreciation. With this PRX-302 negative data readout, the chances of positive pipeline results is certainly slim. Given that cash burn will significantly reduce assets on the balance sheet without any likely major catalysts, I am moving to the sidelines and placing a hold rating on the stock.
Disclosure: The author has no positions in any stocks mentioned, and no plans to initiate any positions within the next 72 hours.
The author wrote this article themselves, and it expresses their own opinions. The author is not receiving compensation for it (other than from Seeking Alpha). The author has no business relationship with any company whose stock is mentioned in this article.
Editor's Note: This article covers one or more stocks trading at less than $1 per share and/or with less than a $100 million market cap. Please be aware of the risks associated with these stocks.