Company Overview:
Cullen Frost's (NYSE:CFR) origins are in Texas and they have steeped in history since 1899. They started as a traditional/old fashioned bank that just collected people's savings and carefully handed out loans. They avoided all the temptations to branch into risky activities or leveraging their balance sheet. Today traditional banking still makes up 85% of their revenues with the other 15% coming from their wealth management advisory services.
Focusing on the basics has allowed Cullen Frost to steadily grow and to increase their dividend annually for over 20 consecutive years. This is saying something as they survived the .com bubble in 2000 and more recently the mortgage meltdown in 2008. Cullen Frost claims they were the first bank to turn down TARP in 2008.
Cullen Frost has over $27.4 billion in assets and is steadily growing their portfolio. This has grown through their relationship model. Not only must a business meet a stringent test of credit and profitability metrics, but you will have to get to know a banker at Cullen Frost. They loan to the person as much as the company and only loan to those who they believe will do whatever they can to repay their loans. This has led to historically low loan losses even during times of crisis.
Loans aren't the only source of income for Cullen Frost as they get about a third of their revenue from other sources. The trust and investment management business is growing at about 10% a year as well as their insurance business. Cullen Frost is working to diversify their business lines into other branches of finance, but not at the cost of adding more risk to their book. They still are one of the most conservative banks in the U.S.
Financial performance of company:
Cullen Frost has steadily grown their EPS over the years. Since 2002 they have grown EPS at an average of 5.35% a year. This is more than most can say as they are still recovering from the damage done to their balance sheets in 2008 & 2009.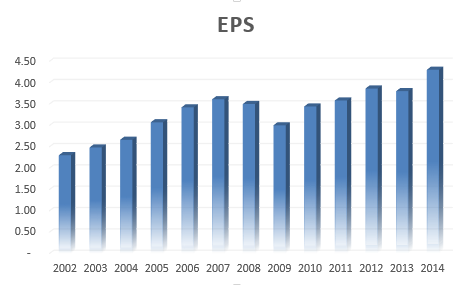 Just as impressively, is the fact Cullen Frost has been able to raise their dividend every year for over 20 years. The Great Recession did not put Cullen Frost in such a perilous position that they needed to cut their dividend. Over the past 12 years their dividend increased over 7% a year going from $0.88 a share in 2002 to $2.03 a share in 2014.
Even though they were not able to charge as much in interest on loans to their customers in recent years, they have been able to offset this decline in revenue. Investing more of their money into the bond market has given them a higher yield than loaning out money to customers. In addition to investing wisely they have been able to increase revenues in their wealth management and insurance services. This is a huge positive for them as many are expecting the Federal Reserve to raise interest rates in 2015. Once rates go up, their net interest spread will increase and so will loan revenues.
Despite lower fees from loans, Cullen Frost grew their overall loan volume by 9.1% in 2013 and over 6% already in 2014 (12% growth if you include the WNB merger). Most notably, they have increased their commercial sector which is where they concentrate most of their efforts. Cullen Frost got out of the residential real estate market in 2000 as they believed it became a commoditized market. Only recently have they gotten back into this market with portfolio loans, but they are very careful to only make loans based upon their relationship model.
Risks:
Cullen Frost is very closely tied to the energy markets being located in Texas. Only 14% of their loan portfolio is tied directly to energy, but energy is a large part of Texas's economy. So as energy goes so does Texas. If companies have to start laying off employees because oil prices are low, these people may not be able to pay back their loans to Cullen/Frost.
88% of the corporation's loan portfolio consists of commercial and industrial, construction and commercial real estate mortgage loans. Historically, these types of loans have had a higher risk default than residential real estate and consumer loans. These loans are also larger which means earning could be impacted if only a couple of these loans default. With the decline in oil prices, it is possible some of their biggest customers may be forced into default.
Cullen Frost may also have a trouble finding quality businesses to loan to if the energy market keeps declining. Already they have a large bond portfolio because they can't find suitable candidates to lend money to. While this is good policy for a bank to follow, this may affect returns in the future as all they can invest in are treasuries and municipal bonds which offer historically low yields.
Valuation and price target:
A couple measures of value for Cullen Frost show them to be slightly undervalued. Here is a discounted cash flow analysis based on their expected dividend payments alone:

If you base the model off their EPS, I come up with a value a little more than $18 higher to $90.60.
On a price to book comparison to Cullen Frost's peers in the Regional Southwest Banks market they are undervalued by 16% against their peers. If they were valued the same as their average peer, their stock price would be $80, which is my short-term price target for this stock.
Bottom Line:
Stability is the best word to describe Cullen Frost. They have not ever been in trouble financially even through the Great Depression in the 30's, the Great Recession in 2008, and perhaps most impressively during the oil crash in the 1980's. They were the only top ten bank headquartered in Texas not to either go bankrupt or get bought out by an outside institution during this time.
Over more than the past 12 years, the total return to investors has been over 12% a year. This long-term growth is very impressive not only for a bank, but for any company. Once the market evens out, I expect this name to continue delivering 12% total returns once again. This is a classic buy the dip opportunity on one of the most stable banks in the nation.
Disclosure: The author has no positions in any stocks mentioned, and no plans to initiate any positions within the next 72 hours. The author wrote this article themselves, and it expresses their own opinions. The author is not receiving compensation for it (other than from Seeking Alpha). The author has no business relationship with any company whose stock is mentioned in this article.