From 2011 to 2013, if you had shorted shares of Zagg Inc. (NASDAQ:ZAGG), you would have done very well in the second half of each year, respectively. In 2014, though, Zagg has climbed over 30% (as of closing bell on December 12, 2014) on signs of improving financials, the company's turnaround strategy, and overall market optimism.
However, many of the same obstacles that existed in prior years still exist today for Zagg and its future as a sustainable and profitable company. In fact, it may be time to short Zagg - again.
Background and Recent Financial News
Zagg initially grew from its flagship product, invisibleSHIELD, in the mid-2000s when the product's creator, Phillip Chipping, cashed in on the new and rapidly expanding electronic gadget industry that included smartphones, mp3 players, and handheld gaming devices. The company became officially known as Zagg by mid-2007 and today designs, produces, and distributes product solutions for mobile and media devices that include the invisibleSHIELD to protect screens, as well as newer products like cases, keyboards, keyboard cases, earbuds, portable power, and device cleaners. In 2011, Zagg purchased iFrogz which produces several accessories for gaming like Near-Field Audio amplifying speakers, gaming headphones, and other related devices.
During the third quarter of fiscal 2014, Zagg saw revenues jump 20.0% to $60.0 million. However, a one-time inventory write-down of $9.6 million forced the company to a net loss of $4.3 million for the quarter, down significantly from the $3.2 million net income seen in the same quarter a year ago.
Zagg's tablet keyboards and screen protectors continue to be bright spots for the company, increasing in sales by 25% and 23%, respectively. In fact, while screen protectors still make up 47% of total sales, keyboard sales now represent 30% of total sales, up from 28% on a year-over-year basis.
Zagg's management increased their revenue guidance for the year while lowering their gross margin guidance due to the large $9.6 million inventory write-down. Zagg now believes it can record revenues between $225 and $235 million, up from the $218 and $228 million prediction stated in June of 2014. Expansion of domestic and international sales distribution is expected for the remainder of the current fiscal year. Gross margins are expected to come in the high 20's, down the high 30's also predicted in June.
Nevertheless, below is a recent chart showing Zagg's revenue and net income by quarter.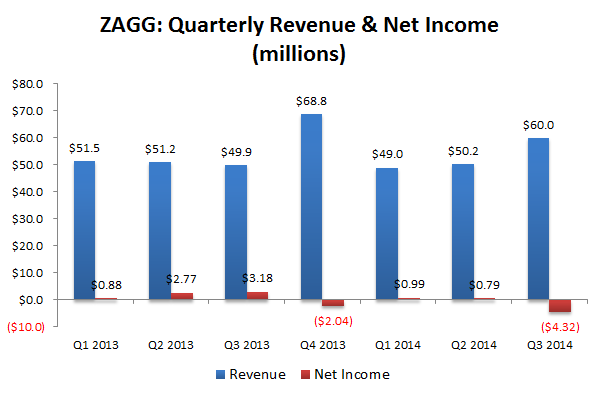 (Source: Zagg Inc. SEC Filings)
Shorting Zagg's Future
Earnings Estimates
In recent quarters, earning beats have been slim for Zagg, while earning misses have been huge. Below is an earnings chart going back to the fourth quarter of fiscal 2013. There are two things to pay attention to in the chart. First, consensus estimates in each quarter of this fiscal year have gradually increased. Second, while the fourth quarter of this fiscal year has the highest quarterly EPS estimate of this year, this estimate have already started to decline. In the next several sub-sections of this article, I will explain why I think current EPS estimates for the current quarter overestimate Zagg's near-term and long-term future as a company.

Annual Gross Margins
In my opinion, the biggest epidemic that has plagued Zagg for years, and one which they have yet to find any solution for, has been annual gross margins. If there was one picture worth a thousand words, it would be the chart below.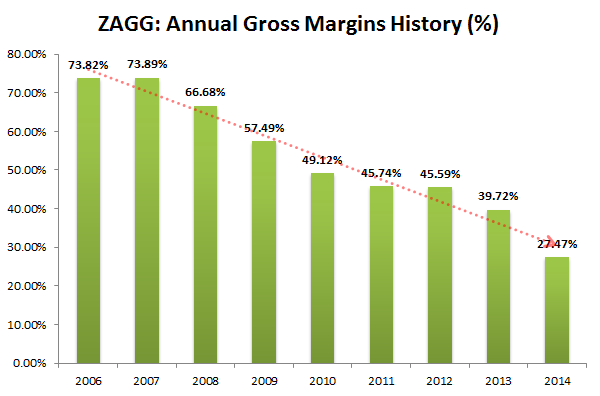 (Source: Zagg Inc. SEC Filings)
Zagg originally flourished as a company because the competition was nearly nonexistent. They nearly had a monopoly on the screen protection industry and had all the logistics and suppliers in place to stay up-to-date with the latest gadgets so that they could provide screen protection to them as soon as they were released to the public. However, as competition started to enter the sector, Zagg realized they couldn't keep selling their screen protectors for the high premium prices they demanded from customers.
In short, Zagg realized that there is no such thing as economic moat in the screen protection business.
Without the competitive advantages of their invisibleSHIELD flagship product, Zagg started to enter other consumer categories in which they found gross margins to be even less attractive. Zagg entered the audio category in 2008, the keyboard category in 2010, and later tried to bring more youthful mobile products into the overall portfolio by buying iFrogz in 2011.
Additionally, as newer gadgets were introduced to the market more and more frequently, Zagg started to have another problem that I will now introduce in the next sub-section below - excess inventory.
Inventories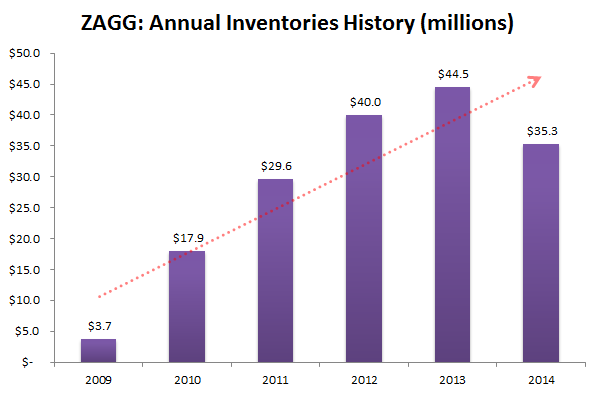 (Source: Zagg Inc. SEC Filings)
What happens when you are in a business where inventories of just a few months old can suddenly become obsolete to the majority of the public? The above chart is what happens.
Zagg's inventory problem came to a head in the third quarter when they performed a $9.6 million write-down. An inventory write-down is a formal recognition that a portion of a company's inventory no longer has value. However, there is a big hidden problem behind Zagg's recent $9.6 million write-down. It is merely Zagg's estimate of what new reduced price they believe they can still sell it at. In fact, here is a quote from the third quarter conference call by CFO Brandon O'Brien:
"Yes, the $9.4 million is the hedge on it puts it to the level where we think we can sell it. If we're able to sell it, so we've not doing. We priced our inventory what we believe the market price is. If we're able to realize anything above that then that's an additional upside. Anything under that is still a potentially downside."
What this means is that Zagg actually believes it can sell old inventory that may be for old smartphones that no one is planning to buy anymore and other gadgets that nobody uses anymore. This means that the $9.6 million write-down can grow to be a lot bigger at some point down the road.
Additionally, Zagg still doesn't look like it has learned from its inventory problems. New products defined by SKUs created in the last 18 months contributed 79% of total revenues during the third quarter. Furthermore, Zagg stated that overall growth was fueled by inventory and product assortment expansion. This all sounds like the company is entering a classic do-while loop. In order to grow revenues, they need to increase inventories. However, when inventories become obsolete, the bottom line takes a hit and gross margins soon follow.
Market Position Claims
Then there are the claims that Zagg frequently uses in their shareholder presentations and earnings announcements that have me skeptical on how successful things really are for the company. First, Zagg claims to have the #1 or #2 market positions in screen protection and tablet keyboards. Zagg even makes the claim that their iFrogz Plugz earbuds, which sell for $9.99 retail, is the #1 selling personal audio product. Because sales by channel for Zagg overall are broken down by 90% coming from indirect, 4% from Zagg.com and iFrogz.com, and 6% from physical kiosks and standalone stores, we can easily browse multiple indirect retailers including online sites like Amazon.com (NASDAQ:AMZN) to see if sales really are that outstanding.
Below is a table showing product and price comparisons for the top 20 best-selling screen protectors on Amazon.com. Zagg's invisibleSHIELD has a price point way out of range in comparison to its competitors and its sales rank disputes the company's claims in its presentations and earnings reports.

Even if Zagg is closer to the top within other indirect channels, its gross margin erosion and inventory problems still contradict the company's claims. What is worse is the likelihood that both gross margins and inventories will trend negatively for the foreseeable future because of increased competition across multiple retail channels.
Flagship Product Sinking the Ship
Another reason to short Zagg's future has to do with the invisibleSHIELD line - the product that started the company originally. The invisibleSHIELD line has been the big moneymaker for Zagg for years and today still represents 47% of total sales, while audio, cases, power management, keyboard, and other related accessories make up the other 53%.
However, the lack of diversification and the disproportionate amount of sales that come from Zagg's screen protection products will likely hurt the company in the next few years. Cheaper alternatives are getting as good or better reviews on sites like Amazon.com. Additionally, according to Zagg's June shareholder presentation, screen protection sales have slipped the past couple of years while newer accessories haven't been able to make up the loss sales.
Overall Market Trends
Finally, while overall market trends look good on the surface, they actually add to Zagg's long-term problems as a company. Cell phone spending in the U.S. has climbed 49.1% since 2007, second only to home internet. Additionally, the average upgrade cycle for cell phones of all types has actually increased from 18.7 months in 2007 to 22.4 months last year according to Recon Analytics.
So if people are spending more for cell phones and keeping them for longer, this makes cases and screen protection huge opportunities for Zagg, right? Not necessarily. First, this data from Recon Analytics didn't take into account the upgrade cycle that millions of customers were waiting for (i.e. iPhone 6). Second, more and more wireless providers are offering store credit or discounts to customers to return their old phones and upgrade to newer ones. Because the credit value declines rapidly beyond a year or more, customers are now upgrading far more often in order to maximize credit on old phones. Lastly, because 45% of customers replace their phone every year and 40% every two years, the idea of using premium screen protectors that may be built to last for several years is unnecessary in the eyes of your typical consumer.
Conclusion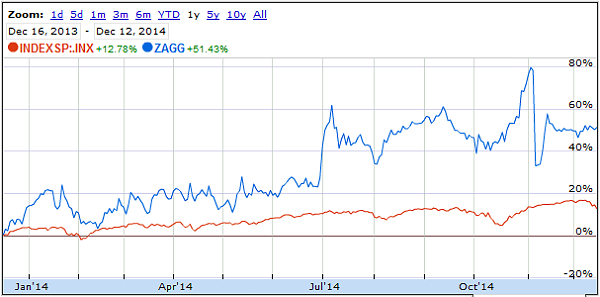 (Source: Google Finance)
The above chart shows Zagg's performance against the S&P 500 index over the past 12 months. The company has crushed the index while showing little improvement in its long-term problems of unpredictable earnings, annual gross margins, growing inventories, endangered market position, and overall market trends which point against Zagg long-term.
Even though every $0.10 decline in retail gas prices unlocks nearly $3 billion for U.S. consumers to spend, it is unlikely that Zagg's screen protectors are high on the list. Screen protectors are cheap enough overall that gas prices don't impact their sales like other retail segments.
In the end, I expect Zagg to keep expanding into other consumer businesses while its screen protection suffers at the hands of competition. Zagg has largely been unable to differentiate its more expensive products from its competition, and as a result, even its flagship product, invisibleSHIELD, can't protect inventory and gross margins from continuing their negative paths in 2015 and beyond.
Disclosure: The author has no positions in any stocks mentioned, and no plans to initiate any positions within the next 72 hours.
The author wrote this article themselves, and it expresses their own opinions. The author is not receiving compensation for it (other than from Seeking Alpha). The author has no business relationship with any company whose stock is mentioned in this article.