Usually, my investment strategy is based on buying a stock only after studying the company and analyzing the future prospects of its business. However, I have also developed some formulas for stock selection through screening and back-testing, and I have created three portfolios based on those formulas. One of those formulas has turned out to be very successful, and in this article, I will describe that strategy. Since Gilead Sciences Inc. (NASDAQ:GILD) is the first ranked stock by that strategy, I will also focus on that company.
The strategy is based on ranking stocks. A ranking system sorts stocks from best to worst based on a set of weighted factors. Portfolio123 has a powerful ranking system which allows the user to create complex formulas according to many different criteria. They also have several highly useful groups of pre-built ranking systems; I used one of them, the "ValueSheet", in my strategy.
The "ValueSheet" ranking system is quite complex, and it takes into account many factors like valuation ratios, growth rates, profitability ratios, financial strength, asset utilization, technical rank, industry rank, and industry leadership, as shown in Portfolio123's chart below.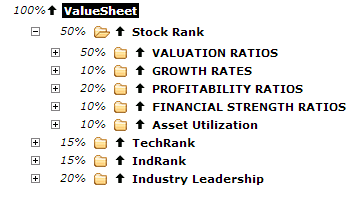 For my portfolio, I have selected the top 20 S&P 500 ranked stocks by this ranking system. Every two weeks, I rebalanced the portfolio by replacing the stocks whose ranks have deteriorated by new stocks with higher ranks. I started this strategy, with real money, on August 08, 2014. The strategy has given a net gain of 13.58% until December 11, while the S&P 500 index has increased only 3% during that period as shown in Portfolio123's charts below.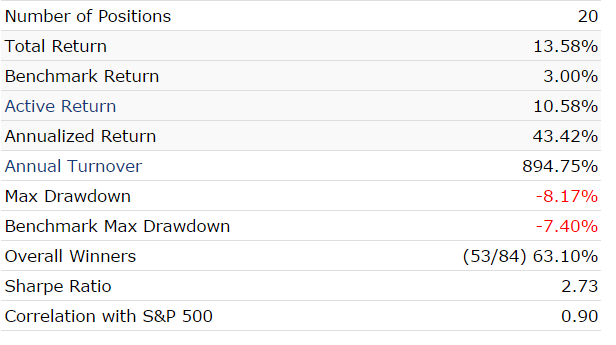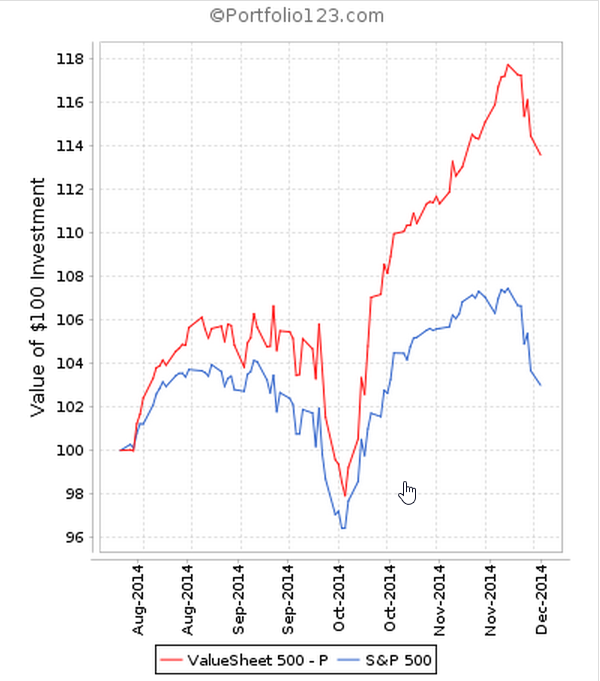 The current holdings of the portfolio is shown in the table below.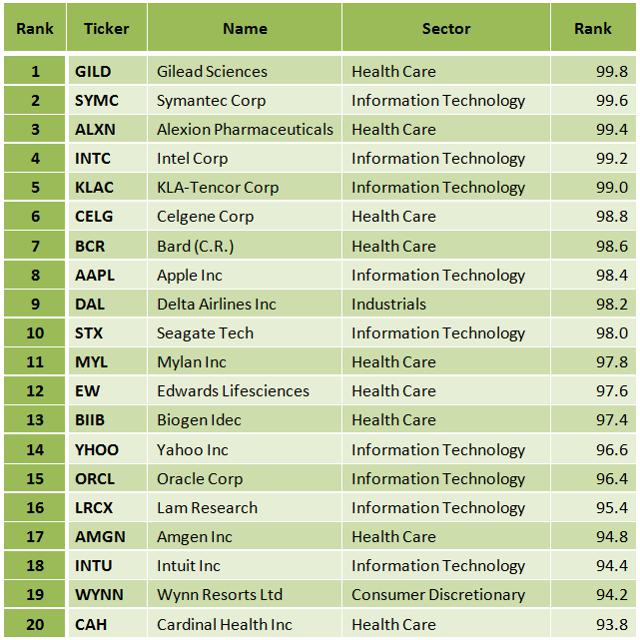 For the development of the strategy, I used Portfolio123's 16-year simulation capability that has given 16 years of annualized return of 11.51% for the strategy, while the S&P 500 index has increased only 3.07% during that period. Although I have found many strategies that have given much higher return, I have selected this strategy because it offers a lower risk. The maximum drawdown, which normally is much bigger in a small portfolio than in the benchmarks, was at 49.92% for the strategy, less than the 16-year maximum drawdown of the S&P 500 index which was 56.78%.
The charts below shows the 16-year simulation results.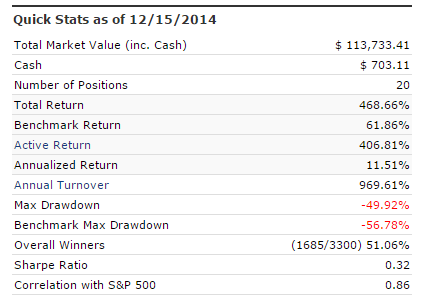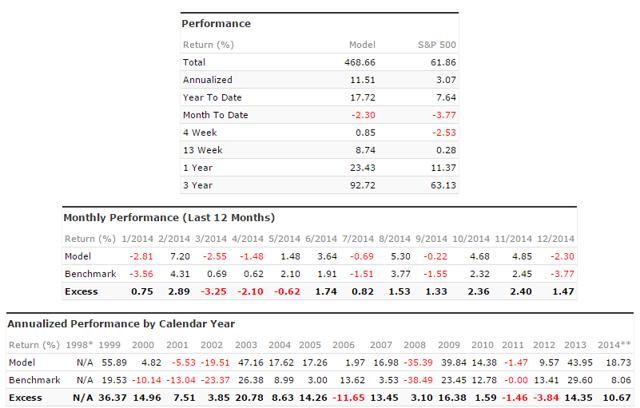 Source: Portfolio123
Gilead Sciences
On November 10, I wrote an article about Gilead Sciences, describing the company and recommending the stock. In this article, I will highlight some recent significant developments in the company's activity.
Primary concern about Gilead's firm profitability is market share and pricing of its drugs for the treatment of the hepatitis C virus. Sovaldi, which was launched in December 2013, accounted for 46.3% of Gilead's sales in Q3-14, 53.3% of sales in Q2-14, and 45.5% in Q1-14. Harvoni, the company's new once-daily, single-tablet hepatitis C treatment, was approved by the Food and Drug Administration on October 10. Harvoni's sales are surpassing Sovaldi's sales in the current quarter. Barron's quoted on December 12 the following number of prescriptions written in the last week for Gilead's hepatitis C drugs Harvoni and Sovaldi given by Evercore ISI's Mark Schoenebaum:
Harvoni Total Prescriptions = 5,642 (up +44.9% from last week and up 29% from TWO weeks ago [i.e. week prior to T-giving])

Sovaldi Total Prescriptions = 3,553 (up +31.6% from last week and up 3% from TWO weeks ago)
According to a Reuters press release from December 10, Philadelphia's transportation authority has filed a class action lawsuit, accusing Gilead Sciences Inc. of charging "exorbitant" prices for its blockbuster hepatitis C drug Sovaldi. The lawsuit, filed on December 09, in federal court in Philadelphia by the Southeastern Pennsylvania Transportation Authority, seeks an unspecified amount of money damages. The lawsuit claims that Gilead's pricing is an abuse of its patent monopoly on the drug and violates federal antitrust laws. Sovaldi, a highly effective treatment for hepatitis C, costs $1,000 per pill in the United States, or $84,000 for a typical 12-week course. The drug sells for much less in some other countries. The lawsuit claims that Gilead's pricing is an abuse of its patent monopoly on the drug and violates federal antitrust laws. The transportation authority, which said it has paid more than $2.4 million for Sovaldi for its employees, is seeking to represent a class of everyone in the United States who has paid for Sovaldi or has not been able to afford needed Sovaldi treatment.
The issue of the high cost of treatment of the disease with Sovaldi and Harvoni has been thoroughly discussed before. Criticism of the high U.S. pricing of Sovaldi came from the health insurance industry and two senators. Senators Wyden and Grassley said that the initial developers of Sovaldi considered pricing it at less than half as much. The price for 12 weeks of treatment of the new approved drug Harvoni is $94,500. However, in contrast to Sovaldi, Harvoni is a single tablet regimen for the treatment of hepatitis C infected individuals which does not require either interferon or ribavirin. According to Gilead, approximately 117,000 patients have been treated with Sovaldi, and by the introduction of Harvoni many more patients will have the potential to be cured of HCV.
According to Associated Press, Gilead Vice President Gregg Alton addressed the issue at a public forum sponsored by the American Enterprise Institute. "To suggest that a cure for a disease like hepatitis C should be priced at $36,000... would put a huge disincentive on investing in cures for our industry," he said. Gilead took on most of the challenge - and risk - of getting government approval for Sovaldi, Alton added. He suggested another standard for measuring the value of Sovaldi, something called "cost-per-cure," that makes Sovaldi look like a bargain. The older hepatitis C treatments take longer and are less effective, and Alton estimated their cost-per-cure at somewhere between $150,000 and $200,000. Included are companion drugs that patients must also take.
The consequence of the class action lawsuit of Philadelphia's transportation authority is unknown yet. However, in my opinion, Gregg Alton's argumentation is quite convincing, and I believe that Gilead will continue to benefit from strong sales of the drugs. Moreover, Gilead's drugs have become the treatment of choice for Americans with hepatitis C. According to WebMD, more than 2.7 million Americans are currently infected with liver-damaging hepatitis C; federal officials say, and one expert believes, that the number could be even higher. Experts say more people in the United States now die from infection with hepatitis C than from HIV, the virus that causes AIDS.
On November 18, Gilead Sciences announced that the European Commission has granted marketing authorization for Harvoni, the first once-daily single tablet regimen to treat the majority of chronic hepatitis C genotype 1 and 4 infection in adults. Harvoni combines the NS5A inhibitor ledipasvir (LDV) with the nucleotide analog polymerase inhibitor sofosbuvir (SOF), approved by the European Commission under the trade name Sovaldi in January 2014. According to Graham Foster, MD, Professor of Hepatology, Queen Mary University of London, genotype 1 patients living with hepatitis C in Europe and the physicians who treat them have been waiting for a treatment advance like this for decades.
Another major concern for Gilead is that AbbVie Inc.'s (NYSE:ABBV) soon-to-be-approved drug cocktail will account for a large part of the market share for HCV treatment in upcoming years. AbbVie will offer an all-oral regimen that will be dosed four pills in the morning and two pills at night (as opposed to Gilead's Harvoni which is one pill once daily with no ribavirin). AbbVie's HCV treatment price is not disclosed yet. However, there is speculation that it could be below Harvoni's price in order to gain market share. In my view, since success of treatment by Sovaldi and Harvoni drugs has been already proved, and that the treatment with one pill once daily with Harvoni means a significant advantage, Gilead's HCV drugs can keep their market share.
Valuation
GILD's last stock price is 11.7% down from its 52-week high of $116.83 from October 31, and according to its valuation metrics, GILD's stock is very cheap right now.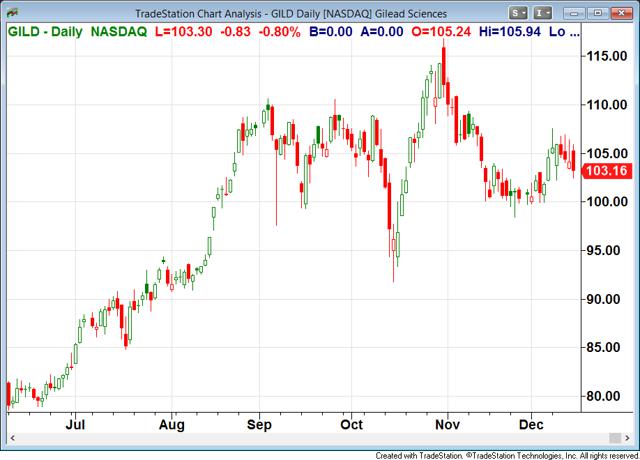 Chart: TradeStation Group, Inc.
GILD's PEG ratio is extremely low at 0.44, the sixth lowest among all S&P 500 stocks, as shown in the table below. The PEG ratio - price/earnings to growth ratio - is a widely used indicator of a stock's potential value. It is favored by many investors over the P/E ratio because it also accounts for growth. A lower PEG means that the stock is more undervalued.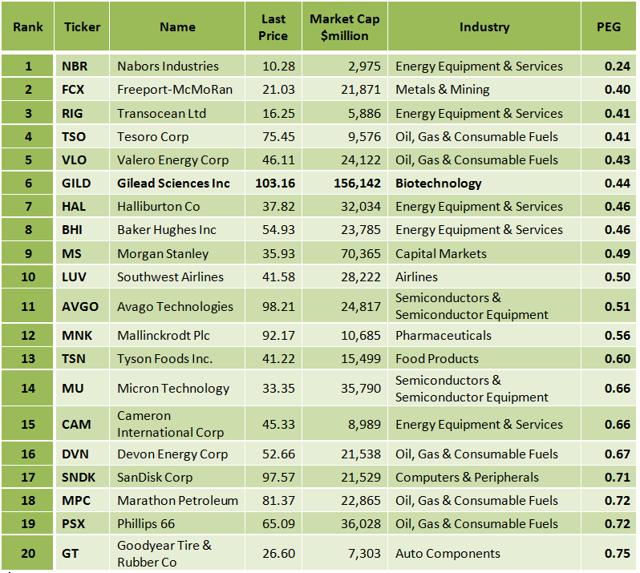 Summary
In my opinion, GILD is a smart long-term investment. Despite some issues with pricing of its HCV drugs and concern about market share, Gilead's growth prospects remain strong. Gilead Sciences has compelling valuation metrics and exceptional high earnings growth prospects; its PEG ratio of 0.44 is one of the lowest among all S&P 500 companies. Furthermore, the company has demonstrated significant improvement in its profitability in its latest quarters.
Disclosure: The author is long GILD, SYMC, ALXN, INTC, KLAC, CELG, BCR, AAPL, DAL, STX, MYL, EW, BIIB, YHOO, ORCL, LRCX, AMGN, INTU, WYNN, CAH.
The author wrote this article themselves, and it expresses their own opinions. The author is not receiving compensation for it (other than from Seeking Alpha). The author has no business relationship with any company whose stock is mentioned in this article.