As 2014 is coming to an end, it seems that stories of information security breaches and credit card data theft became part of our lives. Hacks became larger in scale and attracted more media coverage as they caught many high profile companies unprepared. Recently, Sony Pictures joined the club of household brands that were under cyber-attacks, which include eBay (NASDAQ:EBAY), Apple (NASDAQ:AAPL), Staples (NASDAQ:SPLS), Home Depot (NYSE:HD) and even the government's health insurance marketplace, HealthCare.gov, among others. As our lives become more digital every day, we create a tremendous amount of data that is stored digitally by almost every company in the world. The increasing amount of personal data attracts increasing number of malicious hacks that is expected to increase the demand for data protection services.
As shown in chart 1, IDC anticipates that the need for information security is expected to grow along with the amount of data stored digitally by 2020. That growth in information security is reflected in an increased demand for cyber security services.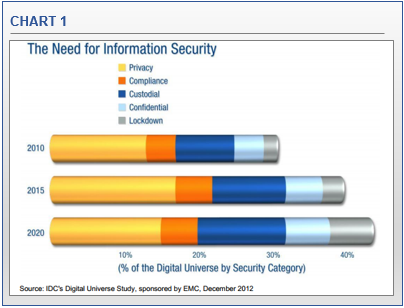 It is reasonable to assume that cyber security firms will benefit from the expected growth in demand for information security services. In recent years, Israel is perceived as the cyber security capital of the world with some of the leading companies in the sector. In light of the central position Israeli companies play in the cyber security market, this analysis will focus on three Israeli cyber security firms: Check Point (NASDAQ:CHKP), Imperva (NASDAQ:IMPV) and CyberArk (NASDAQ:CYBR).
The three companies differ in many aspects: market cap, revenues, profitability, margins and stock performance but for an investor interested in the cyber security they all appear as decent investment alternatives.
Check Point is the largest company of the three with a $14.4B market cap and $1.5B annual revenues. Check Point generates revenues from network and mobile security solutions and has an 88% gross margin and an impressive 54% of operating margin. Check Point revenues grow at 2% each quarter while its operating expenses decrease every quarter, driving a high operating margin and a low opex to revenue ratio of 0.35.
Imperva is the second largest company of the three with $1.25B market cap and $160M annual revenues. Imperva provides cyber security services for physical and virtual data centers and has 78% gross margin with a -32% operating margin. The operating loss is driven by an increase of OpEx to revenue ratio from 0.98 in Q1'13 to 1.09 in Q3'14. Imperva revenues grow in the quarterly rate of 6% while its OpEx increases by 7% each quarter, driving for an increased operating loss.
CyberArk is the smallest company of the three with the market cap of $1.1B, and it is the latest to go public with a successful IPO earlier in 2014. CyberArk is focused on privileged account security and has an 87% gross margin with a 27% operating margin. CyberArk revenues increased at the quarterly rate of 12% which is higher than Checkpoint and Imperva. The rapid revenue growth is backed with 0.6 OpEx to revenues ratio that together drives an operating margin improvement from 4% in Q1'13 to 27% in Q3'14.
As shown in chart 2 below, Check Point outperforms the other two companies in five out of the seven attributes presented in the table below, while CyberArk outperforms in two out of seven and Imperva has either the worst figure in every column or the second worst.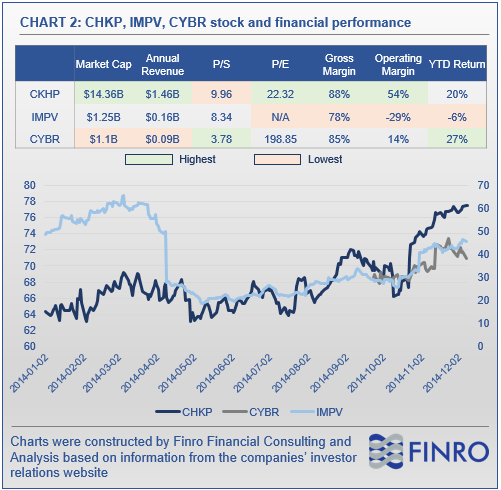 The comparison highlights not only that Check Point has superior results compared to the other two, but also the relative strength of CyberArk. In an earlier article about Israeli tech IPOs, I mentioned that CyberArk's IPO had some similar characteristics to Varonis, which plunged shortly after the IPO, causing investors that purchased after the IPO a double-digits loss. CyberArk reached its all-time peak at the end of November with $47 share price which is almost 3x above its IPO price. That price peak was followed by a number of analyst downgrades that reduced CyberArk's price target to $38. Company guidance and analyst expectations for $93M revenues in 2014 reflects a $40.6 share price which is 6% above the current price. Analyst expectations for $113M revenues in 2015 reflected a $49 share price and an impressive 30% upside for the company in 2015.
Imperva's 2014 guidance and analysts' expectations suggest a 6% upside by the end of the year and 30% next year based on revenue forecasts. Even though Imperva offers impressive possible upside, the company may be a risky investment following the latest executive shifts, sales execution problems and sharp fluctuations in stock price. Potential upside in CyberArk and Imperva's stock prices fit a micro-cap tech growth company and compensate investors for the risk implied in these investments. However, Check Point's case is different, and it offers lower upside rates that match a company in that size: 1% by the end of this year and 8% next year.
Conclusions
Following the latest data-storage growth and increased number of security breaches, cyber-security companies are expected to face greater demand for their services in the future. This greater demand should be reflected in higher revenues that should be translated to an upside in their share price. Check Point is the largest and most profitable company, and it expects a modest 1% upside by the end of this year and 8% in 2015. Imperva and CyberArk, which are smaller and a bit riskier, offer a 6% to 7% upside by the end of this year and 30% in 2015. However, Check Point, Imperva and CyberArk do not all fit to the same type of investors. Investors who are interested in a low-volatility investment in large, stable companies that might yield a low upside should choose Check Point over the other two. Investors looking for a high-growth investment in the cyber-security market who are willing to bear the high risk in order to benefit from a possible greater upside should go with CyberArk or Imperva.
Disclosure: The author has no positions in any stocks mentioned, and no plans to initiate any positions within the next 72 hours.
The author wrote this article themselves, and it expresses their own opinions. The author is not receiving compensation for it (other than from Seeking Alpha). The author has no business relationship with any company whose stock is mentioned in this article.
Additional disclosure: Information provided in this article is for informational purposes only and should not be regarded as investment advice or a recommendation regarding any particular security or course of action. This information is the writer's opinion about the companies mentioned in the article. Investors should conduct their due diligence and consult with a registered financial adviser before making any investment decision. Lior Ronen and Finro Financial Consulting and Analysis are not registered financial advisers and shall not have any liability for any damages of any kind whatsoever relating to this material. By accepting this material, you acknowledge, understand and accept the foregoing.